Out Of Every Breakup On Grey's Anatomy, This One Stands Above The Rest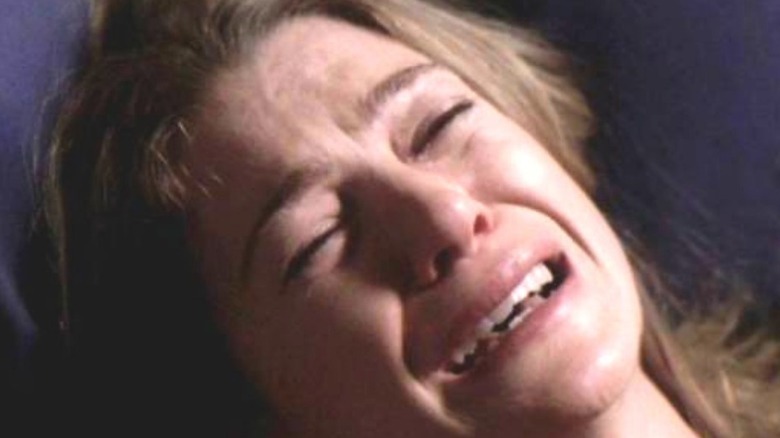 ABC
"Grey's Anatomy" may be a medical series in its truest essence, but it is just as well known for its relationship drama. Over its 18 seasons – and counting! – the long-running ABC drama series has featured the romantic highs and lows of Meredith Grey (played by Ellen Pompeo) and the other doctors and interns at the ever-changing Seattle Grace/Seattle Grace Mercy West/Grey Sloan Memorial Hospital.
Breakups? There have been more than a few. From the early parting of Meredith and married "McDreamy" Derek Shepherd (Patrick Dempsey) — Meredith's famous"pick me, choose me, love me" speech is still one of the most iconic moments in "Grey's" history — to the gut-wrenching goodbye for Callie and Arizona (Sara Ramirez and Jessica Capshaw), series creator/head writer Shonda Rhimes has never given viewers a break from storylines featuring super-sad splits.
But one "Grey's Anatomy" breakup stands out for several reasons because it marked a major shift in the entire series.
The circumstances of Preston Burke & Cristina Yang's breakup was one fans didn't see coming
In the Season 3 finale "Didn't We Almost Have It All?," Dr. Cristina Yang (Sandra Oh) and cardiology king Dr. Preston Burke (Isaiah Washington) were set to exchange "I do's." It wasn't a shock that Yang got had a quick freak-out minutes before walking down the aisle, because she was initially not on board with the whole white-wedding-in-a-church thing, to begin with. But what was a surprise was that Burke was the one to call off the nuptials. The doomed groom rationalized his decision by telling Yang that he "knew" she didn't want to come down the aisle and that if he loved her, he would let her go. And then he did, and then he was gone.
In a famous follow-up scene, Yang returns home to find that Burke really had skipped town. "He's gone," she says. "I'm free."
There are several Reddit threads devoted to the topic, and the general consensus is that this breakup stands out because it had to happen. "She would've compromised her whole life for him just because of how much she loved him," Redditor u/brownrd2023 wrote of Yang. "Just living for Burke. Doing what Burke wants just because she loves him."
"I feel like everyone hates Burke for leaving Cristina, but in all honesty, he did it for the best," u/alissa_ye66 wrote on another thread.
The breakup marked the first casualty in the original Grey's Anatomy cast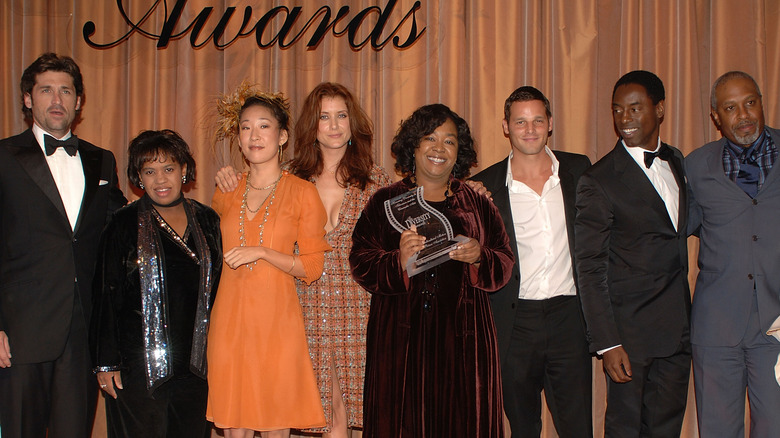 Stephen Shugerman/Getty Images
Decider noted that the Burke-Yang breakup marked "the end of Grey's phase one." That's because Isaiah Washington really did leave. Washington was fired by ABC in 2007 after he used a homophobic term during an on-set argument with co-star Patrick Dempsey. While Washington issued a public apology and shot a PSA for GLAAD, it wasn't enough. "I'm saddened by the outcome," Washington told Entertainment Weekly. "I did everything that the producers and the network asked me to do."
The breakup storyline helped Washington's exit make sense to viewers. Ellen Pompeo may have best explained how the Burke-Yang breakup came to be. "In order for a one-hour drama to continue, there has to be a big upheaval," she told Us Weekly. "Every time we've lost a major character... it's been devastating and sad. You think, 'How can the show go on?' But that's how the writers find inspiration. So the loss of the big characters is exactly how the show does go on."
According to IMDb, Washington was away from "Grey's Anatomy" for seven years, but returned for a one-episode cameo as Burke in 2014. Still, his initial ouster was the first crack in the OG "Grey's Anatomy" cast, which also included Justin Chambers, Katherine Heigl, T.R. Knight, Chandra Wilson, and James Pickens Jr.
Season 4 kicked off with new blood — namely the introduction of Meredith Grey's previously unknown half-sister, Lexie (Chyler Leigh) — and a new era of "Grey's Anatomy" was born.