The Exorcist Cameo You Missed In Scream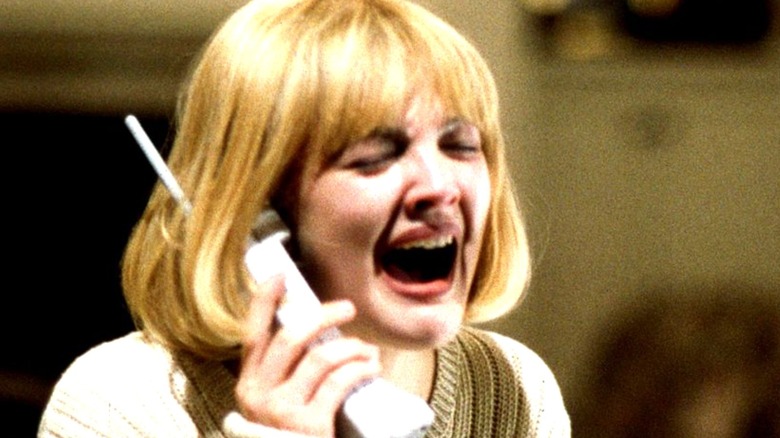 Dimension Films
Iconic stars making a cameo appearance in film or television projects isn't an entirely new concept in Hollywood, where famous actors turn up in a quick appearance for a variety of reasons. There are too many instances of cameos to mention over the years, and explanations of why they were made in the first place, but oftentimes, filmmakers employ guest stars in their projects as an homage to their original source material — for example, take Paul Michael Glaser and David Soul's cameo toward the end of the 2004 movie adaptation of "Starsky & Hutch" or Lynda Carter appearing at the conclusion of "Wonder Woman 1984" in 2020.
Then there are other times where filmmakers use a famous face in their films as a way to honor a notable actor from a genre, which happened with a seconds-long appearance in the 1996 horror hit "Scream." Directed by Wes Craven and written by Kevin Williamson, the semi-satirical film follows the murderous exploits of the Ghost Face Killer in the fictional California town of Woodsboro. The town is the focus of a major investigation and media frenzy in the aftermath of the grisly murders of Casey Becker (Drew Barrymore) and her boyfriend, Steve Orth (Kevin Patrick Walls). The terror doesn't stop there, however, as the next day, Sidney Prescott (Neve Campbell) — still traumatized by the murder of her mother a year before — is taunted over the phone before being attacked by Ghost Face, only marking the beginning of the twisty horror tale.
In addition to Barrymore and Campbell, "Scream" featured several new and established actors, including David Arquette, Skeet Ulrich, and Courteney Cox, who was already enjoying the massive success of the smash sitcom "Friends." But another face in the crowd brought a tremendous amount of weight to "Scream," even if her appearance in the film was brief and didn't immediately register with some viewers.
The Exorcist star Linda Blair plays the 'Obnoxious Reporter' in Scream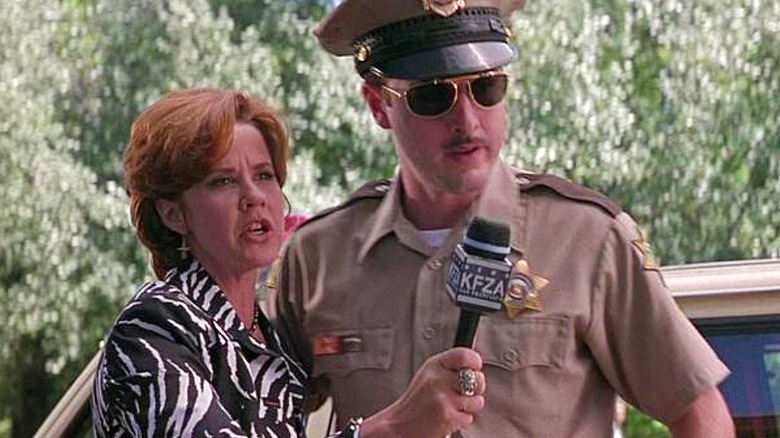 Dimension Films/YouTube
In "Scream," Sidney is harassed by reporters when she emerges from the squad car of Deputy Sheriff Dewey Riley (Arquette) after surviving an attack by Ghost Face. Among the newshounds is an actor billed on her IMDb profile page as "Obnoxious Reporter," and it happens to be Linda Blair. However, since it was an uncredited cameo, fans still debate who the actor actually was, even though Craven confirmed Blair's cameo on the commentary track on the "Scream" DVD.
It's easy to see why fans might not have recognized who the "Obnoxious Reporter" was in "Scream," considering Blair has been largely known throughout her career as the demonically-possessed 12-year-old child, Regan MacNeil, in "The Exorcist." Released 23 years before "Scream," the deeply disturbing film was so revered that it earned 10 Oscar nominations at the 46th Annual Academy Awards — including Best Picture, Best Director for William Friedkin, Best Actress for Ellen Burstyn, Best Supporting Actor for Jason Miller, and Best Supporting Actress for Blair.
Making Blair's cameo more memorable is that instead of an unceremonious walkthrough, Craven gave her a couple of lines: "The people wanna know," yelled Blair's fictional KFZA reporter as Dewey pushes her away from Sidney. "They have a right to know!"
Linda Blair starred in a Wes Craven film before Scream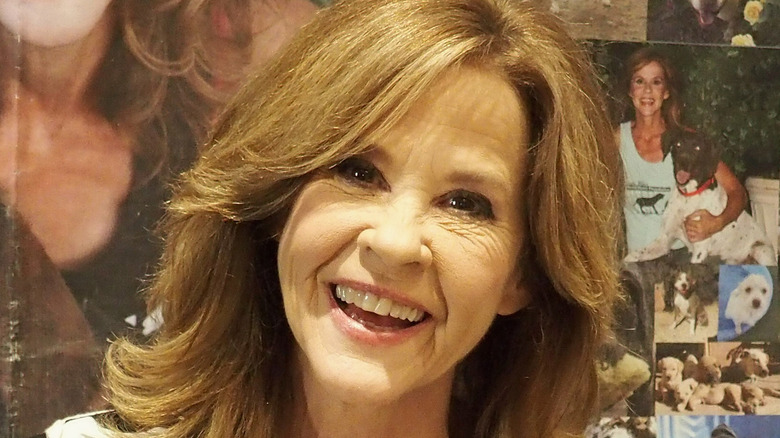 Bobby Bank/Getty Images
While on the surface it may seem that Craven had Blair appear in "Scream" as a gigantic nod to a horror film luminary, there's another good reason the prolific actor turned up in the film. As it turns out, Blair played the lead role in the 1978 NBC TV movie "Summer of Fear," which was also directed by Craven. So, it's conceivable that "Scream" merely presented a unique opportunity to get a pair of old friends back together.
That one theory aside, in all likelihood Blair's "Scream" cameo had something to do with her legendary role in "The Exorcist." After all, there's a subtle nod to the movie since Blair's reporter character is wearing crucifix earrings. The crucifix, of course, is a symbolic gesture to crosses the priests used in the exorcism of Regan in "The Exorcist" — as well as a tool of unmentionable means used by the possessed Regan that produced one of the most controversial moments in the film.
Time will only tell if Blair ever cameos or reprises her role as Regan in any "Exorcist"-themed projects, although an opportunity just presented itself. Following a report (via Games Radar) about an "Exorcist" sequel being in the works, Universal and NBC's Peacock streaming service are partnering with Blumhouse and Morgan Creek to revive the horror franchise as a film trilogy, according to Blumhouse. David Gordon Green, who teamed with Blumhouse for the new "Halloween" sequels, will direct the first film, which will feature "Hamilton" star Leslie Odom Jr. Burstyn is set to reprise her role as Regan's mother, Chris MacNeil, although there is no mention in the Blumhouse announcement of the deal Blair's involvement in the revival of the franchise.