Supergirl Trailer Pulls Back The Curtain On Apocalyptic Final Episodes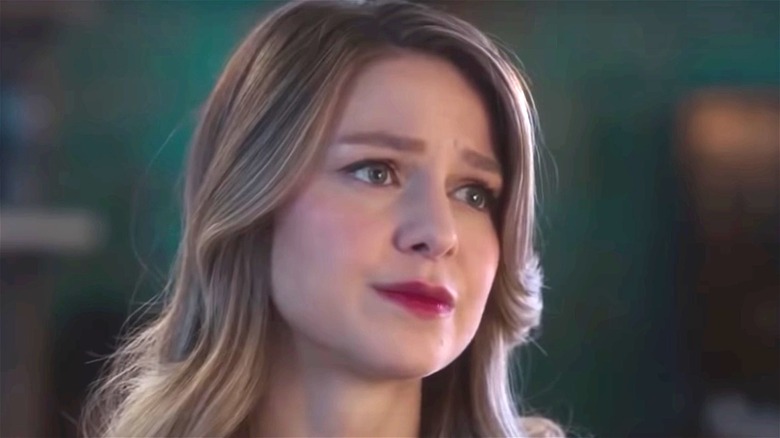 Warner Bros. Television Distribution
Back in 2012, a little show called "Arrow" aired on The CW. It took a relatively obscure superhero (in terms of being a household name) and turned him into a brooding TV protagonist. Initially, he pretty much stuck to protecting his city, but his universe got much bigger over the years. Green Arrow (Stephen Amell) soon received the support of The Flash (Grant Gustin) and John Constantine (Matt Ryan), and thanks to crossover events, the multiverse was able to expand, bringing on the likes of Supergirl (Melissa Benoist) to the roster. 
Kara Zor-El may have gotten her start on CBS, but she soon moved over to the same network as the other Arrowverse shows, making the possibility of a crossover all the more feasible. She's done a lot in protecting multiple worlds, but the one thing she was unable to overcome is the demand from network executives. 
In September 2020, The CW announced Season 6 of "Supergirl" would be its last. Declining ratings seem to have played a significant role, but luckily, the superheroine still gets a final batch of episodes to go out on. The beginning of the end is near, and now, we have a trailer showing us how it will all come together. 
It's the end of the world as we know it (and Supergirl doesn't feel fine)
The first part of "Supergirl" Season 6 began airing in March 2021. Supergirl didn't enjoy her time in the Phantom Zone and could barely make it back to Earth alive. Judging by the trailer, it seems as though she won't soon forget her time haunted by Phantoms, and she's even brought her interdimensional imp Nyxly (Peta Sergeant) back with her (unknowingly, of course). Naturally, things don't stay quiet in Kara's world for long, and the very fate of the planet hangs in the balance for the final portion of the season. 
The show looks like it'll get topical, as a new threat endangers the planet's oceans with a brief clip of a mountain of trash lighting on fire. If Kara's legion of Super Friends cannot stop it, an apocalypse to rival that of Krypton will emerge. Knowing the end is nigh, anything can happen, and some of your favorite superheroes may not make it out of this final fight alive.
TVLine reports some intriguing episodes remaining in Season 6. Namely, John Diggle (David Ramsey) of "Arrow" will return to lend Supergirl a hand. Ramsey will direct the episode, which will focus on racial inequality. Another highly anticipated hour of television coming to The CW will see Kelly Olsen (Azie Tesfai) suit up as the superhero Guardian. "Supergirl" proves it still has plenty of gas left in the tank, so make sure you block out your Tuesday evenings starting on August 24.