Robin Williams Quit This Major Marvel Movie After Just A Week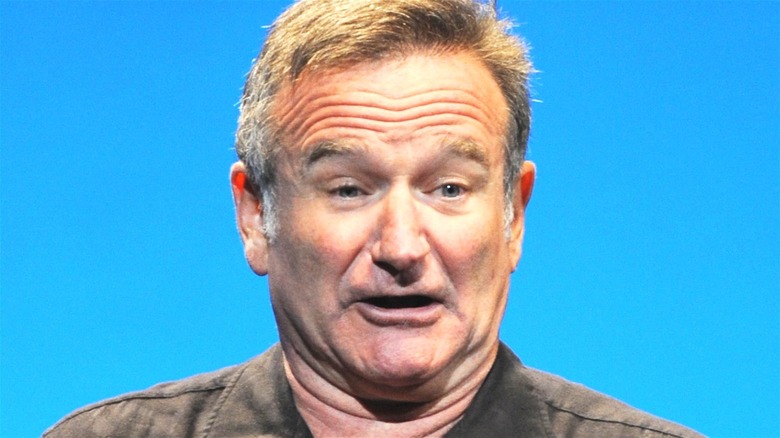 Larry Marano/Getty Images
Thanks to a new oral history on the notorious Universal Pictures flop "Howard the Duck," we now know that Robin Williams was briefly involved with the movie before eventually quitting after just one week. "Howard the Duck" remains a curious artifact in the world of comic book movie adaptations. The live-action 1986 feature starred Leah Thompson and Broadway star Chip Zien, who providing the central voice performance. At the time of its release, the movie whiffed at the box office, making a mere $5 million during its opening weekend — the first week of August, no less. Ultimately, "Howard the Duck" made back half of its budget with its $15.1 million domestic haul. Even worse, "Howard the Duck" was critically reviled at the time of its release and, discounting its long road to beloved cult hit status, has remained in low esteem with critics and audiences in general, per Rotten Tomatoes.
Previously, it had been known that Williams was seriously considered to voice the titular alien duck, but it was unclear how far that conversation had gone. Over the course of his nearly 40-year onscreen career, Williams was frequently at the top of casting lists for a variety of projects. (A 2011 Vulture piece reminds us Williams was considered to play Jack Torrance in "The Shining" and Joe Miller in "Philadelphia," parts that eventually went to Jack Nicholson and Denzel Washington, respectively.) 
Rarely, though, do we see instances of Williams actually signing on for a role before eventually quitting the project. Whether Williams sticking around for "Howard the Duck" could have changed the movie's critical and commercial reception is unknowable. That said, we do finally have an answer about what happened between Williams and the "Howard the Duck" team.
Robin Williams couldn't make his take on Howard the Duck work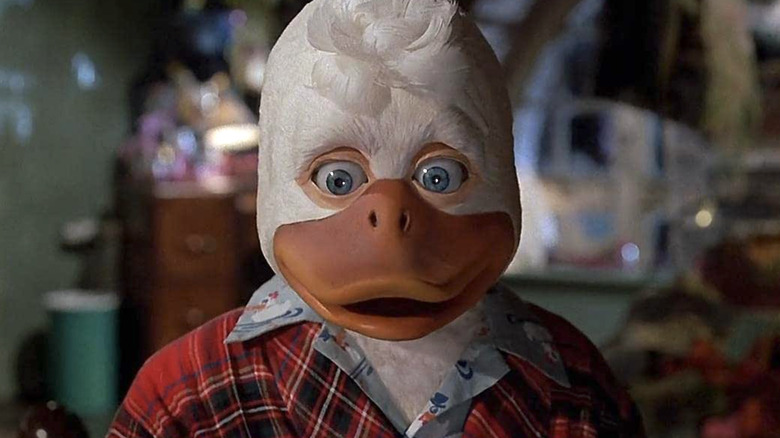 Universal Pictures
Ahead of the movie's 35th anniversary, an oral history of "Howard the Duck" was published in The Hollywood Reporter. This new oral history features candid interviews with Thompson and Zien, who recall their involvement with the movie. For Zien, his path to securing the voice role of Howard the Duck was unconventional — mostly because he got it after Williams quit. Per THR, Williams lasted a week and quit over creative differences stemming from an inability to sync his voice performance with the movements of Howard's duck bill. During filming, a puppeteer had controlled the duck bill to mimic speech, but no actor had been hired yet, so the bill's movements were lifeless. This resulted in Williams, an actor notorious for doing improvised lines to flavor his performance, feeling frustrated. 
Zien told THR, "What I was told was by the third day, Robin said, 'I can't do this. It is insane. I can't get the rhythm of this. I am being confined. I am being handcuffed in order to match the flapping duck's bill.' So, on Memorial Day 1985, I got a call from my agent who said, 'You have to get right to the airport! Robin Williams just quit and you're now Howard the Duck. You need to get there tonight. There is a ticket waiting for you at the counter.' I was incredibly excited.'
Although Williams will not be part of the Marvel Cinematic Universe, it turns out Howard the Duck will get another chance at MCU fame. Recently, it was revealed Howard would be seen in Marvel's "What If...?" in a scene opposite Black Panther. Life is full of second chances.