Get A First Behind-The-Scenes Glimpse Of Black Panther: Wakanda Forever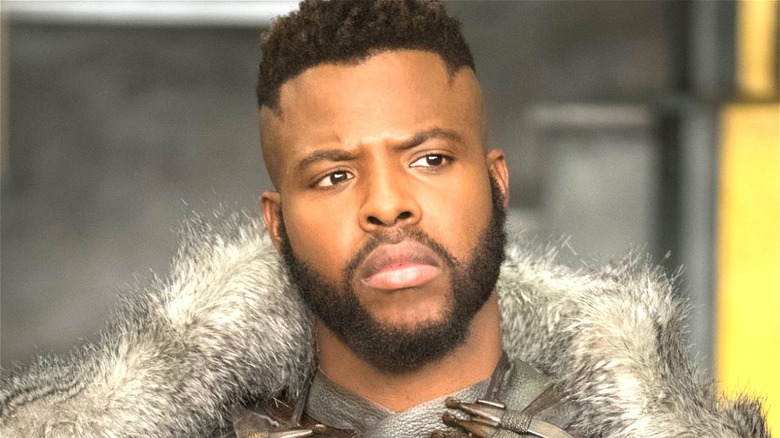 Marvel Studios/Disney
It still doesn't feel real that Chadwick Boseman is no longer with us. The iconic actor, best known for his role as King T'Challa, a.k.a. Black Panther, in the Marvel Cinematic Universe, died in August 2020 at the age of 43. Throughout his relatively short career, he managed to deliver one tremendous performance after the next in films like "42," "Get on Up," and "Marshall." 
As the world mourned the loss of one of the most talented actors of this generation, there were lingering questions concerning the future of the character he embodied, both in terms of power and respect. Marvel answered those questions by announcing the formation of "Black Panther: Wakanda Forever," which those involved with the production have described as an emotional experience. It sounds like the movie will not only continue the story of Wakanda, but it will also pay tribute to the true King of the MCU. 
With a planned release date of July 8, 2022, things are in motion for the sequel to get underway. Now, we have our first video offering a behind-the-scenes look at the upcoming epic.
Video shows the building of Black Panther: Wakanda Forever set
Before you get your hopes up, the video in question doesn't tell us much about the anticipated sequel. It's mostly a bunch of scaffolding on a soundstage, but it's nonetheless exciting to imagine what will take place in this area. The video was posted on the Instagram page for CoolFreeTV, and despite its brief eight seconds in length, we do get a good look at the legendary Black Panther statue. Another intriguing tidbit to glean from the look is that this set is being built at Tyler Perry Studios in Atlanta, Georgia, which, appropriately enough, is just a short drive away from the town of Panthersville.
The video is a good reminder that "Black Panther" won the Oscar for Best Production Design, and the sequel isn't going to slouch in that department. The Wakandan throne room is impressive enough on its own, and we can only imagine what type of scene will film there once it's complete. There will be more than a few misty eyes in movie theaters as fans travel back to Wakanda.
Marvel productions are notoriously secretive, so don't expect many other updates like this one. If anything, the video serves as a reminder of what Chadwick Boseman was able to accomplish and that his legacy will continue to live on.