The New Trailer For The Night House Is Incredibly Creepy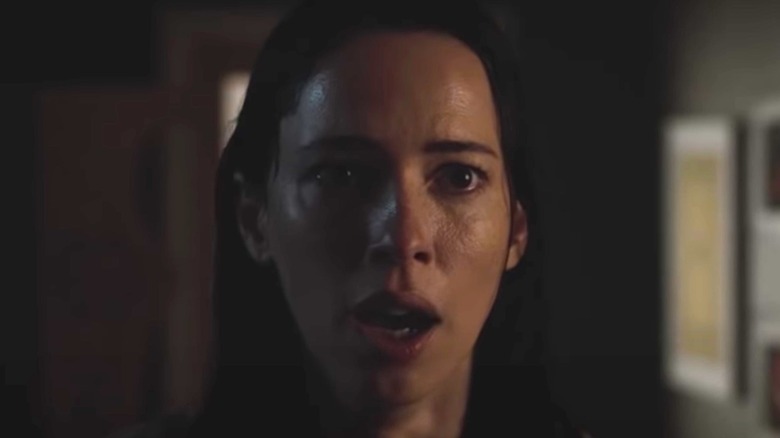 Searchlight Pictures
Though David Bruckner made a name for himself in genre circles on the strength of memorable chapters of horror anthologies "V/H/S" and "Southbound," he officially became a director to watch with the 2017 release of "The Ritual." Produced by Netflix, and released exclusively on their platform, the stylish and supremely creepy thriller instantly became not just one of the best horror films the streaming giant has yet produced, but arguably one of the best genre offerings released in the past decade. It even earned some serious love from gothic maestro Guillermo del Toro on Twitter.
Needless to say, the success of "The Ritual" had fans anxious to see what the director would do next. We're finally nearing the release of Bruckner's follow-up project, which is called simply "The Night House." Yes, it's another atmospheric genre affair. Judging from the film's haunting new trailer, however, Bruckner's latest supernatural creeper will be a distinctly different sort of monster from "The Ritual."  
The Night House has the look of a nerve-shaking haunted house chiller
The new trailer for "The Night House" is not the film's first, of course. It is, however, shorter, and far more cryptic than the one released just a few months ago. That's probably a good thing, because it seems that "The Night House" is clearly the sort of film you want to go into knowing a little as possible. And even in spite of that revealing first trailer, it's safe to say "The Night House" still has mysteries aplenty for genre purists to discover.
Unlike "The Ritual," it appears "The Night House" will largely unfold in the cozy confines of a single location, the posh lake house of a recent widow (Rebecca Hall) who comes to believe that not only did her deceased hubby (Evan Jonigkiet) take some sinister secrets to the grave, but also that she may not be as alone inside their dream house in his absence than she thinks. From that spooky setup, Bruckner looks to spine a haunted house flick the likes of which has rarely been seen. In doing so, he's also fronting the formidable talents of Rebecca Hall, who remains among the most egregiously overlooked actors of this or any generation.
Judging by the glowing early reviews from the 2020 Sundance Film Festival premiere of "The Night House," both Hall and Bruckner have conjured something special indeed with this film. And you'll finally have the chance to see it for yourself when "The Night House" hits theaters on August 20, 2021.