Dexter Season 9 Now Has An Official Synopsis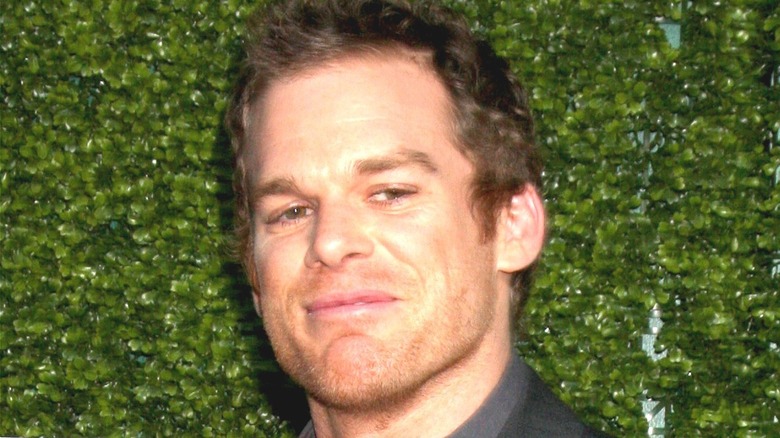 Shutterstock
A new season of "Dexter" is finally coming — which will be titled "Dexter: New Blood — and it has fans of the smash crime drama revving up to watch their favorite serial killer back in action, once again. The revival, which will air on Showtime, has been picking up an increasing amount of attention since debuting new footage last weekend at Comic-Con, and it now has an official release date, as well: fans should set their reminders for November 7 to watch the premiere episode. There's also a new trailer to check out, which reveals even more tidbits about what Dexter Morgan (Michael C. Hall) has been up to since we last saw him, and teases how well (or not) he's been keeping his homicidal instincts in check. 
While fans have been eagerly consuming every little bit of "Dexter" news as it arrives, including the revival's new cast of characters, there has still remained an aura of mystery surrounding what the overarching plot of the new season will be. What's going to happen? Will Dexter go back to his old ways? 
Well, look no further, because we finally have the official synopsis for "Dexter: New Blood."
Dexter: New Blood will address some of the fans' biggest questions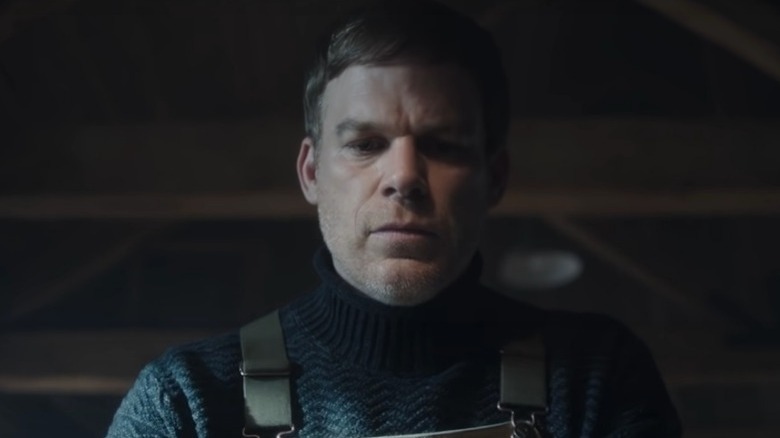 Showtime
Sunday, July 25, was the final day for Comic-Con 2021, and the famous three-day event saved the best for last, giving fans a behind-the-scenes look into "Dexter: New Blood." The panel included "Dexter" showrunners Clyde Phillips and Scott Reynolds, director Marcos Siega, actor (and "Dexter" newcomer Julia Jones), and, of course, the show's star, Michael C. Hall. The panel's host, Kristin Dos Santos, had some hard-hitting questions for the group, including what the new series has in store.
Following the panel, a new official trailer was released to give viewers a more detailed look into the new series. There is also, finally, an official summary for "Dexter: New Blood" (via Dexter Daily), which reads: 
Set 10 years after Dexter went missing in the eye of Hurricane Laura, the series finds him living under an assumed name in the small town of Iron Lake, New York. Dexter may be embracing his new life, but in the wake of unexpected events in this close-knit community, his Dark Passenger beckons.
Now, what does that mean? If we break down the synopsis, we can fill in a few of the blanks.
Breaking down the new Dexter synopsis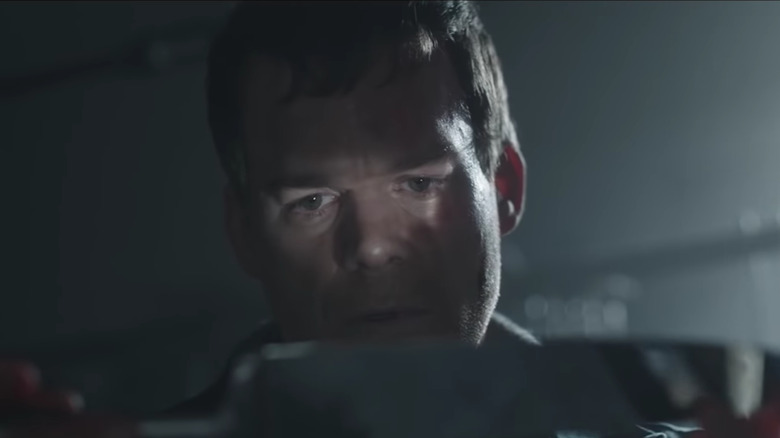 Showtime
First off, it's worth remembering that the famously hated series finale of "Dexter" Season 8 (the backlash of which the showrunners have promised this new season will address) ended with Dexter vanishing from his former life in Miami and reappearing in the snowy wilderness of Oregon as a lumberjack. Although we can't say for sure how he went from Oregon to the fictitious town of Iron Lake, New York, the trailer does make it clear that Dexter has been making every attempt to change his ways (to the point of covering up a patch of blood on the snow so he doesn't have to see it).
According to Michael C. Hall, the character of Dexter chose the small town location in order to avoid temptation. "Going back to the way the show ended, [I think] we see Dexter having made a choice to go into a sort of self-imposed exile," Hall said, at the Comic-Con panel. "I think he's doing a very, very long, protracted penance for the people who've died who were close to him, and not intended victims, because of how he'd been living, how he'd been playing fast and loose with the code [...] As far as abstinence goes, as I imagine it, I think Dexter is maybe exercising the power of his restraint."
This restraint will surely be put to the test, but audiences will have to wait and see what happens when the long-awaited revival, "Dexter: New Blood," returns to Showtime on November 7, 2021.