Dexter Revival Cuts Loose With New Trailer At Comic-Con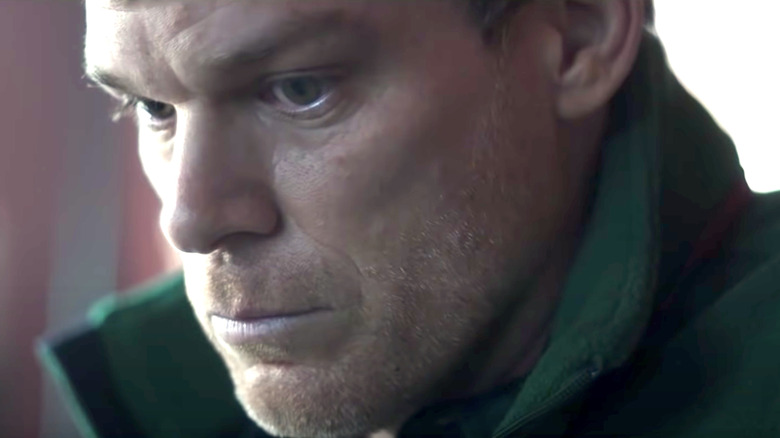 Showtime
Michael C. Hall is back this fall as Dexter Morgan, or as Showtime dubs him, "America's favorite serial killer." The channel will be home to the revival series of the original show "Dexter," which aired for eight seasons from 2006 to 2013. Now it's eight years later and Hall, along with the showrunner of Seasons 1 through 4, Clyde Philips, are returning to right the wrong of the extremely disliked series finale. To recap, the final episode of the original series has Dexter's sister Deb (Jennifer Carpenter) unexpectedly dying, leading a distraught Dexter to leave behind his whole life to be a lumberjack in who-knows-where.
The new show, aptly titled "Dexter: New Blood," will take place around 10 years after the finale, with Dexter living on his own under a new identity in New England. The show will be a limited series of 10 episodes, and fans are slowly getting their hopes up that the new episodes might end on a better, or bloodier note than the first series finale. While fans have been waiting quite a while for more news about "Dexter: New Blood," Showtime has come through with a heart-pounding new trailer and official release date, revealed at the show's panel at ComicCon@Home.
The Dexter: New Blood trailer shows that trouble finds Dexter no matter where he goes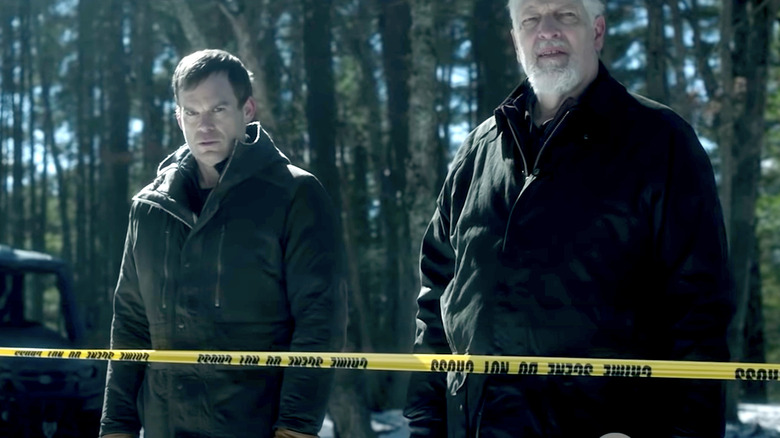 Showtime
Even in exile, Dexter can't seem to get away from death and disaster. According to the official synopsis released by Showtime, "Living under an assumed name in Iron Lake, New York, a tiny, unassuming town, Dexter is busy embracing his new life until blood starts getting spilled." The new trailer shows Dexter going by the name Jim Lindsay and working at a shop called "Fred's Fish & Game," while he goes home to a cosy cabin cooking eggs and sharpening knives. How quaint. 
The first footage also reveal hints of the new characters that we will see in "Dexter: New Blood," with a couple of split-second shots of the new antagonist Kurt Caldwell, to be played by Clancy Brown, and Dexter's apparent new love interest, the first Native American Chief of Police in the town, played by Julia Jones. Also, don't worry, the trailer leads us to believe that there will still be plenty of blood and death in the limited series, just like in the original show. 
As for the release date of "Dexter: New Blood," fans will only have to wait a few more months, with the limited series scheduled to premiere on Showtime on November 7, 2021. Along with Hall, the upcoming revival is expected to also feature two other familiar faces, Carpenter as Deb and John Lithgow as Arthur Mitchell, also known as the Trinity Killer. Both Deb and Mitchell are characters that supposedly meet their end in the original series, so it's a mystery as to how they might show up in "Dexter: New Blood."