The New Trailer For Lamb Will Give You Nightmares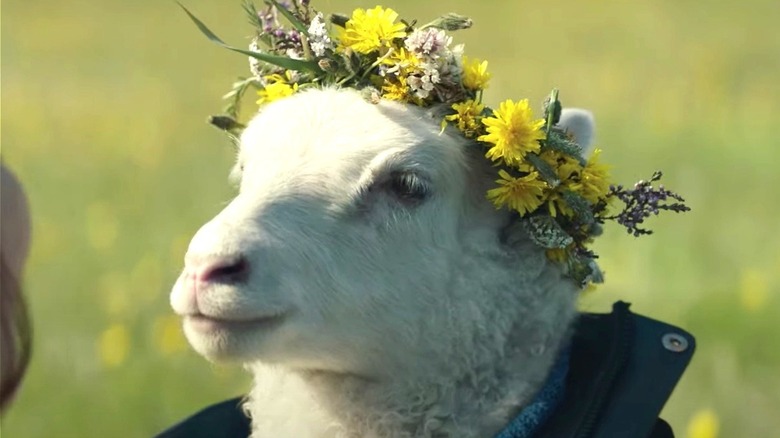 A24
Film studio A24 has already given horror fans some serious nightmare fuel with films like "Hereditary" and "Midsommer." The upcoming fantasy "The Green Knight," releasing on July 30, may be based on an old Arthurian tale, but the imagery we've seen so far makes it clear that this one will have some chilling imagery as well. Now, with the release of the trailer for Valdimar Jóhannsson's "Lamb," fans of the indie filmmaking studio have an even more bizarre tale to add to their list.
"Lamb" marks the directorial debut for Jóhannsson. The new Icelandic language film from A24, which stars Hilmir Snær Guðnason and Noomi Rapace, tells the story of a couple who work on a farm and take care of a herd of rams and sheep — but their quiet, simple life is upended when nature takes a strange turn. The film's release date is set for October 8, 2021, but until then, the first look at the new film has horror enthusiasts feeling anxious, in good and bad ways.
Something is not quite right in the "Lamb" trailer
The trailer for "Lamb" is unsettling through the atmosphere alone, as it reveals very little in the way of blood or violent imagery. This is part of A24's genius: The studio knows how to pick films that get under the audience's skin and leaves them with a creepy-crawly feeling that doesn't go away. The trailer opens with a woman, Maria (Rapace), mourning at a small gravesite, although it isn't revealed who is in the grave. The viewers are introduced to the simple lives of Maria and her husband Ingvar (Guðnason), who live in rural Iceland taking care of a herd of sheep.
When a newborn lamb enters their lives, it's clear there is something not quite right about the new addition to the family. Maria and Ingvar clearly dote upon the creature, but something about the lamb has the other animals on the farm clearly disturbed. The Beach Boys' "God Only Knows" begins to play in the trailer's second half, the feel-good tune juxtaposing with the film's mounting anxiety and terror. If the film lives up to the disturbing nature of the trailer, then horror fans will have a lot to look forward to when "Lamb" releases on October 8.