The Surprising Reason The Jungle Cruise Stars Couldn't Nail This One Stunt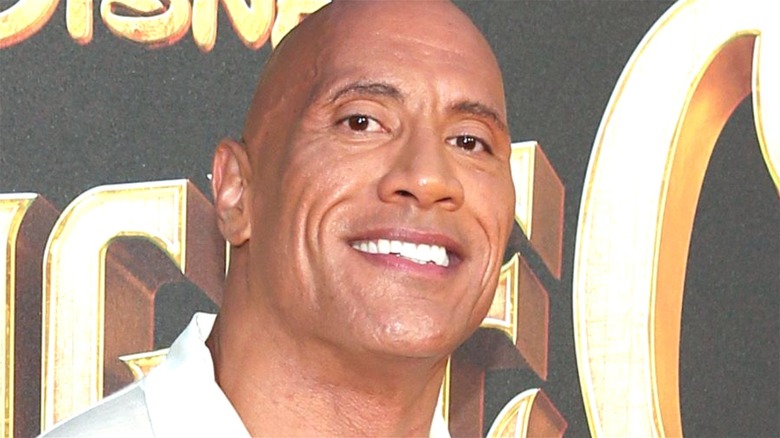 Jesse Grant/Getty Images for Disney
The past few years have been hard for everyone, but for Disney devotees, being unable to visit the theme parks was an especially disappointing reality.
However, the House of Mouse, always ten steps ahead, decided to bring the magic of the parks closer to home. "Jungle Cruise" is Disney's latest live-action film, based on the classic Disney theme park ride. Similar to "Pirates of the Caribbean," the film takes the immersive experience of the Disney parks, adds a plot, and brings it to the big screen for all to enjoy. The film follows Dr. Lily Houghton (Emily Blunt) as she travels down the Amazon river in search of an ancient plant with the potential to change the future of medicine. She enlists the help of skipper Frank (Dwayne Johnson) to help her on her journey, encountering mystery, danger, and excitement along the way.
"Jungle Cruise" is an exciting action-adventure movie, but also full of humor and heart, and the cast's chemistry is apparent throughout the film. However, sometimes playing around on set led to some very long takes, especially for one particular stunt. 
Dwayne Johnson wouldn't stop making Emily Blunt laugh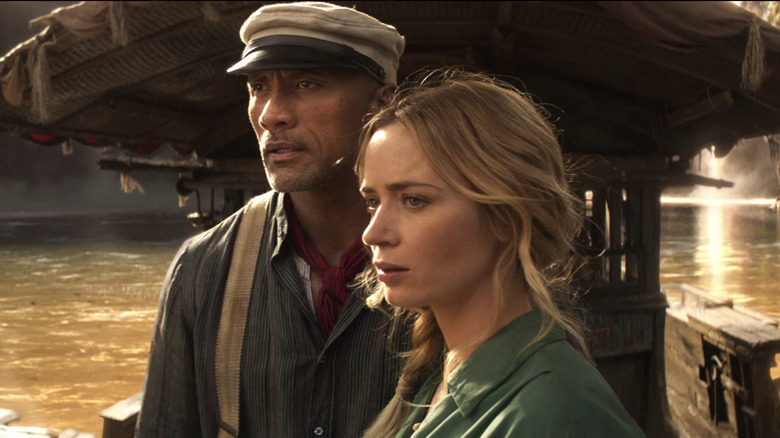 Walt Disney Studios
Dwayne Johnson has made quite the career for himself as an action star, using his talents as a former professional wrestler to carry out some impressive physical feats. While his "Jungle Cruise" co-star, Emily Blunt, is no stranger to physically intensive roles herself, she struggled a bit with the film's stunts — but not for the reasons you'd think.
During a press event for the film, which Looper attended, Blunt shared how challenging it was to film the scene where Johnson's character holds onto her and they swing Tarzan-style on a vine. However, the scene wasn't challenging because of the physically, but because Johnson wouldn't "let [her] get one straight take in." Blunt elaborated, saying Johnson "pushed it so far every time...throwing in awful improv" to make her laugh. "I don't know how many times we must have shot that," the actress shared good-naturedly, with Johnson laughing in agreement.
Audiences will get to see all the amazing humor and action on July 30th, when "Jungle Cruise" hits theaters and Disney+ premiere access.