The Hilarious Deleted Scenes We'll Never See In Jungle Cruise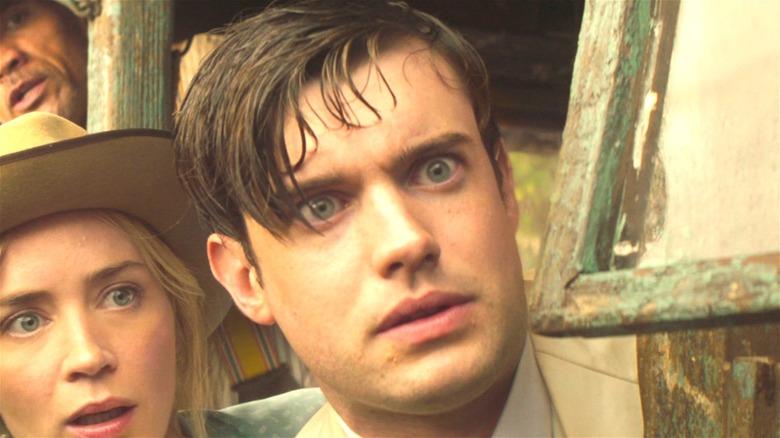 Walt Disney Studios
"Jungle Cruise" is coming out this Friday, and it's time to get hyped. Based on the Disney theme park ride and starring Dwayne Johnson and Emily Blunt, the film is going through its pre-release rites of passage right now in anticipation of both a theatrical and Disney+ Premier Access release, which means there's plenty of press taking place in advance of the film, revealing all kinds of juicy insider tidbits about the upcoming big screen adventure.
One of these revelations comes from comedian Jack Whitehall, who plays upper-crust Englishman MacGregor Houghton, brother to Blunt's character Lily. He's an actor you may know from another little Disney project called "Frozen." His website calls him "the only actor ever to have a non-speaking role in an animation film," as most of his scenes — including funny ad-libbed one-liners, it sounds like — were cut out of the film. Now, it's not quite true that his voice never appeared in the movie, as his troll character Gothi did speak a line or two at the end of the song "Fixer Upper," when the small creatures were tryng to marry Anna and Kristoff off. 
Nonetheless, it looks like "Jungle Cruise" was a bit kinder to his improv skills, and a discussion about his role led to the revelation that there's footage we won't see when "Jungle Cruise" finally debuts.
Sounds like some of the Jungle Cruise jokes that ended up on the cutting room floor were pretty raunchy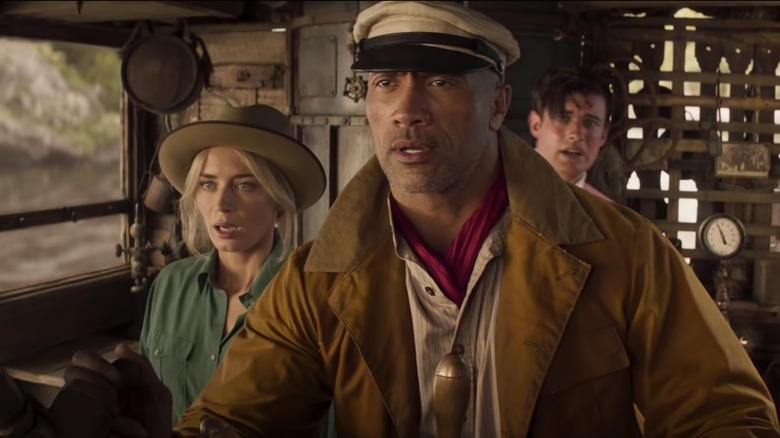 Walt Disney Pictures
During a cast interview sent to press, an interviewer called Whitehall the movie's "one-line wonder," which is a bit different from his "Frozen" experience. Whitehall said, "I felt like this was just a case of throwing enough stuff at the wall and something sticking, because I was just desperate to not be cut from it. The fact is, even a single line in there is an improvement on the 'Frozen' debacle and I'm so excited to actually be a speaking part in a Disney film." 
In response to a question he noted that while the script was "amazing," the cast was "given the space to kind of improvise and add stuff to it ... It felt like such a safe space and there were probably a few jokes that ended up on the cutting room floor for the right reasons," Whitehall said. "Some really great moments that you see in the film are like genuine moments that we sort of came up with in the moment and [director Jaume Collet-Serra] was really good at encouraging that as well." 
When reminded that Collet-Serra had noted he could probably have made two more movies from the riffing and fun that the actors had, Whitehall quipped, "One of them is not PG-13." The cast then chimed in, noting that the cut jokes had a "red band" quality, especially one scene in which a sword was being pulled out of Dwayne Johnson. "You should have heard ... it was appalling," Emily Blunt said. "The innuendo," Johnson interjected, making a reference to "dark web jokes." 
Thus, some of the most hilarious improv bits never made it into the final cut. We mourn what could've been, but hopefully "Jungle Cruise" will be totally amusing, anyway. It sure sounds like it was entertaining to make, at least!