See Unreleased Footage From The Suicide Squad In A New Music Video
2016's "Suicide Squad" certainly wasn't light on needle drops. Plenty of pre-existing popular songs made their way into the superhero ensemble, from "Sympathy for the Devil" by The Rolling Stones to "Without Me" by Eminem. That's not even including all of the original songs that made their way onto the soundtrack, the most notable of which was the lead single from Twenty One Pilots titled "Heathens." It's a song so catchy it continues receiving radio airplay to this day. 
2021's "The Suicide Squad" can't be upstaged, so it needs a few bangers of its own. And with James Gunn as the director, who used pop songs brilliantly in both of the "Guardians of the Galaxy" movies, expectations are high. The director recently sat down with Empire Magazine to discuss which songs wouldn't end up in the finished product. He had big plans for some tracks, but ultimately, they fell to the wayside when artist Grandson wrote a song titled "Rain," which he performs alongside Jessie Reyez.
You could hear that song for the first time in one of the previous "The Suicide Squad" trailers, and now, it has its own music video. The song's a hit no matter which way you slice it, and the best part is how the video contains as-of-yet unseen footage from the movie itself.
It's a dance party with the Suicide Squad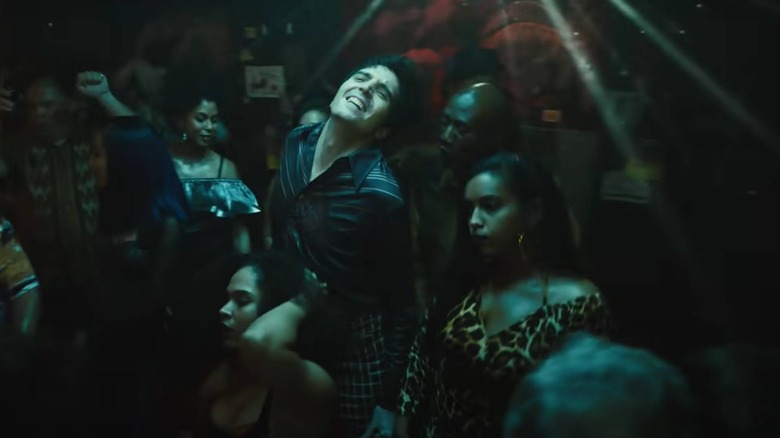 Warner Bros. Pictures/DC Films
James Gunn has been stoked to share the new song with audiences for a while. In May, he tweeted, "So one of my favorite current musical artists wrote & recorded a song for #TheSuicideSquad & I feel like I'm standing so close to a pop classic that it's burning my brain. I have been singing it non-stop for a week. Can't wait to share." It's a catchy tune on appropriate subject matter, seeing how the trailers have shown Task Force X encountering plenty of rain throughout their adventure. 
The music video shows both Grandson and Jesse Reyez taking part in the Squad's adventure, mainly when they go to a run-down club with people dancing and grinding on one another. While the trailers showed Polka-Dot Man (David Dastmalchian) getting down on the dance floor, the video shows other villains getting in on the fun before the authorities shut the party down. It doesn't reveal much in terms of plot, but it shows Gunn hasn't lost his sense of fun. While there's sure to be plenty of bloodshed and mayhem, it's good to see a bunch of supervillains having fun, too. 
It's the first track confirmed to be on the soundtrack, but if you need some more music to keep you going, then check out Grandson's debut 2020 album, "Death of an Optimist," where every song feels right at home in a "Suicide Squad" movie. Jessie Reyez's first album, "Before Love Came to Kill Us," also came out in 2020.