Here's What Critics Are Saying About Snake Eyes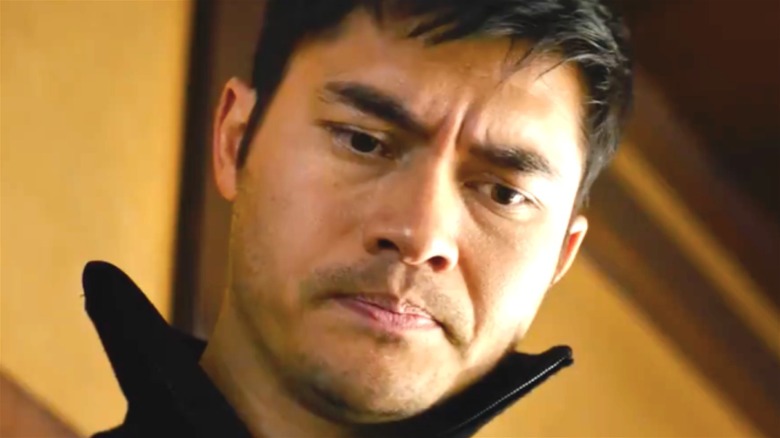 Paramount Pictures
The latest live-action movie in the "G.I. Joe" cinematic universe is finally here. "Snake Eyes" is a reboot for the franchise and an origin story for the titular character (played here by Henry Golding) that follows his sword-swinging, neon-tinged adventures after joining a mysterious and ancient order of ninjas known as Clan Arashikage. Of course, as is the case in any shadowy underworld, close allies have the potential to become fierce adversaries and danger is never far away. Snake Eyes must learn how to juggle his loyalties with his instincts for self-preservation while on a journey to becoming the man so many action-figure fans have come to love.
The previous live-action "G.I. Joe" films, "The Rise of Cobra" and "Retaliation," were mostly dismissed by critics when they arrived in theaters. Does "Snake Eyes" break with tradition in that regard? The reviews for the film have dropped and we can now say that the answer to that question is...kind of?
While most critics seem to agree that "Snake Eyes" is a marked improvement over the prior efforts, the reviews for the movie are still decidedly mixed, as evidenced by its 48% Rotten Tomatoes score at the time of writing. For all the praise for Golding's presence and the general enjoyment factor, there were almost equal criticisms of the movie's rote dialogue and director Robert Schwentke's chaotic action sequences.
Molly Freeman captured the general consensus in her review for ScreenRant, wherein she declared, "'Snake Eyes' is a fine enough franchise-starter, and it's a super fun summer blockbuster ... though seeing it on a massive screen only highlights Schwentke's baffling overuse of shaky cam."
Here's what else critics are saying.
According to critics, Snake Eyes is a bit of a mixed bag
First, let's start with the positive. In a review for The Minneapolis Star Tribune, Chris Hewitt was critical of certain aspects of the movie but found plenty to praise. Of Kenji Tanigaki's fight choreography he wrote, "it's spectacular stuff, sometimes involving those swords, as well as daggers and improbably high jumps."
Hewitt also lauded Golding's performance and potential to carry more movies in the franchise. "[He] nails the combo of authority and low-key humor that the title role asks for," he wrote, "suggesting that after using two different actors to play Snake Eyes in the previous two 'G.I. Joe' movies, they finally found their man."
Brian Truitt of USA Today wrote that "Snake Eyes" is "a satisfying martial-arts action-adventure." He was impressed with the ample serving of "lightning-quick swordplay" and especially enjoyed the chemistry between Golding and Andrew Koji, who plays Tommy Arashikage. Truitt called the pair "endlessly watchable together whether having a deep conversation or punching goons in the face."
On the flip side, Simon Abrams of RogerEbert.com was left feeling like he'd watched "a dire checklist of clichés that were already gathering moss back in the 1980s ..." He called the dialogue "dismally overproduced" and noted, "the action scenes are not only diminished by headache-inducing hand-held photography—don't bother seeing this in IMAX—but also cribbed ideas from superior action films ..."
And The Guardian's Charles Bramesco wasn't much of a fan, either. He called the movie "a largely interchangeable hunk of Hollywood product" with "terminally uncool dialogue ..."
You can determine how you feel about the movie for yourself by checking out "Snake Eyes," which hits theaters on July 23.