The New Trailer For Nine Perfect Strangers Has The Internet Transfixed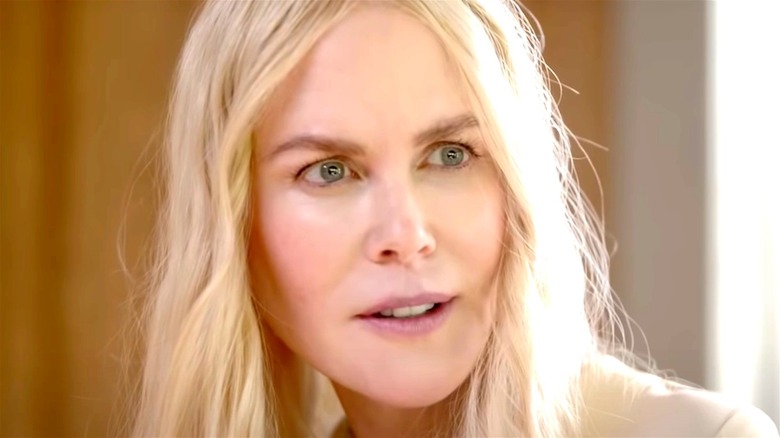 Hulu
Fans of the Nicole Kidman-starring HBO series "Big Little Lies" get to rejoice in an unexpected and exciting way today. Kidman and author of the book "Big Little Lies," Liane Moriarty, have teamed up once again — this time for a Hulu miniseries based on another of Moriarty's books.
The new short series, "Nine Perfect Strangers" focuses on nine city-dwelling people from all walks of life joining a 10-day "Mind and Body Total Transformation" wellness retreat. The characters all have unique reasons for attending the retreat, but they each have something in common, as well — an event in their lives that has brought them to a place where they need to reassess who they are and where they are going.
At the heart of that retreat is the woman running the whole show — Masha (Nicole Kidman). As you might imagine, Masha is intriguing, but also probably evil from the looks of things.
The first full trailer for "Nine Perfect Strangers" just dropped, and people are already having intense reactions to the cast and the unsettling vibe.
Good graves, astonishing actors, and magnificent memes
There are a lot of stand-out moments from the "Nine Perfect Strangers" trailer that are worth noting, but first we have to acknowledge the astounding cast which, in addition to Nicole Kidman, includes: Melissa McCarthy, Tiffany Boone, Regina Hall, Bobby Cannavale, Michael Shannon, and Samara Weaving. Shannon and Weaving stand out in particular, because both of them recently starred in mysterious thrillers "Knives Out" and "Ready or Not," respectively. Their participation, even before watching a single second of the trailer, tells you a lot about the quality of this project.
Unsurprisingly, viewers are very fixated on the uncanny vibe: "Okay, but can we appreciate Nine Perfect Strangers' aesthetic?" tweeted @milfaniston. Their tweet includes shots of crashing waves, the forest which separates the retreat from the rest of the world, a waterfall, and a scene wherein everyone is laying in their own graves.
As far as on-screen chemistry goes, @softmccarthy tweeted, "if this isn't proof to you Bobby [Cannavale] and Melissa are gonna be great in #nineperfectstrangers as Tony and Frances then I don't know what to tell you," while including the romantic ending between both actors from the film "Superintelligence."
And, of course, people also see the unintended humor. @JamesShotwell_ tweeted an animated image of Michael Shannon twirling his shirt around while dancing on the bed in his boxers with the sentence, "New Michael Shannon gif just dropped." Truly, if nothing else, "Nine Perfect Strangers" is already giving us memes.
It also gave us a hashtag, which includes a little Nicole Kidman (as Masha) emoji — adorable. "Just as obsessed with this Masha emoji as I am for this cast," tweeted @bmehciz.
"Nine Perfect Strangers" begins airing on Hulu August 18.