The Jaw-Dropping Way Some Movie Theaters Are Promoting Spider-Man: No Way Home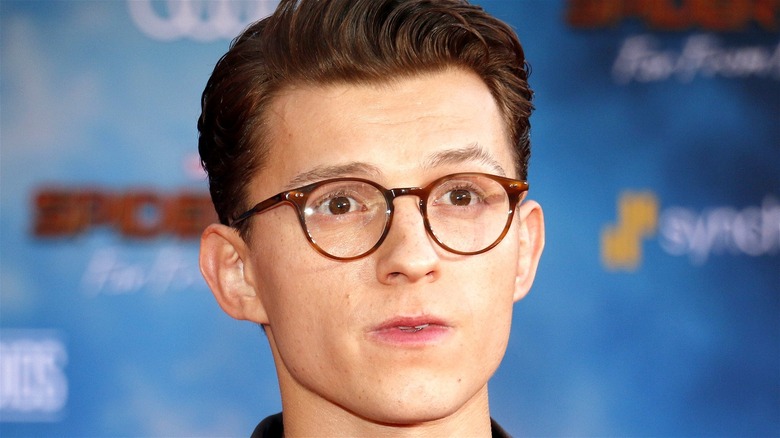 Shutterstock
It's been a funny two years for movies — and by that, we mean that a lot of movies were delayed. The Marvel Cinematic Universe found itself in a particularly tricky position since they closed out 2019 with a mixture of the Avengers ending "Avengers: Endgame" and the mournful soliloquy by Peter Parker (Tom Holland) for his mentor Tony Stark (Robert Downey Jr.) that was "Spider-Man: Far From Home."
Since then, there were no MCU movies until "Black Widow" in summer 2021. Although the MCU lived on while people were trapped in their homes through the power of the small screen with shows like "WandaVision," "The Falcon and the Winter Soldier," and "Loki," fans are ready to get on with the MCU proper once more. "Black Widow" was satisfying, but it was filling in blanks, not telling us where the MCU goes next. And while we're about to see the MCU greatly expanded with new characters from both "Shang-Chi and the Legend of the Ten Rings" and "Eternals," the first film to really reconnect us with the future of our former heroes is "Spider-Man: No Way Home."
Despite the excitement of fans for the third Tom Holland Spidey film, despite rumors that both Tobey Maguire and Andrew Garfield are set to return as alternate universe Spider-Men, and despite the fact that "Spider-Man: No Way Home" is only a few months away from its December 17 release, we have gotten no major promotion from the film by either Sony or Disney.
The need for a "Spider-Man" promo is so intense, that some local theaters have taken it upon themselves to get it done.
Three Spideys are better than one, but what about four?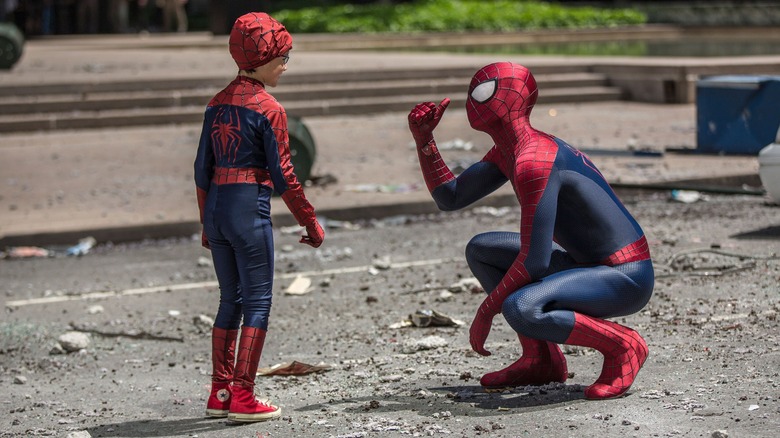 Sony Pictures
When there's nary even a serious poster for "Spider-Man: No Way Home," what is a movie theater to do? In some cases, the answer, apparently, is to just go right ahead and make your own! A number of local cinemas have done exactly that in order to help get people excited (and hopefully boost ticket sales). Over on Twitter, user @spiderman3news shared photos of two fake posters from Westown Movies and Cinepalace respectively along with a tweet that reads, "Cinemas really got sick of waiting for the official no way home trailer and went 'f*** it I'll do it myself.'"
Both posters have a very similar motif — a number of portals (like the ones we see in "Doctor Strange" and at the end of "Avengers: Endgame") show different locales and different characters. One poster shows Doctor Strange (Benedict Cumberbatch) as well as Tom Holland with the Maguire and Garfield Spider-Man suits. The Cinepalace poster looks pixelated and as though it were made by someone with just a little time on their hands. The Westown Movies poster, however, looks pretty darn realistic. And, in addition to what was shown on the Cinepalace poster, there's one other Spider-Man present — Miles Morales.
Both posters use the same portals, which makes it worth wondering — is that accidental, or has someone at one of these theaters seen the real thing? The posters are variations on an identical theme, so it's possible someone knows something.
While it's unknown when a teaser or trailer will drop for "Spider-Man: No Way Home," it shouldn't be long. In fact, since the next Marvel Disney Plus series "What if...?" involves alternate versions of famous characters and stories, don't be surprised if "No Way Home" gets a trailer sometime in August as episodes of "What If...?" air.