This Famous Pepsi Commercial Helped Launch Alfonso Ribeiro's Career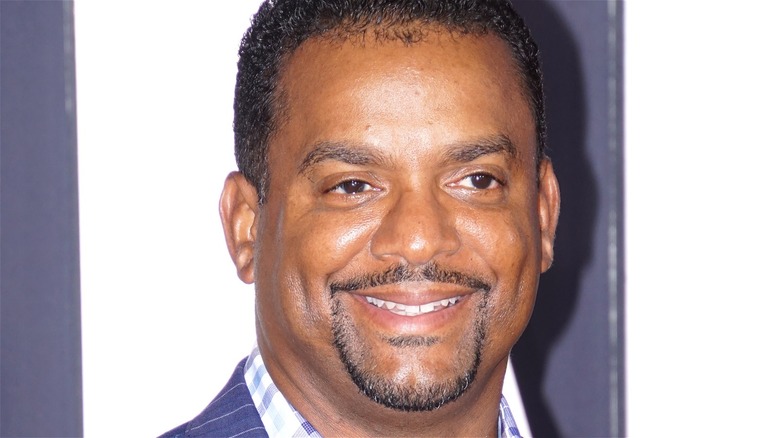 Shutterstock
Alfonso Ribeiro's most iconic performance to date is naturally Carlton Banks on "The Fresh Prince of Bel-Air." Best known for introducing the world to the hit dance craze known as "The Carlton," Alfonso Ribeiro had plenty of standout moments on the sitcom. From becoming a stripper to help recoup some gambling losses to busting a move on "Soul Train," Carlton could do it all. He was the perfect foil to Will Smith (both the actor and the character), and his return to the "Fresh Prince" reboot coming to Peacock is undoubtedly one of the most highly anticipated aspects of the project.
The actor's kept busy over the years, dipping his toes into directing and writing, but it's still fun to go back to the credit where it all began. No, we're not talking about "The Fresh Prince of Bel-Air." Ribeiro was already an accomplished actor before he landed the part of Carlton, and his career launched with a little commercial from the 1980s he starred in alongside The King of Pop. 
Alfonso Ribeiro moonwalked into our hearts
Long before Pepsi got Beyoncé, Britney Spears, and Pink to star in a commercial together, they already threw down the gauntlet to prove they were the soda of choice for pop stars. In 1984, Michael Jackson and the rest of the Jackson 5 lent their talents to the now-famous "Pepsi Generation" commercial. The ad comes complete with a song parody of Jackson's most famous hit at the time — "Billie Jean" — with Pepsi-inspired lyrics to boot. 
It's tough to upstage one of the most iconic singers of all time, but many would argue Alfonso Ribeiro accomplished precisely that. The future "Fresh Prince" star appears in the commercial as the kid dressed in Michael Jackson's signature red jacket. He dances all through the street with a Pepsi in hand until he moonwalks right into The Gloved One. An all-out dance party breaks out in the road as everyone guzzles down Pepsis.
The commercial, which has since been viewed over 110 million times on YouTube, was one of Ribeiro's first acting credits and helped launch him into superstardom. From there, he performed in "Magnum, P.I.," "Silver Spoons," and, of course, "The Fresh Prince of Bel-Air."