The Trailer For Neill Blomkamp's Demonic Will Keep You Up At Night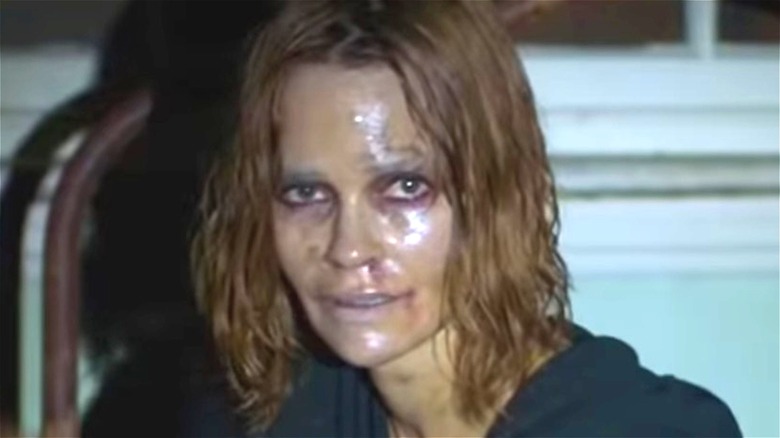 IFC Films
Up until now, any details on critically-acclaimed "District 9" and "Elysium" writer-director Neill Blomkamp's upcoming film, "Demonic," have been sparse. However, a recent trailer has finally revealed more plot exposition about the auteur's horror debut.
The new trailer follows the much more abstract (but equally nightmarish) teaser released last month, giving some more insight into what horrors await those who brave the movie next month. The movie stars Carly Pope ("Elysium," "Popular"), Nathalie Boltt ("District 9," "Riverdale") and Chris William Martin ("The Vampire Diaries," "Johnny"), and appears to blend together elements of sci-fi, a staple of Blomkamp's in his other work, and the occult, which may or may not be real within the universe of "Demonic."
As for what the movie is about? According to the new trailer, "Demonic" will see a young woman named Carly (Pope) go inside a simulation where the mind of her mother Angela (Boltt) resides, as she appears to be in a coma. Carly then attempts to speak with Angela, hoping to get answers for why she went on a homicidal rampage.
Neill Blomkamp's Demonic blurs the line between fantasy and reality
Admittedly, while the new trailer for "Demonic" finally slips out some long-awaited story details, it also keeps the finer plot points as mysterious as ever. The trailer doesn't give away why or how Angela appears to have been possessed, but it does give plenty of imagery and vague hints — just enough to give those anticipating the movie plenty to discuss and theorize about. After witnessing horrific events within the simulation, Carly seems to start hallucinating in the real world, with one shot showing her wrist being cut without any objects near it, as well as some creepy claws belonging to some hellish monster.
Carly isn't entirely alone, though — because whatever might be happening to her, the trailer also introduces a black ops force employed by the Vatican, with Christian tattoos potentially offering some protection against the underworldly monstrosities and happenings as they explore what might be the remains of the building Angela burnt down. As for what they find there, much less what happens to Carly and her mother, we'll just have to wait until the movie releases to find out.
Neill Blomkamp's "Demonic" hits theaters August 20, and comes to VOD the following week on August 27.