Here's How Dwayne Johnson Got Emily Blunt To Join Him In Jungle Cruise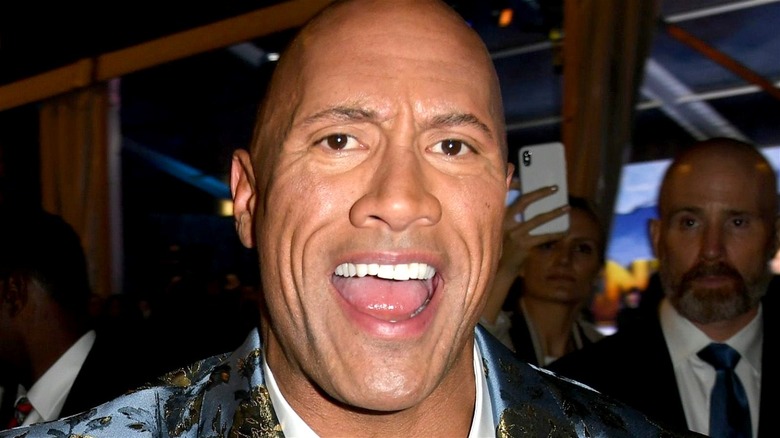 Kevin Winter/Getty Images
Dwayne "The Rock" Johnson didn't have an easy time getting Emily Blunt to star alongside him in "Jungle Cruise." That will likely come as a surprise to anyone out there who has watched one of the many "Jungle Cruise" trailers and TV spots that Disney has been dropping for well over a year now. The film's promotional materials have all placed a heavy emphasis on Blunt and Johnson's on-screen banter and chemistry, and it's not hard to see why. The film itself promises to be an enjoyable action-adventure flick, and thanks to the contributions of its two stars, also boasts hints of a fun buddy comedy scattered throughout it.
To its credit, "Jungle Cruise" also seems like it was partially designed to live and die off the relationship between Blunt and Johnson's characters. The film sees Blunt taking on the role of Dr. Lily Houghton, an ambitious scientist in search of a fabled tree of life, while Johnson stars as Frank "Skipper" Wolff, the cynical captain of a steamboat hired to supply some much-needed passage for Lily on her quest. Their opposing personalities and perspectives result in Lily and Skipper butting heads frequently throughout the film, and based solely on the "Jungle Cruise" footage that's been released up to this point, Blunt and Johnson seem like a natural screen pairing.
Despite that fact, it still took a lot of convincing to get Blunt to agree to co-headline the live-action Disney adventure. Here's how Dwayne Johnson convinced Emily Blunt to appear alongside him in Disney's "Jungle Cruise."
It wasn't easy convincing Emily Blunt to star in Jungle Cruise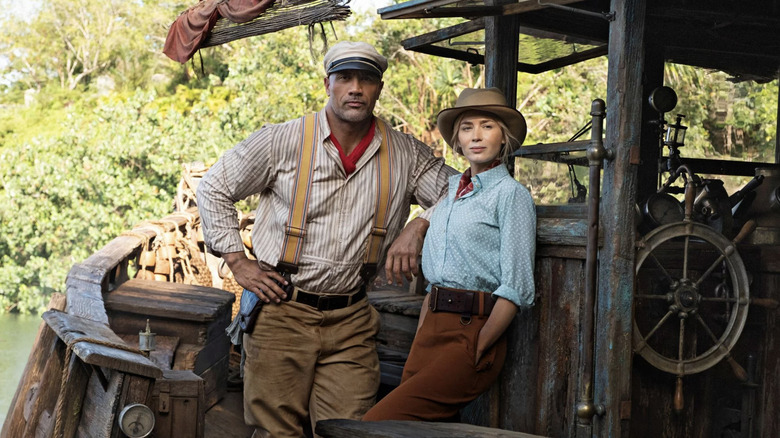 Walt Disney Studios Motion Pictures
In anticipation of the upcoming release of "Jungle Cruise," Emily Blunt and Dwayne "The Rock" Johnson opened up a bit about their experiences starring in the film. Speaking with The Hollywood Reporter, Johnson said that he always knew he wanted Blunt to star opposite him in "Jungle Cruise," but revealed that his and Disney's initial attempts to get Blunt to read the film's script and sign on to the project went unanswered.
At the time, Blunt was apparently looking to take a break from acting, coming off her back-to-back appearances in "Mary Poppins Returns" and "A Quiet Place." It was ultimately a joint effort made by Johnson and "Jungle Cruise" director Jaume Collet-Serra that convinced Blunt to participate in the film. Knowing that Collet-Serra planned on flying to New York to speak with Blunt in person, Johnson said that he shot a video of himself asking Blunt to join him on the adventure. "I must have shot it about five or six times because I had not communicated with Emily yet," Johnson admitted. "I had not even met her. And I wanted to let her know via this video just how important she was to this movie and how I only wanted her in this movie."
While Johnson joked that Blunt never acknowledged the video and just "ghosted" him after her meeting with Collet-Serra, Blunt said that she "thought the video was sweet" before teasingly adding that she didn't think Johnson would be "so sensitive" about it. The duo went on to reveal that Blunt was ultimately won over by Johnson's personal message and her conversation with Collet-Serra, who apparently told her that he wanted "Jungle Cruise" to bring to mind the "Indiana Jones" franchise and other iconic adventure films like "Romancing the Stone." Blunt read the film's script shortly after that meeting — and, as THR states, "with the additional help of a generous payday," she agreed to star in it. The rest is, as they say, history.
"Jungle Cruise" hits theaters in the United States on Friday, July 30, and will be available on Disney+ with Premier Access the same day.