Out Of Every That '70s Show Character, One Stands Above The Rest
Fox
"That '70s Show" enjoyed a fine run on Fox that lasted from August 1998 to May 2006, covering 200 episodes across eight seasons. In that time, viewers got to take a trip back to the groovy 1970s and explore what both middle-class life and youth culture were like in that bygone era. Of course, this was all through the lens of a comedic sitcom, so it's hardly applicable to call "That '70s Show" a 100% accurate replication of the decade. Therefore, it stands to reason that the best way to enjoy the series isn't as a dedicated period piece but as a showcase for the antics of some of TV's most iconic characters.
Eric Forman (Topher Grace) — a young adult who's still attempting to get his life together post-graduation — is our principal protagonist, and he doesn't come alone. Alongside him is his troupe of friends comprising of Michael Kelso (Ashton Kutcher), Steven Hyde (Danny Masterson), Jackie Burkhart (Mila Kunis), and Fez (Wilmer Valderrama), as well as his longtime girlfriend, Donna Pinciotti (Laura Prepon). They're joined by Eric's parents, the stern Red (Kurtwood Smith), and caring Kitty Forman (Debra Jo Rupp), whose worldviews and parental beliefs make for highly entertaining stories.
The dynamics between these characters drive "That '70s Show," but on an individual basis, they weren't quite all equal. One name stands above the rest as truly special in more ways than one.
None can compete with Kitty Forman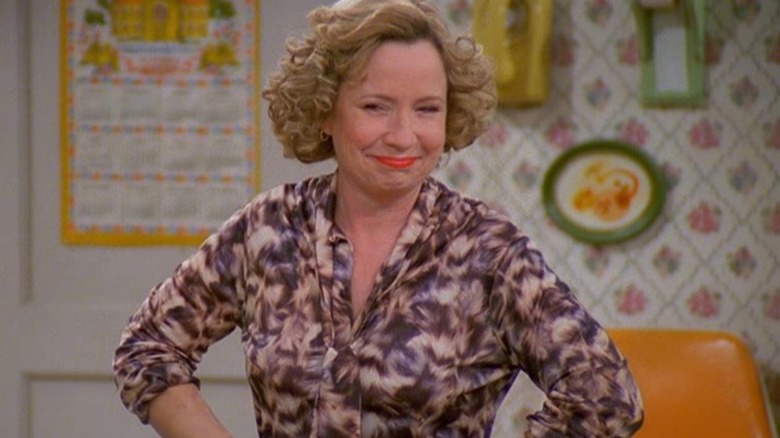 Fox
Yes, Eric Forman is the backbone of "That '70s Show," and Red Forman is responsible for many of the series' laugh-out-loud moments, but it's Kitty Forman who's the true shining star of the program. Making her debut in the premiere episode, "That '70s Pilot," she was a constant all the way up until its conclusion via "That '70s Finale," occupying a bunch of different roles in that time. However, her time wearing the mother hat is when she's at her best, hence her reputation as one of the best TV moms of all time.
"Kitty rocks because she's not asking for credit, but without her, almost every other character would never eat or resolve interpersonal problems," wrote Redditor AuFeKO in a thread centered on the "That '70s Show" mainstay. MichaeljBerry then chimed in with an interesting point that a few of their fellow users brought up as well, commenting, "I identified as Eric when I watched it as a teenager. I remember thinking kitty was annoying, now she's my favorite character." Naturally, the conversation wasn't without fans citing their love for Kitty's one-of-a-kind laugh – an enduring hallmark of her character.
Kitty's love for Eric and her support for his endeavors are key elements of her personality but don't be fooled by her warmth. As explained by Screen Rant, her intellect makes her a strong voice of reason on the program, and as such, she doesn't mince words when she calls people out on their poor decision-making. Her straightforward approach, coupled with actress Debra Jo Rupp's spot-on delivery, has spawned numerous hilarious scenes over the years, putting Kitty right up there with the funniest folks on the cast list.
Whether she's belting out a string of expletives directed at her husband Red or jamming out with Eric to Neil Sedaka's "Bad Blood," Kitty Forman's presence on "That '70s Show" was always a treat. There's no denying that she's in a league all her own.