Elizabeth Olsen Did The One Thing Joss Whedon Told Her She'd Never Have To Do For WandaVision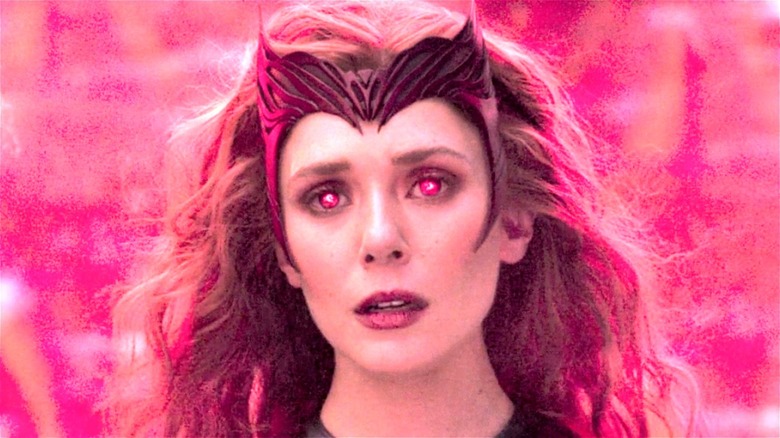 Marvel Studios/Disney+
The Emmy-nominated Marvel and Disney+ show "WandaVision" is memorable for a variety of reasons. Chief among those reasons is watching Wanda Maximoff (Elizabeth Olsen) officially transform into Scarlet Witch. This process includes Wanda unlocking all of the powers associated with the Scarlet Witch and adopting a modern version of Scarlet Witch's Marvel Comics costume as her own. Earlier in the series, however, she puts the "classic" costume on display during a Halloween episode. For Scarlet Witch fans, seeing Wanda finally wear a version of the costume may feel like a sweet victory, because it has been unclear if the character would ever make that transformation; she certainly wasn't introduced into the Marvel Cinematic Universe that way.
In case you forgot, Olsen was first introduced into the MCU in 2015's "Avengers: Age of Ultron." At the time, the character was introduced only as Wanda Maximoff, with no superhero moniker attached. Similarly, the character never donned a costume similar to the one worn by Scarlet Witch in the comics: A bright red spandex one-piece suit with pink tights, red boots, and a red headdress. 
In 2016, while promoting "Age of Ultron," Olsen shared on "Late Night With Seth Meyers" (via YouTube) that director Joss Whedon told her up front she wouldn't be wearing anything resembling the '60s comic book costume. Per the "WandaVision" star, "[In] the same meeting Joss Whedon even mentioned who we were meeting about, he said, 'There's this character Scarlet Witch that I'm interested in for you to play. Then he said, 'And when you go home and Google her, just know that you will never ever have to wear what she wears in the comics.'"
Elizabeth Olsen was keen to don the original Scarlet Witch costume for WandaVision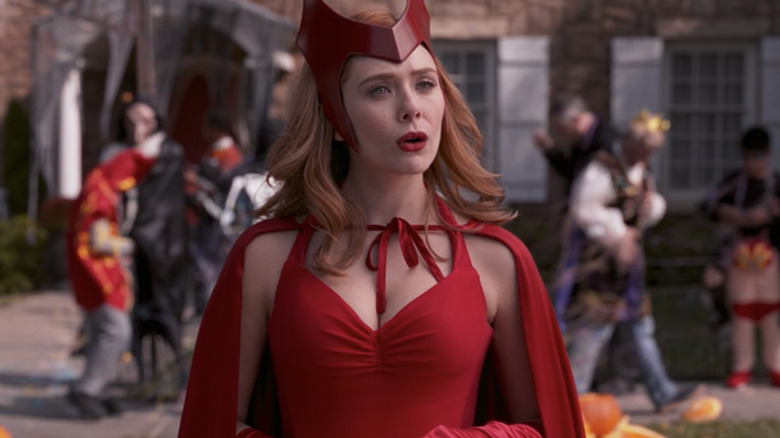 Marvel Studios/Disney+
At the time, Whedon's promise must have come as a bit of welcome reassurance, but Olsen was keen to get into a Scarlet Witch costume by the time filming on "WandaVision" rolled around. The way Olsen tells it during a January 2021 interview on Vanity Fair's "Still Watching" podcast, she actually fought for the chance to wear the old-school Scarlet Witch costume. It's unclear if there was a specific reason for her new stance on wearing a costume some would generously describe as "skimpy," but her account of the conversation reveals her excitement.
According to Olsen, "We have a Halloween episode and they were trying to figure out how big of a nod to the character we were going to do and it didn't start off with the classic Scarlet Witch costume," and went on to explain, "I like fought for it. I was like, 'No we have to go full into it. This is like the greatest thing. Paul [Bettany]'s doing it, I'm doing it.' And I'm really in it, it's not just a flash. I'm really in the costume for quite a bit. It was so fun, I loved it. And it was the perfect way to wear that costume, because you can't take that costume seriously." She also added that she joked with the production team to "make the headdress as big as you need to. Massive."
In the end, seeing Wanda wear the '60s Scarlet Witch costume in the "WandaVision" Halloween episode was not only a fun Easter egg for MCU fans, but helped add richness to Wanda's development into the actual Scarlet Witch.