Loki Director Confirms What We Always Suspected About The Finale's Emotional Opening Sequence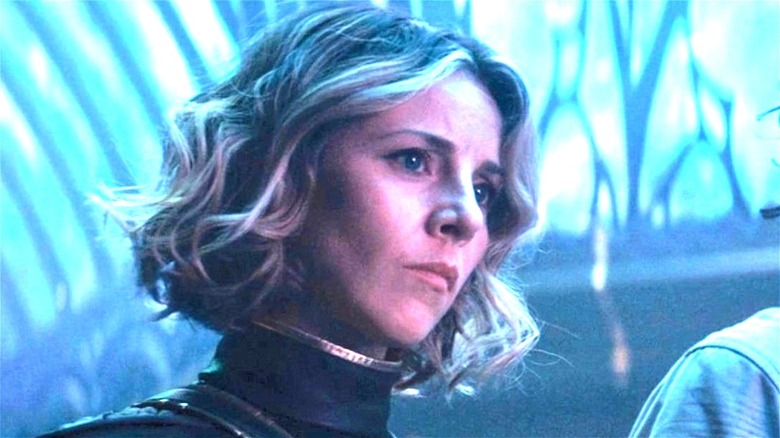 Marvel Studios/Disney+
The most recent MCU series, "Loki," just wrapped up its run by surprisingly setting a Disney record, and its finale established its tone early on with an emotional intro sequence. Director Kate Herron was recently interviewed about how the segment came to be and confirmed that the intro was a quiet way of acknowledging the MCU's history while setting up the Season 1 climax.
In that introduction sequence, fans slowly see the Marvel logo come into focus, but it is accompanied by something never heard before — quotes from previous films. Fans hear iconic lines such as Thor's (Chris Hemsworth) "He's a friend from work!" and "Wakanda forever!" spoken by T'Challa (Chadwick Boseman), alongside many more famous quips as the corresponding heroes are seen in the logo sequence. As the Marvel emblem becomes defined, the camera zooms out to reveal the larger universe, and fans hear quotes from the real world, such as "One small step for man," Nell Armstrong's famous line spoken when he landed on the Moon. As the camera reverses course, finally focusing on the sacred timeline, which is revealed to be circular, quotes from the MCU are heard again, but this time from the Disney+ shows like "WandaVision" and "Loki" itself.
While fans on Reddit wasted no time speculating what the soundscape might mean for the Loki and his variants, Kate Herron gave some candid answers about what the segment meant for "Loki" and the MCU. Here is what the director of "Loki" said about the finale's emotional intro.
Kate Herron explained that the opening sequence was a nod to Marvel's past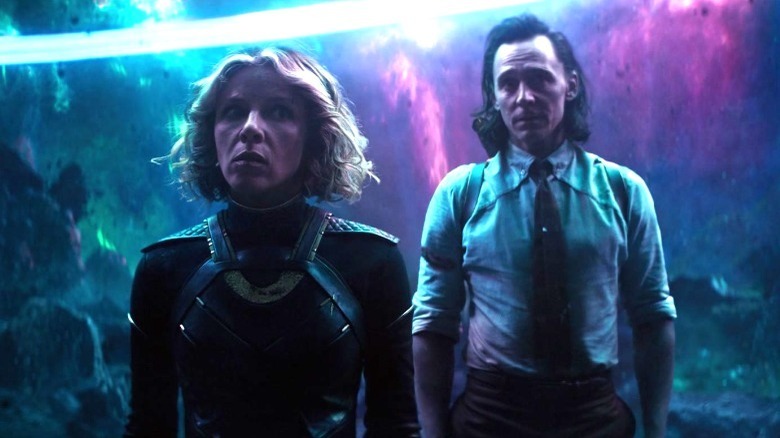 Marvel Studios/Disney+
When asked about the significance of the "Loki" finale's intro sequence by TV Line, she explained "It's this beautiful [tribute] to what's come before, but then we get this fun handoff [to what's coming next]."
Herron also gave context for how the sequence evolved from something much simpler to a meeting point for the MCU's past and future. The writer of Episode 6, Eric Martin, proposed a segment that would reference "Contact," a 1997 sci-fi film. Herron said, "We were going to go through space until the end of time, and we'd see the Citadel in the physical timeline."
The original concept for the opening sequence was to present it in the cold silence of space, but it was eventually decided that the segment would use a sort of soundscape, with "noises like a baby crying, ambient sounds from the city and the jungle, and famous quotes throughout history." When Marvel boss Kevin Feige saw the finished product, he recommended that the intro incorporate quotes from the MCU.
From there, Herron and her team of editors, including Sara Bennett and Emma McCleave, worked to create an opening sequence that honored Marvel's past and present while still positioning the opening moments of the finale to bring "Loki" Season 1 to a satisfying conclusion.