Escape Room: Tournament Of Champions Actress Holland Roden On Her Own Terrifying Escape Room Experience - Exclusive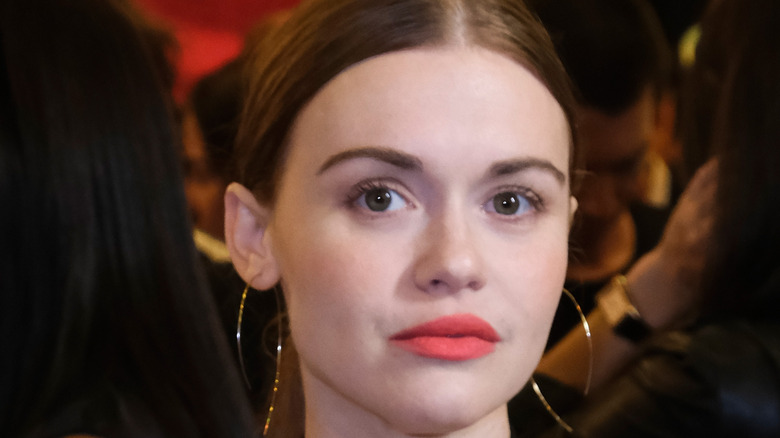 Laurent Viteur/Getty Images
When people say that your life is just like a movie, they usually mean the most recent rom-com playing at an AMC near you — not a horror film about an evil cabal that sends innocent escape roomers to their untimely deaths. Yet while Sony's new film, "Escape Room: Tournament of Champions" is a fictional horror thriller, sometimes, real escape rooms can get a bit dicey, too. Now, as far as we can tell, there's (hopefully) not an evil organization killing people off in real-life escape rooms. Still, when the concept of a game hinges on locking people in a room under tense circumstances, there's bound to sometimes be a few medical emergencies that come up. That was the case for "Escape Room: Tournament of Champions" star Holland Roden. The actress, who plays Rachel Ellis in the "Escape Room" sequel, had her own sketchy escape room experience overseas with her family.
Looper spoke to Holland Roden during an exclusive interview for "Escape Room Tournament of Champions," where she dished on her own terrifying escape room experience and what she and the cast got up to behind the scenes.
Escape the escape room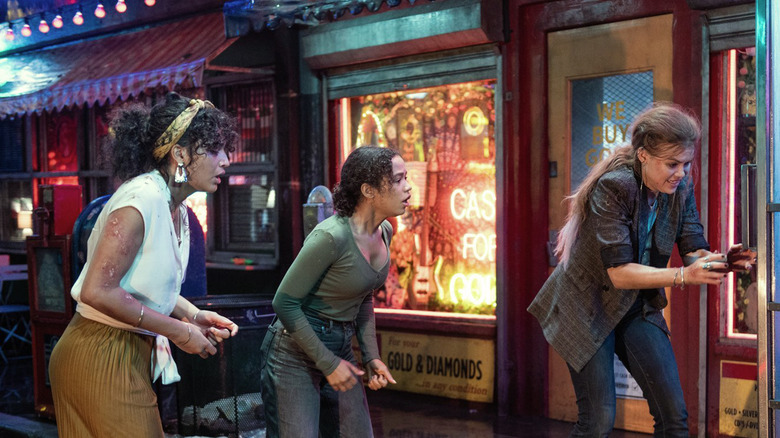 Sony Pictures
When asked if she did any escape rooms with her fellow actors when the cameras weren't rolling, Roden noted, "I heard that happened on the first one. No, this has different consequences in the end, so there was not a lot of overlap as far as the schemes I've experienced." 
But her own escape room experience was even more disturbing. She said, "Although there was one that was somewhat like this movie. But it was the first one in Vienna that I took my mom to, and my best friend and her mom — we all went together. It was 108 degrees inside this old building, and it was one of the first escape rooms ever to be put together since they started in Vienna. And they literally wouldn't let us out, and we don't speak Austrian or Austrian-German." 
She added, "And we have two women in their 60s not doing well, and so that was not unlike the beginnings of this movie. Or at least I can say the first movie with the heat. Yeah." 
Luckily, everything was fine in the end, which is more than we can say about anyone who gets wrapped up in Minos. However, let this be a lesson to all escape rooms — let people out when they want to get out, and have more safety measures in place. There have been deaths at escape rooms (via NBC News), and more checks and balances can prevent that.
Not a real-life Final Girl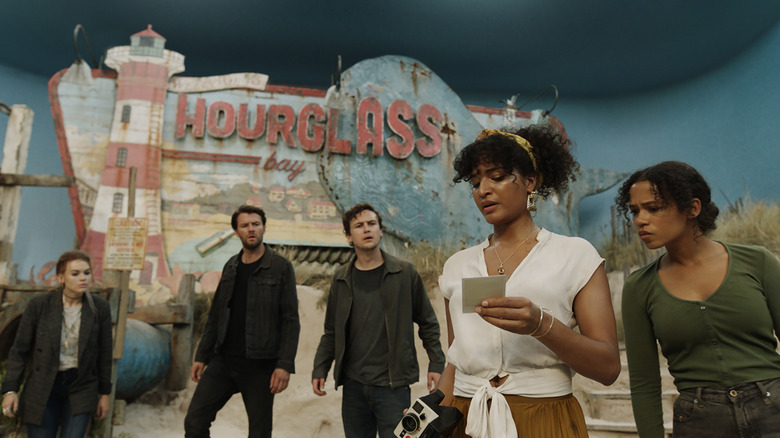 Sony Pictures
While Roden escaped her own shady escape room experience unscathed, she's not confident she could have even survived the film's first challenge. She said, "No. I'm a weakling. I wouldn't have made it far. No. I probably would have been [the first death] we see in the movie, if not sooner. But the wreck, just hitting the wall or the other train, would have done me in." On how she tends to do in real-life escape rooms, Roden explained, "I'm okay. I really do ... I'm a hype girl in escape rooms. I'm like, "Maybe!" I'm not necessarily someone that is quiet, and then all of a sudden comes up with the answer. I'm like the Chatty Cathy, that's like a chicken with her head cut off. But I love escape rooms. Yeah."
While things were undoubtedly tense on screen, Roden had many fun moments in between filming. On whether she has any fun stories from set, she recalled, "Oh gosh. So many. I called it torture summer camp because we were so far from home, and it was beautiful weather. It was summer. And the boys happened to be really talented musicians." She added, "Tom Cocquerel and Logan Miller are amazing on the guitar, and Carlito [Olivero] came in third on "X Factor," so we would have these jam sessions on the weekends that I was quite flattered and honored just to be the only audience member [laughs]. So that was fun. Yeah, that was all fun."
Fans can catch "Escape Room: Tournament of Champions" in theaters now.