The Devastating Death Of William F. Nolan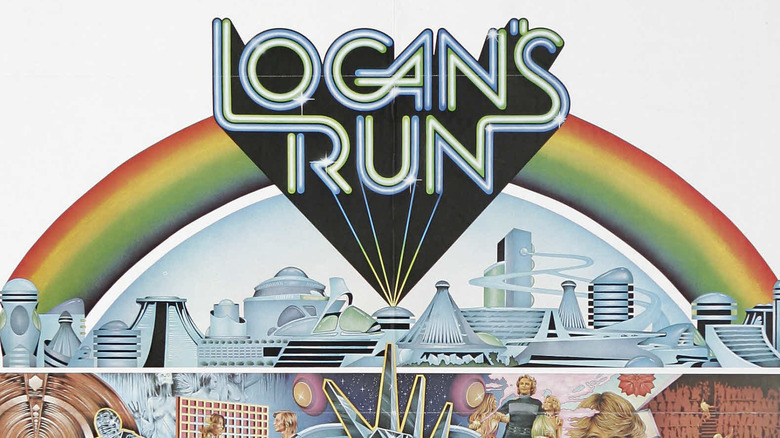 United Artists/MGM
The science fiction world suffered a painful blow this week when news of the death of author William F. Nolan hit the internet. He was 93.
Nolan, who reportedly passed away due to complications following an infection, is best remembered as the co-author of "Logan's Run," the dystopian sci-fi novel that inspired the 1976 motion picture of the same name, in which Earth's population is kept in check via strict age limits on human beings. Written with "Twilight Zone" and "Ocean's Eleven" scribe George Clayton Johnson, the story would go on to inspire generations of writers and speculative fiction enthusiasts.
Per his obituary, written by longtime friend Jason V Brock, Nolan was born in Kansas City, Missouri in 1928, the only child of "adventurer and sportsman" Michael Cahill Nolan and Bernadette Mariana Kelly Nolan, a stenographer. He grew up on Hollywood westerns, pulp novels, and Batman comics, and worked as a Hallmark card artist for a spell while still in Missouri. He grew to love science fiction after the family moved to Los Angeles after the conclusion of World War II. While there, he created sci-fi fan magazines before going on to put together "his first serious book," "Ray Bradbury Review," in 1952. In 1956, Nolan got his first major glimpse of publishing success after selling the short story "The Darendinger Build-Up" to Playboy.
William F. Nolan's "Logan" series continues to inspire
William F. Nolan's greatest professional success by far came in 1967 with "Logan's Run," a story which would go on to be adapted into a classic motion picture, directed by Michael Anderson. In the years following the film's release, Nolan would write a laundry list of sequels as a solo author, including "Logan's World" in 1977, "Logan's Search" in 1980, and the novella "Logan's Return" in 2001. In 2010, he announced a pair of follow-up stories, "Logan's Journey" and "Logan Falls." The nightmarish world of the "Logan" series would go on to inspire a short-lived TV series, a bevy of comic book adaptations, a video game, and a long-delayed big screen remake, stuck in various stages of development since the early 2010s.
Nolan's obituary notes that the author retained a sense of wonder at his own success through his later years, stating "That I am known at all is still astonishing to me, as I can so vividly recall the boy flying down the road on his bike in Kansas City all those years ago." He is stated to have had no surviving relatives at the time of his death, but to have found his "current family," a "unit for nearly 15 years," with longtime companions Jason and Sunni Brock in Vancouver, Washington.