Paris Jackson Dishes On Her Steamy Scene In American Horror Stories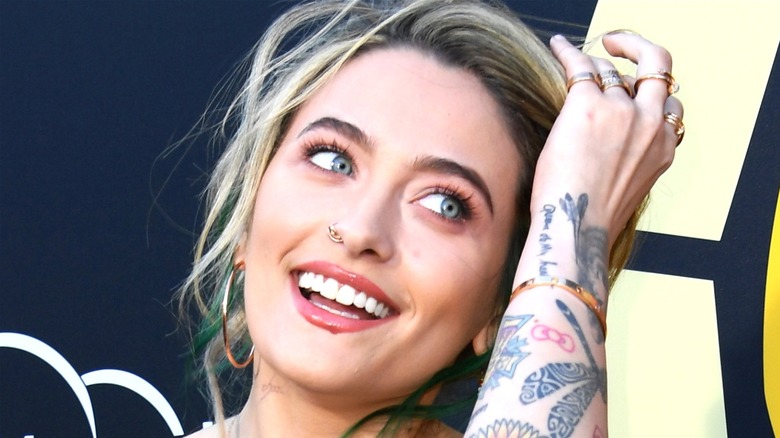 FX
The two-part series premiere of "American Horror Stories" brought fans back to the Murder House from Season 1, this time with a new group of characters to torment. Among the fresh faces involved was Paris Jackson — model, musician, and daughter of the late King of Pop, Michael Jackson.
While this was her debut in the FX horror anthology, Jackson is already no stranger to the horror genre. In an interview with Cinema Blend, she said, "I've always been into horror, specifically gore" and gushed that she's loved the show since she was a teenager. She also namedropped the first two "Hellraiser" movies, "Hostel," and the 1986 David Cronenberg version of "The Fly" as some of her personal favorites. 
Her "American Horror Stories" character, Maya, is the ultimate mean girl, heading a posse of self-aware social climbers. To humiliate outcast Scarlett (Sierra McCormick), Maya pretends to be bi-curious to exploit her victim's perverse sexual fantasies via a livestream during a staged sleepover. Before the betrayal is realized, Scarlett and Maya share a steamy moment. So, what did Jackson reveal about their intimate make-out session?
The AHS scene wasn't all latex and lingerie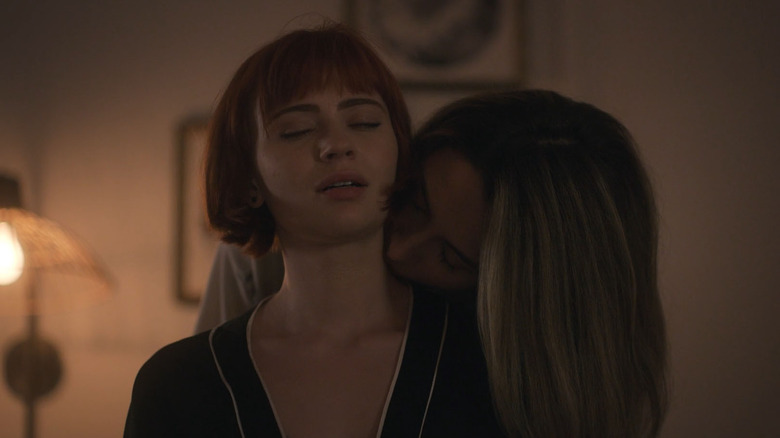 FX
Despite the dark, hypersexual nature of the "Rubber (Wo)man" episodes, Jackson dished to Cinema Blend that filming the scene was "just not very intimate at all." Between the COVID-19 guidelines and the guidance of their "incredible" intimacy coordinator Corrin Evans, the steamy scene was a "pretty easy experience." Explaining the process, she said that, "In between every take, we were putting a mask on and rinsing with mouthwash and doing the whole thing, but it was so professional and so, I guess, coordinated that it was just the job."
Prior to their hookup-gone-wrong, Scarlett has a sexual fantasy about Maya and climaxes when she strangles her to death. Jackson said that filming these scenes was all about everyone involved making each other feel relaxed and asking for consent throughout. "It was all just very much me trying to make sure that Sierra was comfortable," she said. "She was trying to make sure that I was comfortable. You know, like, 'Is it okay if I put my hand here? Is it okay if I tuck your hair back? Is it okay if I put my hand on your face, on your hip?'"
"Just open communication, and being very professional," she added. Their behind-the-scenes experience drastically differs from the on-screen portrayal of high school bullies, violent kinks, and lurking evil, which goes to show how effective such a careful process is, when it comes to crafting intimate scenes for television.