Did Keanu Reeves Learn To Surf For Point Break?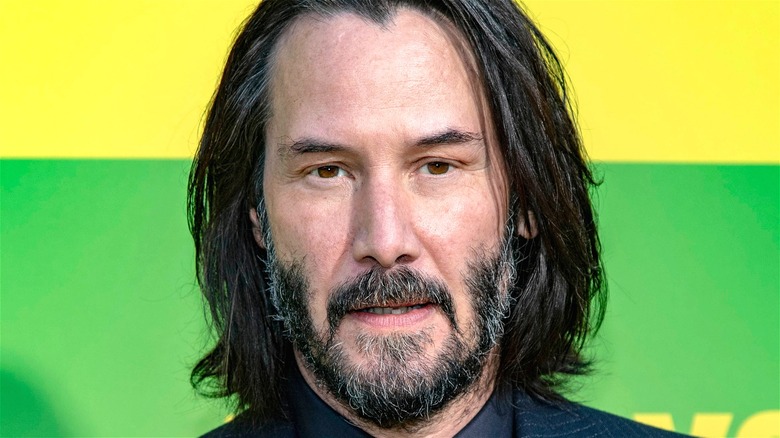 Shutterstock
Among the storied filmography of actor Keanu Reeves, one movie stands out as the surfiest — a word we're surprised actually exists. That honor goes to seminal '90s action crime thriller "Point Break," which — despite the admittedly ridiculous premise of the FBI facing off against a gang of surfing, bank-robbing action junkies — enjoys a lasting legacy among film fans. Look no further than review aggregator Rotten Tomatoes for proof of that; it enjoys a 70% critics score, with a 79% rating from fans, and a critical consensus that calls the film "absurd, over-the-top, and often wildly entertaining." "'Point Break' is here to show you that the human spirit is still alive," the consensus reads. 
In addition to Reeves' performance as college football quarterback-turned-FBI agent Johnny Utah, "Point Break" features a memorable turn from action movie mainstay Patrick Swayze as Bodhi, a glowering yet lovable philosophical surfer who also happens to be the leader of the gang Utah is assigned to track down. And how does one go about tracking a group of bank robbers that Utah's partner Angelo Pappas (Gary Busey) believes is comprised of a bunch of surfers? If you're a fresh-faced FBI rookie, you learn to surf, explore the community, and enjoy a crushing bromance with the guy you're slowly but surely realizing is probably the chief baddy.
In the years since its release, "Point Break" has inspired many a conversation and many a question — not the least of which is Constable Danny Butterman (Nick Frost) asking Sergeant Nicholas Angel (Simon Pegg) if he's ever fired his gun up in the air and gone "Aaargh!" in the wacky police comedy "Hot Fuzz." Fans have often wonder if Keanu Reeves really skydived in "Point Break" and if he really learned to surf. Well, we've got the answers you're looking for.
Keanu Reeves spent two months learning to surf in preparation for filming Point Break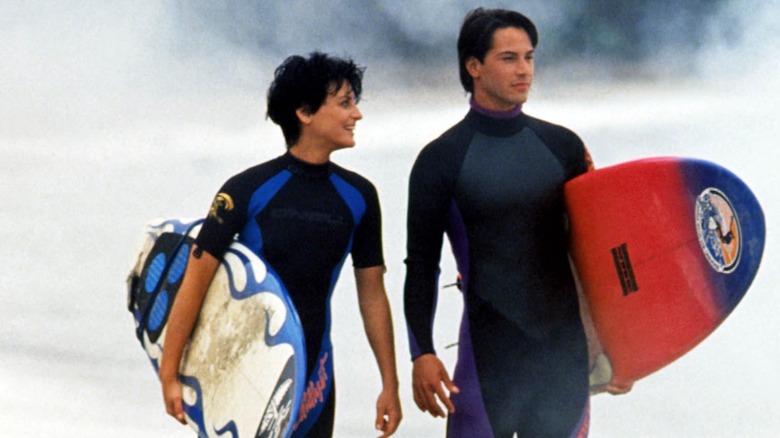 20th Century Fox
Did Keanu Reeves learn to surf for "Point Break"? The answer is yes! Much like his character, Johnny Utah, had to learn to surf to chase down leads, Reeves had to learn to surf in order to make the film. He wasn't the only one in need of a lesson or two: Patrick Swayze and Lori Petty — who played love interest Tyler Endicott — joined him in a two-month crash course with Dennis Jarvis, the self-proclaimed "surf doctor of Hollywood," according to a story from Entertainment Weekly. As he tells it, Swayze had been surfing a few times, but Reeves had not and Petty had never even been in the ocean prior to training for the movie.
"It was like a big surf party every day," Jarvis told the outlet. "The cast would report to my house in Hermosa Beach at the crack of dawn to try to absorb the soulful life-style of a surfer." Jarvis said Reeves' character could struggle, since Utah had never surfed in the story, but he had to get Swayze and Petty in shape to look like they'd been surfing for years. "I wasn't concerned with if they could do a roundhouse cutback," Jarvis added, referencing an intermediate 180-degree surfing maneuver. "They had doubles for that. My focus was on giving them the mannerisms of a hot, professional surfer." 
Reeves, of course, took up surfing as a hobby following his work on the film. In fact, as EW revealed, Jarvis built him a custom surfboard from Spyder, the brand he founded.