Why Declan From The Nevers Looks Familiar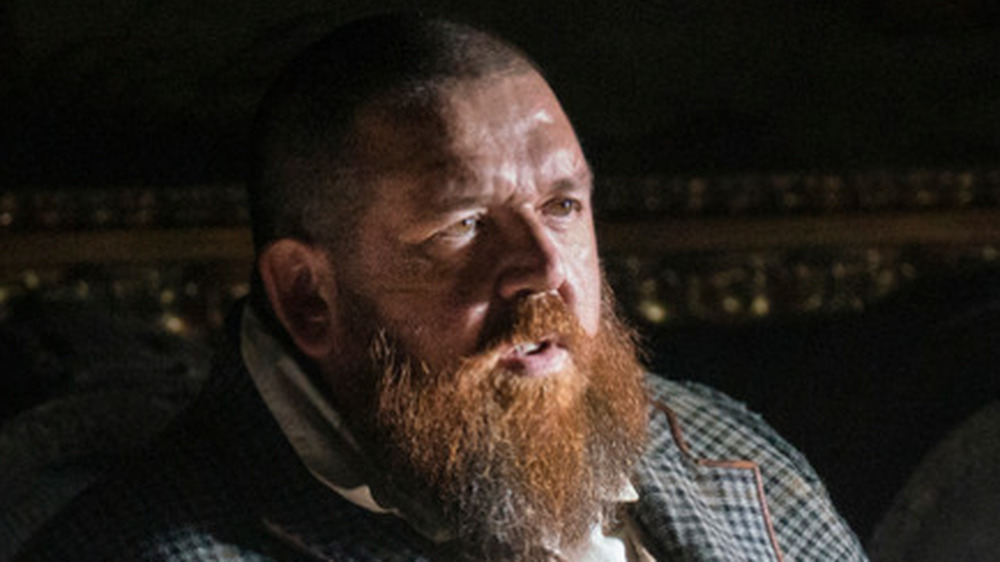 If you click a link and buy a product or service from a merchant, we may be paid an affiliate commission.
HBO's latest series, The Nevers, sure is a doozy. It's a steampunk sci-fi show created by Joss Whedon — and available via HBO Max — that tells the tales of "a gang of Victorian women who find themselves with unusual abilities, relentless enemies, and a mission that might change the world," according to HBO's initial press release announcing the show's production. In the release, Whedon called the project "maybe the most ambitious narrative I've created." According to further releases from HBO, the women gain their powers as a result of a supernatural event that rocked London "to its foundations." Fans who've had a chance to see it know the series follows the fight-on-sight widow Amalia True (Laura Donnelly) and wunderkind inventor Penance Adair (Ann Skelly) as they try to shelter the newly gifted women from those who would do them harm.
Among those who may do them harm — or may not, depending on the circumstances — is Declan Orrun, also known as The Beggar King, the big fish in the city's shallower criminal ponds. Described as a "feared criminal overlord" in an HBO press release, Declan may help Amalia in her cause, as long as he sees a benefit. Fans may recognize the actor bringing Declan to life as Nick Frost, a talented comedic actor who's appeared in numerous popular roles. 
Here's why Declan from The Nevers looks so familiar.
He played Mike on Spaced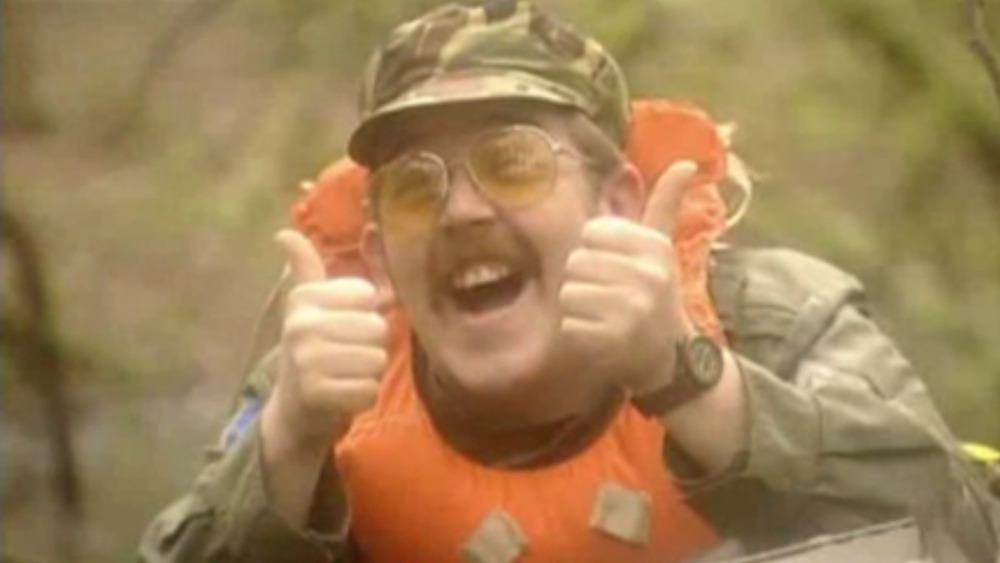 Channel 4
In 1998, Nick Frost began working alongside his friend Simon Pegg on a sketch comedy show called Big Train, the first of many collaborations. The next year, he took on a role in the British sitcom Spaced, a character Pegg specifically wrote for Frost in a series the former co-created. The slacker sitcom featured Pegg in the role of Tim Bisley, who becomes roommates with Daisy Steiner — played by other Spaced co-creator Jessica Hynes — despite the two having just met because she just got evicted and his girlfriend kicked him out and somehow that made sense. Frost's character, Mike, is Tim's army-obsessed best friend whose interests become of particular use in an episode in which the two go paintballing and encounter Tim's nemesis Duane (Peter Serafinowicz), the clown who stole his ex-girlfriend, Sarah.
Despite both actors appearing in Big Train, Spaced represents the most visible early project in which Frost and Pegg worked together and the show enjoys a cult following outside its native UK, typically owing to fans of their later collaborations doing deep dives into their shared filmography. It also marked Frost's first time working with Edgar Wright, who directed all 14 episodes of Spaced and with whom Frost would also go on to work extensively. The trio's next big project together is, perhaps, the one for which they're best known and also included Serafinowicz.
Frost's breakthrough role was playing Ed in Shaun of the Dead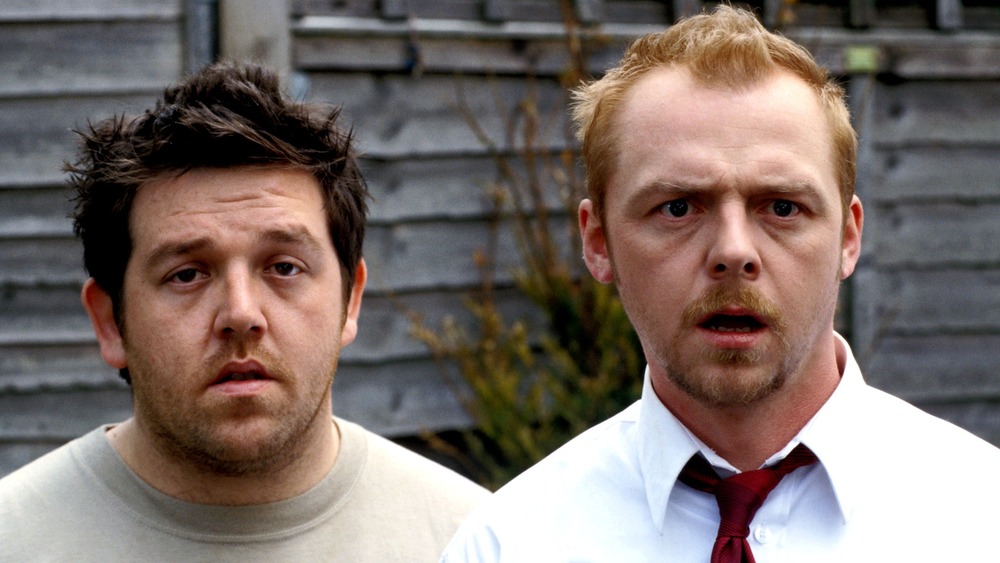 United International Pictures
Once again playing a bumbling companion to Simon Pegg's slightly-less-bumbling slacker protagonist, Nick Frost took on the role of Ed in 2004's horror-comedy classic Shaun of the Dead. Ed is the drug-dealing, wise-cracking friend of Pegg's title character; a friend who basically never went home one day and lives on the couch, to the eternal irritation of Shaun's actual bill-paying flatmate, Pete (Peter Serafinowicz). Ed is there to help pick up the pieces when Shaun's girlfriend, Liz (Kate Ashfield) finally gets tired of his stagnant, dead-end lifestyle and dumps him, helping to reassemble Shaun with a trip to the Winchester, their favorite pub. As if things couldn't get worse, Shaun and Ed realize that the dead are coming back to life smack in the middle of their hangovers the next day. Naturally, with the world seemingly coming to an end, Shaun's only thought is to get Liz and his mom Barbara (Penelope Wilton) to safety, even if it means suffering the company of his stepfather Philip (Bill Nighy) and Liz's friends Dianne (Lucy Davis) and David (Dylan Moran).
Shaun of the Dead, both a send-up and love note to the zombie horror sub-genre, was the first feature-length project for the trio of Frost, Pegg, and Wright. The film was both a critical and financial success; it enjoys an impressive 92% critics score on review aggregator Rotten Tomatoes and grossed $30 million worldwide (via Box Office Mojo) against a reported budget of $6 million (via Radio Times). More importantly, Shaun of the Dead was the first installment in the trio's collaborative Three Flavours Cornetto trilogy, named for the brand of ice cream cone that appears in each of the films.
He played Danny in Hot Fuzz
Rogue Pictures
The second installment of the Three Flavours Cornetto trilogy — 2007's Hot Fuzz — featured Nick Frost and Simon Pegg as two small-town police officers. Well, Frost's Danny Butterman was a small-town cop from the jump; Pegg's Nicholas Angel began the film as a big-city cop in London. While Danny is very much in line with the same bumbling goof archetype as Frost's character in Shaun of the Dead, Sgt. Angel is the baddest of asses. In fact, he kicked so much butt as a member of London's Metropolitan Police Service — official vocab guidelines say "force" is too aggressive — that they shipped him off to the sleepy hamlet of Sandford, Gloucestershire, because he was making other officers look bad. What's there for a rough-and-tumble enforcer of the law to do in such a quiet burg that's a perennial contender for the village of the year award? Well his first day in town, he kicked all of the underage drinkers out of the pub and arrested an intoxicated driver — Danny — only to find out the next day that his collar was his fellow police officer. When even the local supermarket owner refuses to press charges for petty theft, all there's left for Nicholas to do is figure out all the recurring, mysterious deaths that seem an awful lot like murder.
Hot Fuzz gave Frost, Pegg, and Wright another critical success. The adrenaline-fueled buddy-cup sendup that's equal parts Bad Boys-style action and Shaun of the Dead's wry goofery sports a 91% critics score on Rotten Tomatoes, just one point shy of the mark set by the previous film. It's also the most financially successful flick in the series, recouping its $16 million budget five times over with a worldwide box office gross of $81.7 million, according to The Numbers.
The World's End, 2013's sci-fi action comedy that served as the final chapter to the trilogy, saw Pegg's character Gary King, reunite a group of childhood friends to attempt to complete an epic pub crawl — dubbed The Golden Mile — in their hometown that they'd failed to conquer in their youth. Frost's character, Andy Knightley, now abstains from alcohol entirely after a past drunk driving incident with Gary. But when the group discovers their hometown's residents have been replaced by androids as part of an alien invasion, Andy is quick to start drinking again. The World's End is certified fresh and enjoys an 89% critics score on Rotten Tomatoes; it grossed $47 million worldwide, according to The Numbers.
Frost played the writer Clive Gollings in Paul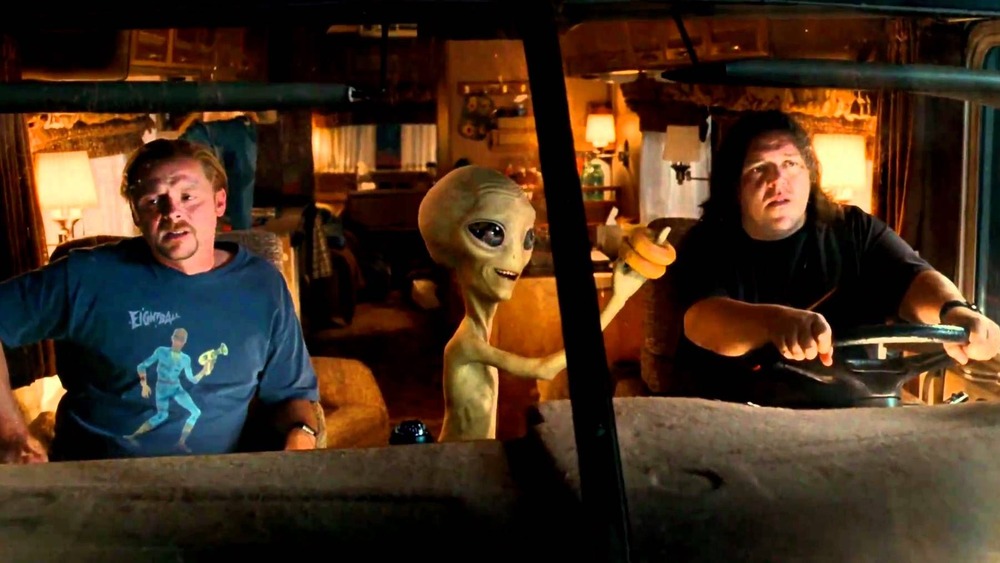 Universal Pictures
Simon Pegg and Nick Frost took a creative break away from working with director Edgar Wright to make 2011's Paul, a sci-fi comedy they wrote together. Appearing on-screen once again as best friends, Frost plays science fiction writer Clive Gollings who, with his constant companion Graeme Willy (Pegg), has traveled across the pond to embark on a road trip of some of the United States' suspected UFO crash sites — a journey that begins in the mecca for nerds, the San Diego Comic Con. But life's not all just cosplay models and roadside diners; the pair soon take on a hitchhiker of sorts, the title character Paul, who's very much a classic gray alien — one who's voiced by fellow real-life nerd Seth Rogen. Paul's on the lam after escaping the lab he's been held in since crash landing on Earth and he needs Graeme and Clive's help — if they decide to roll the dice and fit him into their tight schedule. But time's running out; Agent Zoil (Jason Bateman) is on their tail and he reports to The Big Guy, with whom no one should trifle.
Neither critics nor audiences felt Paul quite hit the same mark as the duo's previous work together; Paul has a 70% critics score on Rotten Tomatoes — still enough to maintain a rating of Fresh — and a 62% audience score. "It doesn't measure up to Pegg and Frost's best work, but Paul is an amiably entertaining — albeit uneven — road trip comedy," the consensus reads. But, despite not being a critical darling, Paul still brought in bank from the box office; according to The Numbers, it grossed more than $100 million worldwide on a $40 million budget.
Nick Frost also played Bajie on AMC's Into the Badlands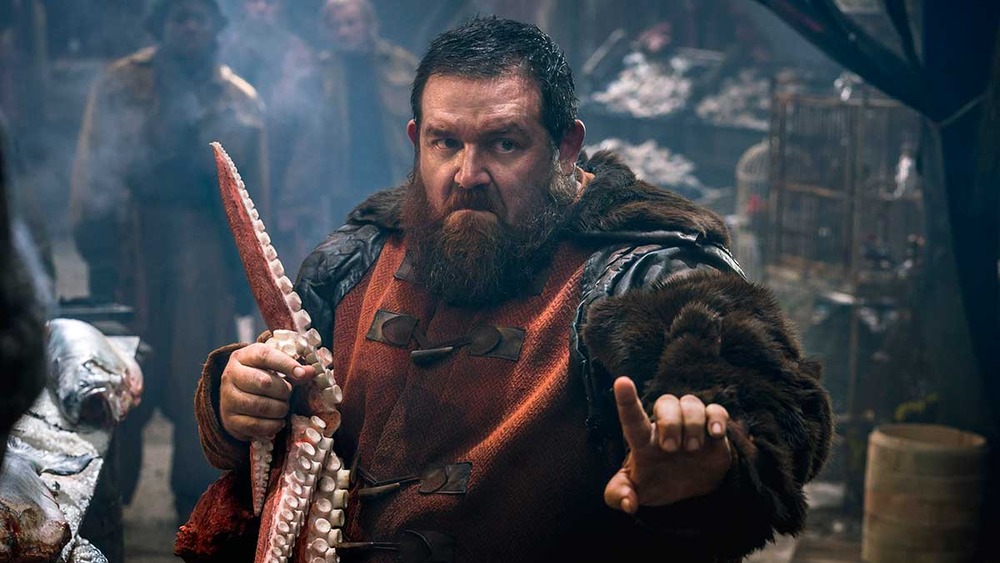 AMC
Nick Frost proved once and for all that he doesn't need that Simon Pegg guy around with his role on Into the Badlands, AMC's dystopian sci-fi martial arts series that ran for three seasons. Frost joined the cast in the first episode of season 2, and appeared in the remaining 26 of the show's 32-episode run. The titular Badlands are an area that spans across the southeast region of a post-apocalyptic feudal America. The region is controlled by wealthy barons — each with a contingent of loyal warriors called clippers — who trade commodities between themselves. Frost's character, Bajie, is a scheming, amoral smuggler who enters into alliance with the series' protagonist, Sunny (Daniel Wu), when they are chained together, digging coal in the Bordeaux Mines. Sunny served as the chief clipper, or regent, for the region's most powerful baron, Quinn (Marton Csokas), himself a former clipper, before being captured at the end of the show's first season. 
According to the Into the Badlands Fandom community, Frost's character Bajie is based on the character Zhu Bajie from a 16th-century Chinese novel entitled Journey to the West. The name is comprised of "Zhu," which means pig or swine, and "Bajie," which is a reference to the Buddhist eight precepts, which equate to proscriptions against Christianity's seven deadly sins. "He's a smuggler and a bad man but he's very charming and charismatic," Frost said of his character in an interview with IGN. "He's also a fighter. That's what I think everyone does in the Badlands. I think you're in trouble if you don't fight in the Badlands. You don't last too long." Frost added that he was happy with the fight choreography crew's treatment of his character: "Bajie is a street fighter, he's a wrestler, he's a pub brawler, you know. And I think they worked to my strengths, me as Nick Frost, so it was a lot easier for me."