The Surprising Training That Jonathan Majors Brought To The Role Of He Who Remains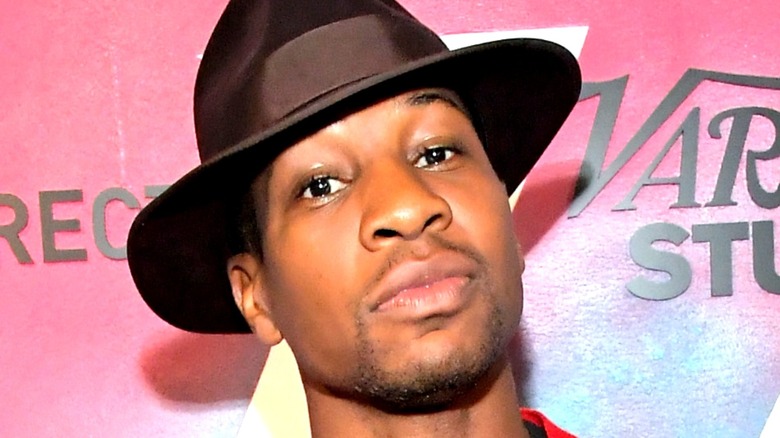 Charley Gallay/Getty Images for AT&T and DIRECTV
Contains spoilers for "Loki" Episode 6
The "Loki" Season 1 finale gave Marvel fans the moment they'd been desperately hoping for. The Disney+ series' sixth episode saw Loki (Tom Hiddleston) and Sylvie (Sophia Di Martino) finally come face-to-face with the man responsible for the Time Variance Authority and, in effect, most of their problems. In a surprising twist of fate, the series' mysterious man behind the curtain didn't turn out to be another Loki variant (as some fans had expected him to be), but He Who Remains (Jonathan Majors), the sole human survivor of a devastating multiversal war that allegedly happened eons prior to the events of "Loki."
He Who Remains wasn't just a random human being, though, but a variant of the powerful Marvel comics villain known as Kang the Conqueror, whom Majors was officially cast to play in "Ant-Man and the Wasp: Quantumania" last year. Therefore, while the "Loki" episode marked Majors' first screen appearance in the Marvel Cinematic Universe, it certainly won't be his last. Indeed, the actor is set to have a massive presence in the MCU in the coming years, a fact only made even more clear by the closing moments of "Loki" Season 1, which announced the long-awaited arrival of Kang in the MCU in stunningly explicit fashion.
To his credit, Majors made the most of his MCU debut as well. The actor brought a slightly mad energy to his performance as He Who Remains — an effect that Majors supposedly achieved by digging surprisingly deep into his acting toolkit.
Jonathan Majors utilized a specific skill for his performance in Loki Episode 6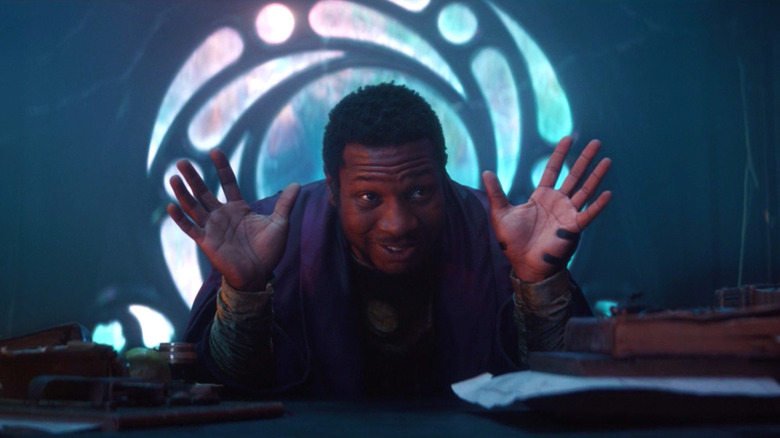 Marvel Studios/Disney+
Speaking recently with Entertainment Weekly, Jonathan Majors revealed that he had a fun time playing He Who Remains in "Loki" Episode 6 because it apparently allowed him to utilize some of the clown training he received during his time at the Yale School of Drama. Referencing the character's undeniably unique energy, Majors said, "There's more smiling in that one performance than there has been in my other performances combined. It's just what it calls for. I'm a classically trained clown. That's part of my training. I've been at it for a long time, and to be able to exercise that was a lot of fun."
While Majors' admission may initially come as a surprise to Marvel fans, it actually makes a lot of sense after taking another look at He Who Remains in "Loki" Episode 6. Majors plays the character as a ball of manic energy that's practically bursting at the seams, one who keeps a bemused, clownlike smile plastered to his face nearly all the time — even after he's been stabbed in the chest by Sophia Di Martino's Sylvie.
As for how his performance as He Who Remains may or may not inform his take on Kang in "Ant-Man and the Wasp: Quantumania," which is currently in production, Majors is remaining unsurprisingly tight-lipped. When asked about his highly-anticipated turn as the villain, the actor simply said, "You take it a day at a time. That's all I would say about that. You take it a day at a time and clean your plate and see what tomorrow brings. See what the next story is, and then take it from there."
In other words, Marvel fans will likely have to wait a bit before getting to find out anything concrete about Majors' performance as Kang in "Quantumania." Fortunately, if his performance in "Loki" is any indication of what's to come, then that means fans likely don't have to worry about Majors making an impact in the film.