The Real Reason Megan Fox Wasn't In Transformers: Dark Of The Moon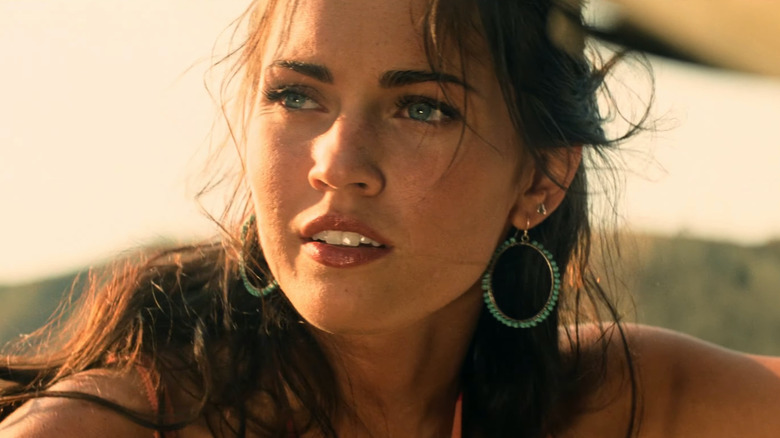 Paramount Pictures
As far as big screen breakouts go, few have ever been quite as, ahem, showy as that of Megan Fox, who by all accounts set the screen ablaze with her simmering entrance in the 2007 sci-fi blockbuster "Transformers." And it's safe to say if you didn't know who Megan Fox was prior to her work in that film, you almost certainly did after. Yes, that had a lot to do with her steamy (and shamefully male-gazey) introduction, but Fox backed that intro up with a memorably plucky performance that frequently undercut the overt hyper-sexualization that followed her character from one scene to the next.
As it was, Fox also had palpable chemistry with her co-star and onscreen love interest Shia LaBeouf, a fact that undoubtedly made it easier for franchise producers to bring her back aboard for the sequel, 2009's "Transformers: Revenge of the Fallen." Given where their onscreen romance went in said sequel, it seemed like a no-brainer that Fox would return for the third film in the franchise, too. Yet when the billion-dollar-grossing "Transformers: Dark of the Moon" hit theaters in 2011, it did so without Fox's character, Mikaela Banes. Here's why Megan Fox did not return to the "Transformers" franchise for "Dark of the Moon."
Megan Fox was maybe a little too harsh about what it was like working with her Transformers director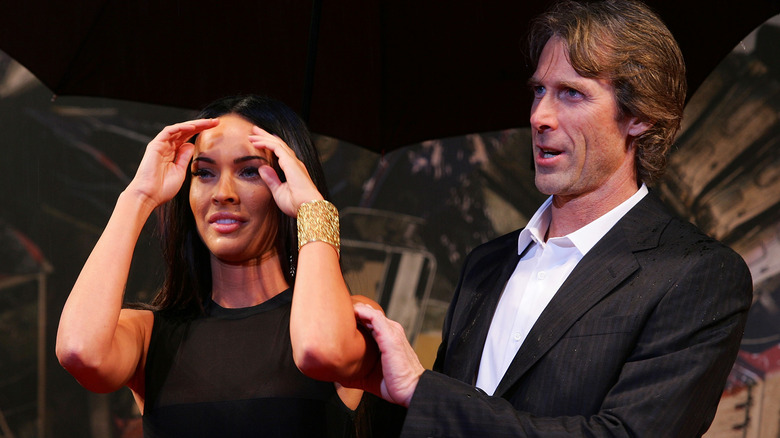 Chung Sung-jun/Getty Images
Fox didn't return to the "Transformers" franchise largely because she made some problematic comments about her director on the first two films, Michael Bay. Those comments came in a 2009 Wonderland interview, with the actor making damning claims about Bay's on-set antics. "He wants to be like Hitler on his sets, and he is. So he's a nightmare to work for," she said. Harsh words aside, Fox actually followed those claims with a few less-biting comments. "But when you get him away from set, and he's not in director mode, I kind of really enjoy his personality because he's so awkward, so hopelessly awkward. He has no social skills at all. And it's endearing to watch him."
Clearly, Megan Fox had some genuine affection for her "Transformers" director, but those "Hitler" comments were no doubt a hard pill to swallow for Bay. This was even more so the case for "Transformers" producer Steven Spielberg, who, according to a 2011 GQ interview with Bay (as covered by Deadline), was so incensed by Fox's comments that he promptly had Bay fire her from the franchise. "And you know, the Hitler thing. Steven [Spielberg] said, 'Fire her right now," he recounted. Bay then infamously did as he was told.
Michael Bay criticized Megan Fox's work ethic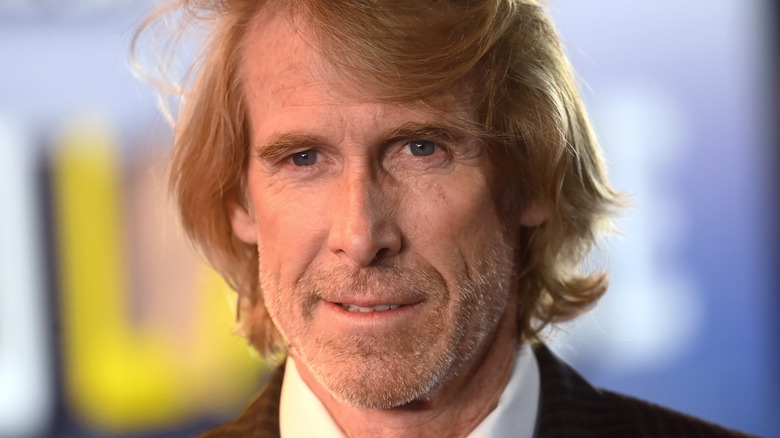 Dave J Hogan/Getty Images
Megan Fox's interview comments weren't solely responsible for her absence from "Transformers: Dark of the Moon." In a 2011 excerpt from an oral history of Michael Bay's filmography published by GQ, Bay and others characterized Fox as someone with whom multiple people involved in the production of "Transformers" had some difficulty working.
Screenwriter Ehren Kruger, for example, accused Fox of lacking interest in her acting work. "She seemed like an actress who didn't want to be a part of it. She was saying she wanted to, but she wasn't acting like it," he claimed.
"She was in a different world, on her BlackBerry. You gotta stay focused," Bay then said, further painting a picture of someone who, by his and Kruger's estimation, didn't approach her craft with a dedicated work ethic.
In the end, Bay seems not to have harbored too much ill-will toward Fox, casting her as April O'Neil a few years later in his big-budget "Teenage Mutant Ninja Turtles" adaptation. It's worth noting, of course, that Bay only served as a producer on that film.
What happened to Mikaela Banes?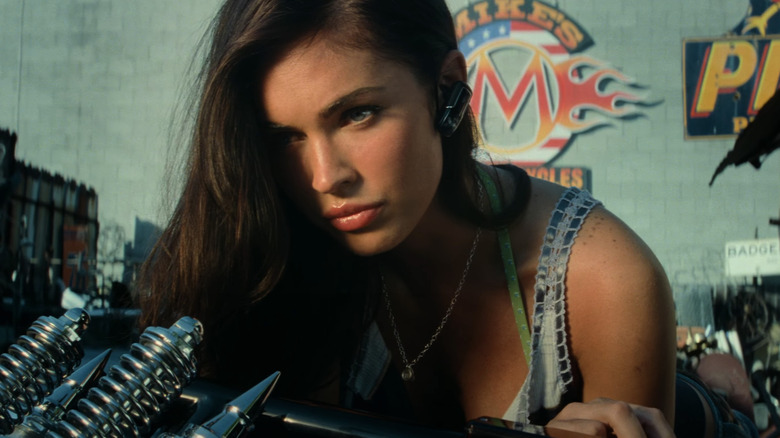 Paramount Pictures
The relationship between Megan Fox's Mikaela Banes and Shia LaBeouf's Sam Witwicky may be a core element of Michael Bay's first two "Transformers" movies, but it's essentially shrugged away in "Transformers: Dark of the Moon." In the wake of Fox's firing from the franchise, Mikaela was quickly replaced as Sam's love interest by Rosie Huntington-Whiteley's Carly Spencer. "Dark of the Moon," consequently, establishes that Mikaela broke up with Sam sometime after the events of its 2009 predecessor, "Transformers: Revenge of the Fallen."
A few comments are made throughout "Transformers: Dark of the Moon" about Mikaela's decision to break up with Sam, as well as how their relationship compares to his and Carly's. However, the film never explores or explains Mikaela's disappearance from the "Transformers" franchise all that deeply or extensively. As a result, it's never revealed what ultimately happened to Mikaela after she and Sam broke up, though, it seems safe to assume that nothing particularly tragic ever happened to her.
Fingers crossed, at least.
Could Mikaela return to the Transformers franchise?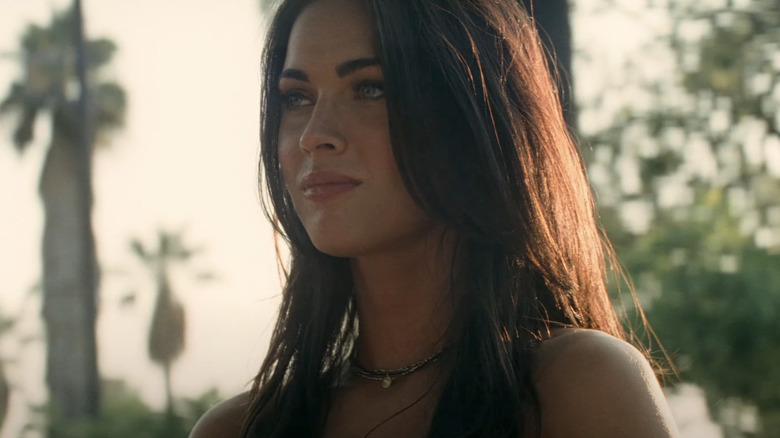 Paramount Pictures
It seems unlikely that Megan Fox's Mikaela Banes will ever return to the "Transformers" franchise, especially given the behind-the-scenes events that led to her exit. However, that door hasn't been fully shut yet. After all, "Transformers: Dark of the Moon" doesn't reveal any information about Mikaela that could canonically stop her from returning to the franchise's main fold. The last thing viewers heard about her was that she'd simply broken up and parted ways with Shia LaBeouf's Sam Witwicky.
That said, just because Mikaela is presumably still alive and active in the world of the live-action "Transformers" films doesn't mean she'll actually appear again in any of the franchise's future installments. In recent years, the film series has notably moved on from LaBeouf's Witwicky in order to focus on new, different human characters. The franchise's most recent entries, 2018's "Bumblebee" and 2023's "Transformers: Rise of the Beasts," have even taken place decades before the events of 2007's "Transformers." 
Taking that into account, the odds of Fox's Mikaela ever returning seem extremely slim. She definitely could, but fans probably shouldn't spend any time specifically waiting for that to happen. Fortunately, Fox herself seems to be doing just fine without the "Transformers" franchise.
What Megan Fox is up to today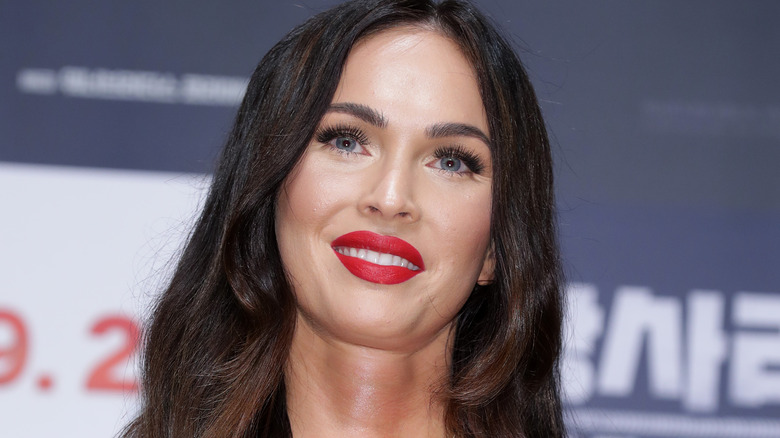 Han Myung-gu/Getty Images
In the years since she made her final "Transformers" appearance, Megan Fox has by no means been left wanting for work. Indeed, while Mikaela Banes may always be one of her most well-known roles, Fox has spent the past 14 years proving herself as someone capable of working across multiple different genres and formats. Specifically, she's emerged as a surprisingly formidable comedy star, thanks to her memorable turns in films like "Jennifer's Body," "The Dictator," and "This is 40." In 2016 and 2017, Fox additionally had a recurring guest role as Reagan on the beloved TV sitcom, "New Girl."
Outside of her more straightforward comedic work, she famously appeared as April O'Neil in both of the Michael Bay-produced live-action "Teenage Mutant Ninja Turtles" films as well, which gave her the chance to cut her teeth in a non-"Transformers" franchise. Fox has since gone on to appear in a wide variety of smaller comedies and thrillers, including "Rogue," "Till Death," "Night Teeth," "Big Gold Brick," "Johnny & Clyde," and more. 
Most recently, she dipped her toes into the world of video games with her voice performance as Nitara in "Mortal Kombat 1" and also appeared opposite Sylvester Stallone and Jason Statham in "Expend4bles."