Why Sexy Beasts' Narrator Sounds So Familiar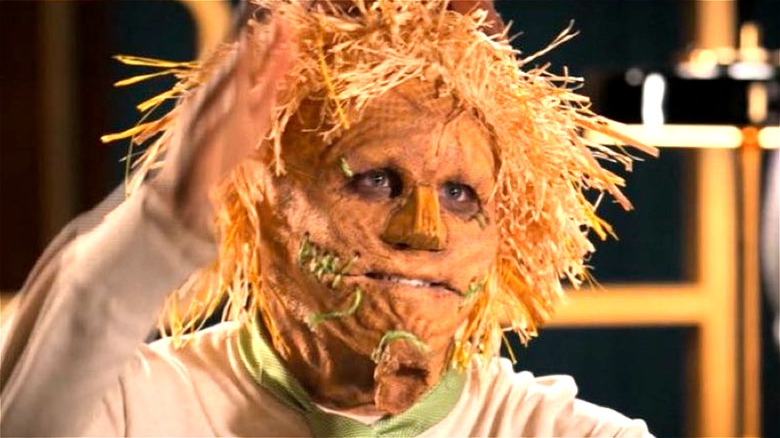 Netflix
One of the most underrated — but also, most crucial — components of any dating reality show is the host. A good host is crucial to the success of a dating show, and a poor host can sink a series even if all other components are in place. The situation is no different for the newest dating reality show, the Netflix series "Sexy Beasts."
The show features singles who have been set up on blind dates, but with a twist: every participant in the show wears elaborate costumes, makeup, and prosthetics to hide their true appearance. This means the success of the date will not be based on looks, but on personality.
While the show has become a hit for the streaming service, one question many viewers have come away with is who the narrator is, as the person behind the voice is a veteran of the industry who has been seen in a lot of things. It turns out that the mysterious narrator, and host, of "Sexy Beasts" is Rob Delaney, and here is why he sounds (and looks) so familiar.
Rob Delaney started out with guest appearances on major comedies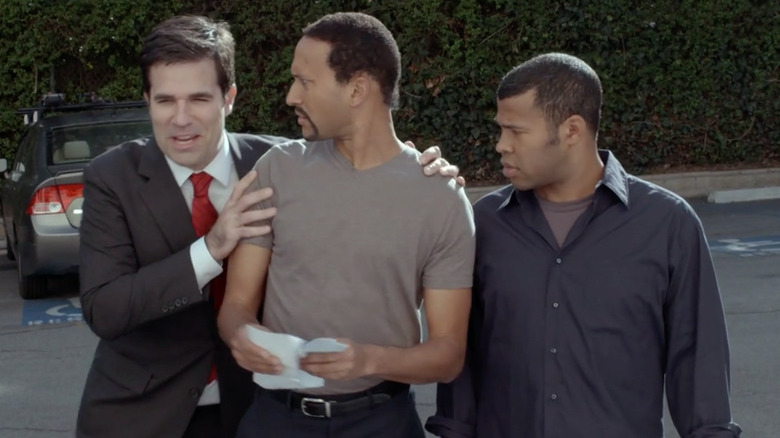 Comedy Central
Delaney first gained attention with guest turns on a number of comedy shows. His most notable appearances were on "Key & Peele," where he played three different characters across episodes of the show's first two seasons. He also appeared in the fifteenth episode of the fourth season of "Cougar Town," titled "Have Love Will Travel," playing a tour guide, and in the eighteenth episode of the first season of "The Michael J. Fox Show," titled "Biking," in which he played Clete Matthews.
Delaney also appeared in a number of web series and comedy shorts. His most prominent role in this medium was in the series "Coma, Period.," in which he played the lead role of Dan Humford, a man caught in his own mind after falling into a coma. Delaney also appeared in "The Onion's Extremely Accurate History of the Internet," in which he played Cole Bolton, and the third season of the reality dating show spoof "Burning Love," where he played a contestant named Kirk. Both were on Yahoo! Screen, with "Burning Love" playing in syndication on E! as well.
A show Rob Delaney co-created brought him acclaim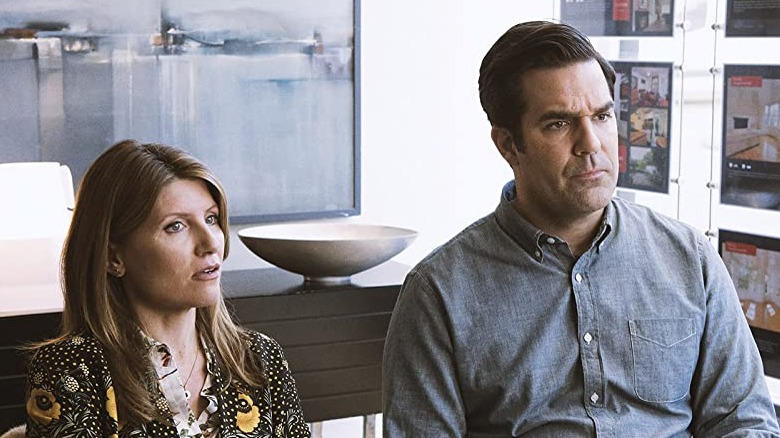 Amazon Prime
Delaney's biggest role came in 2015, thanks to the UK's Channel 4. Along with Irish actress and comedian Sharon Horgan, Delaney co-created the dramedy "Catastrophe," in which he also stars. In the show, Delaney plays Rob Norris, an advertising executive who travels to London and meets a school teacher named Sharon, played by Horgan. The two have a brief fling during Rob's time in London, but when Sharon discovers that she's pregnant, she calls Rob, who opts to move to London to have a relationship with Sharon.
The show lasted for four seasons, during which time Rob and Sharon got married and had another child, with their first child suffering from health complications at birth that were subsequently healed but remained a source of trauma for Rob and Sharon. The couple endure a number of challenges to their relationship, including Rob relapsing into alcoholism and Sharon thinking she had cheated, but remain together at the end of the series.
The series, which aired on Amazon Prime outside the UK, is also notable for being one of the last roles of screen legend Carrie Fisher, who played Rob's mother Mia Norris.
Rob Delaney had an unforgettable supporting turn in a Marvel superhero film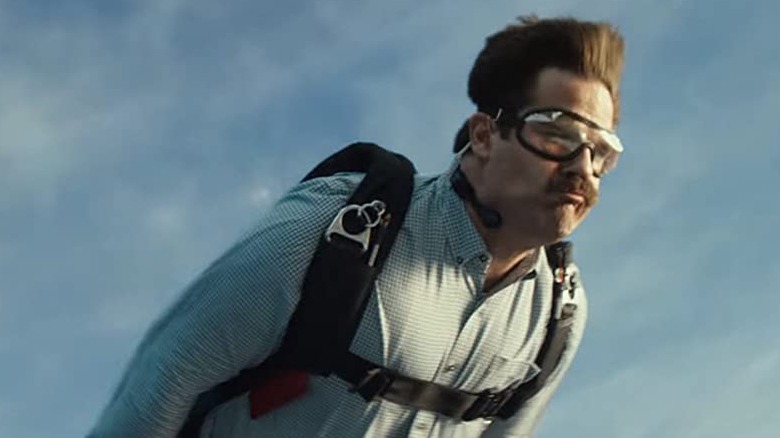 20th Century Studios
Prior to 2018, Delaney's only notable movie role was in the 2014 Jeff Baena film "Life After Beth," in which he played a news anchor. 2018, however, brought Delaney more prominence on the big screen, with a brief — but highly memorable — role in the superhero film "Deadpool 2." 
In the film, which stars Ryan Reynolds as the titular character, Delaney plays Peter, a non-superpowered individual who shows up for the X-Force auditions Deadpool is holding. Impressed by his attitude, Deadpool recruits Peter for the mission alongside a group of other superpowered individuals.
The team jumps out of a plane to launch their mission, but the landing is botched for several members. Peter manages to land safely, but while trying to rescue fellow team member Zeitgeist, Zeitgeist vomits acid on Peter, leading to Peter's death. In a mid-credits scene, Deadpool jumps back in time and saves Peter's life by sending him home immediately after he lands.
2019 was a banner year for Rob Delaney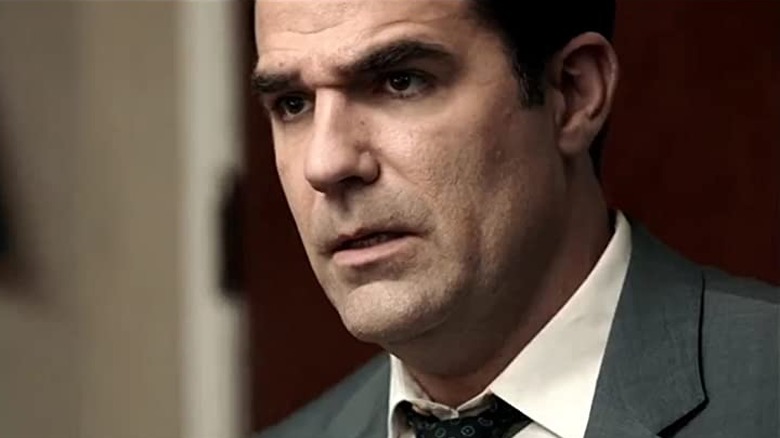 Lionsgate
2019 saw Delaney more than double his movie filmography, appearing in four films with a key role in a fifth that ended up on the cutting room floor. His first film appearance in 2019 was in the con comedy "The Hustle," where he played Todd, co-starring in the film with Anne Hathaway and Rebel Wilson.
Delaney's next film appearance was in the action film "Hobbs & Shaw," a spinoff of the "Fast & Furious" action franchise. Playing Agent Loeb, Delaney reunited with "Deadpool 2" director David Leitch on the film, which focused on the titular characters, played by Dwayne Johnson and Jason Statham respectively.
Delaney also appeared in the Paul Feig romcom "Last Christmas," alongside Emilia Clarke and Henry Golding, where he played a theater director. But that wasn't Delaney's last movie appearance of the year. He also showed up in the Jay Roach film "Bombshell," about Fox News CEO Roger Ailes and the harassment sustained by the women in the organization from him. Delaney played Gil Norman in the film, starring alongside Charlize Theron and Nicole Kidman.
Sadly, there was one huge Delaney role that didn't make it to theaters: according to NME, Delaney was supposed to be in the 2019 Elton John biopic "Rocketman," directed by Dexter Fletcher, and had been cast to play music icon Elvis Presley. However, his scene did not make it in the film's final cut.
Rob Delaney has been just as active in 2021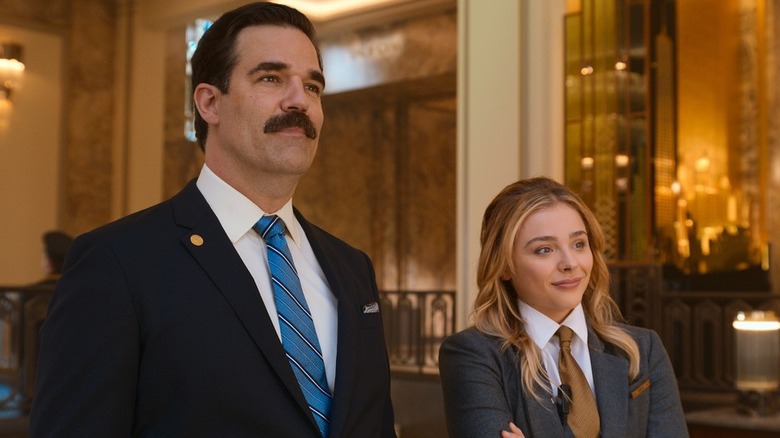 Warner Bros.
Delaney had a busy 2021 as well, both in film and television. He appeared in the live-action/animation hybrid "Tom and Jerry" as Henry Dubros, the owner and general manager of the hotel where Chloe Grace Moretz's character Kayla Forester works and where Jerry has decided to live. Delaney also kept up his action movie credibility by working with Guy Ritchie in the action thriller "Wrath of Man," which saw Delaney reunite with Jason Statham. In the film, Delaney plays Blake Halls, boss at Fortico Security, where Statham's character Patrick Hargreaves applies for a job.
Delaney also lent his voice to several animated shows, appearing in a guest voiceover role in the Fox sitcom "The Great North," appearing in the sixth episode of the show's first season, titled "Pride & Prejudance Adventure." Delaney also voiced the character of Magnolia for two episodes of the Paramount+ series "No Activity." But his biggest voiceover role in an animated show has been in the Adult Swim comedy series "Birdgirl," where he voices the character of Brian O'Brien, employee at Sebben & Sebben Worldwide, the company where Judy Ken Sebben, aka Birdgirl, is now the CEO.
With such a busy 2021, it's clear that Delaney's career will not be slowing down anytime soon.