We Finally Know Who Voiced The Time-Keepers On Loki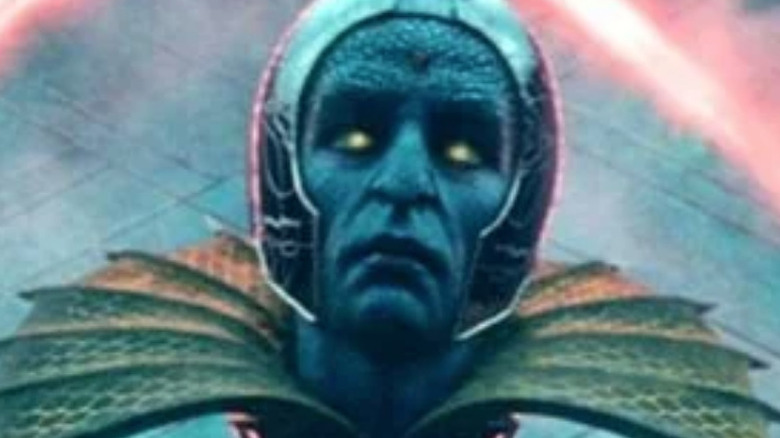 Marvel Studios/Disney+
In Episode 4 of "Loki," we finally met the mysterious Time-Keepers who were teased since the start of the series. Throughout the first four episodes, we're led to believe these beings oversee the TVA and protect the Sacred Timeline. In the third act, however, we find out that this is not the case, and the Time-Keepers are just mindless androids controlled by an unknown being.
When Loki (Tom Hiddleston) and Sylvie (Sophia Di Martino) are brought before these alleged Time-Keepers by Judge Renslayer (Gugu Mbatha-Raw), they speak with the statuesque leaders briefly. Deciphering what the androids are saying without the closed captions on is almost impossible, as their accents are truly bizarre. Their words are drawn out, each syllable and morpheme given a distinct tone. In the credits of Episode 4, it was not revealed who provided this tricky bit of voice work to bring the Time-Keepers to life, and the actor's identity a mystery for weeks — until now.
The Time-Keepers are voiced by a Loki star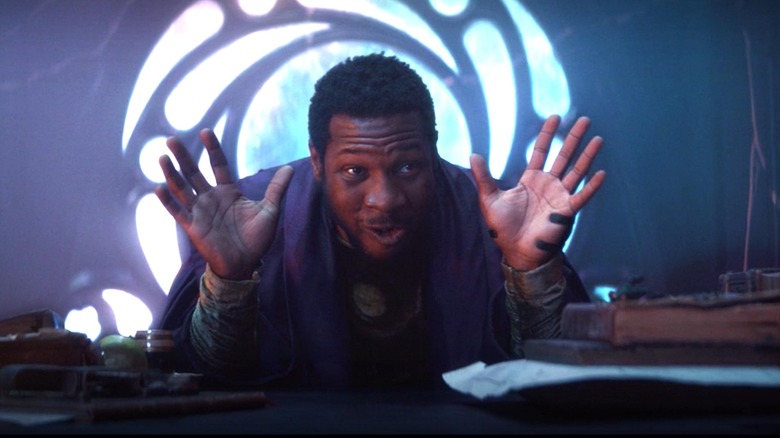 Marvel Studios/Disney+
"Loki" director Kate Herron unveiled the mystery person behind those three interesting voices in a recent interview with Entertainment Weekly. In a shocking reveal that makes all the sense in the world in hindsight, it turns out it was Jonathan Majors. "Something that was really fun for me was we hadn't, for example, cast the voice of the Time Keepers yet, because you know 'Wizard of Oz' was an obvious reference of ours. I was like, 'Oh, let's get Jonathan to do it, because he's an amazing character actor,'" Herron told the outlet. "We sent him the art of all the characters and it was really fun [because] he was sending us all of these different voices he could do for each character, which was great."
Majors only appears in the final episode of the series, revealing himself to be He Who Remains — a variant of Kang the Conqueror. In the comics, He Who Remains is responsible for creating the Time-Keepers — who are real and not androids — to oversee the Sacred Timeline. Having Majors voice those three characters was the obvious choice, given that He Who Remains had been the one in control the entire time. Herron was right, Majors is definitely an incredible character actor and if his performance in "Loki" is any indication of what's to come in "Ant-Man and the Wasp: Quantunmania," we can't wait to see it.