Who Is The Star In The 'Summer In H&M Swimwear' Commercial?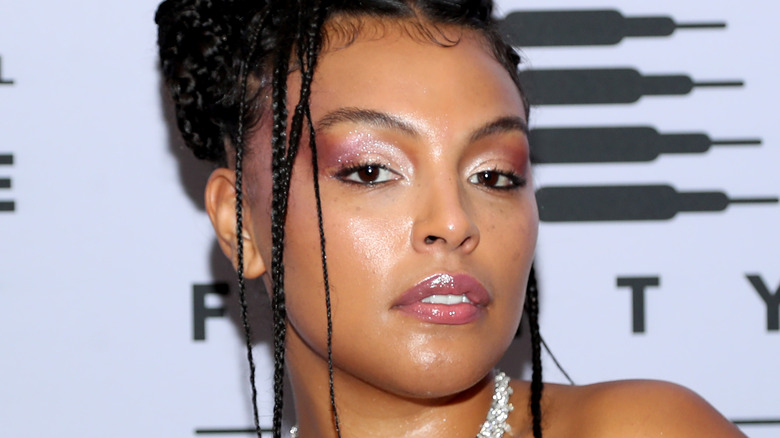 Jerritt Clark/Getty Images
Against an onslaught of echoed phrases — "She's just a model!" and "She's so brave!" — a young woman of color opens her eyes, looking directly at the camera. This is of course right before she dives off a cliff into the sea, in an undeniably cool moment (even if the subtitle begs viewers not to try it). Her sundress floats against the sky before she hits the water, and a nice R&B cover of Depeche Mode's goth classic "Enjoy The Silence" by Foushee begins.
The woman then swims with various other women of different body types, all enjoying the peace of the waters, before floating to the top. She then steps out of the ocean, calm and resilient, as H&M asks viewers to "Find strength in the silence and come back stronger." This is of course the advertisement for the new "Summer in H&M Swimwear" campaign. But who's the charismatic young woman at the center of the ad? Here's more about this plus-size model, and how she recently made the cover of Vogue.
Paloma Elsesser is a prominent plus-size model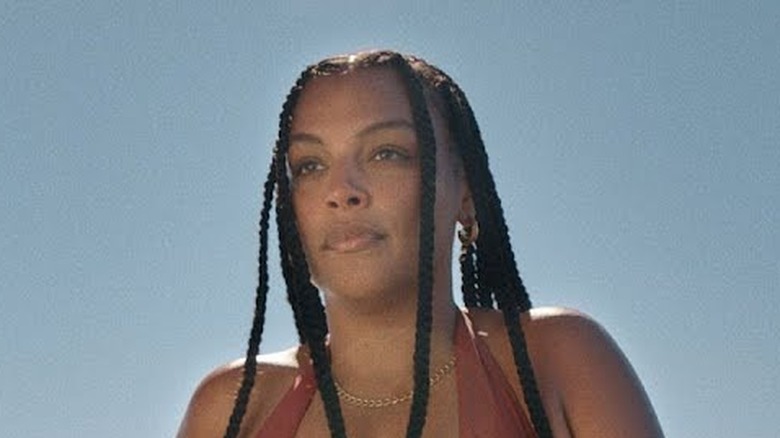 H&M
Paloma Elsesser was discovered via Instagram by make-up artist Pat McGrath, and from there has launched a considerable modeling career (via Allure). She currently has a contract with agency Muse Management and has been the face of brands such as Nike, Fenty Beauty, and Golden Makeover. Elsesser has also appeared on runways and been photographed for major magazines such as Allure. In January 2021, she even made the cover of Vogue.
One interview suggests the confidence she displays in the H&M commercial was hard-won. She told Vogue in 2017, "I've learned how to be kinder to my body. I think self love isn't some destination you get to and you are then incapable of feeling those feelings, but a journey in which you adapt your experiences to make for a happier life. I learned that it didn't serve me, or make me happy tearing myself apart everyday." 
In her 2021 interview with the same magazine, she concluded that "I haven't overcome everything, but I continue to put up a good fight."
She also appeared in one of 2019's biggest films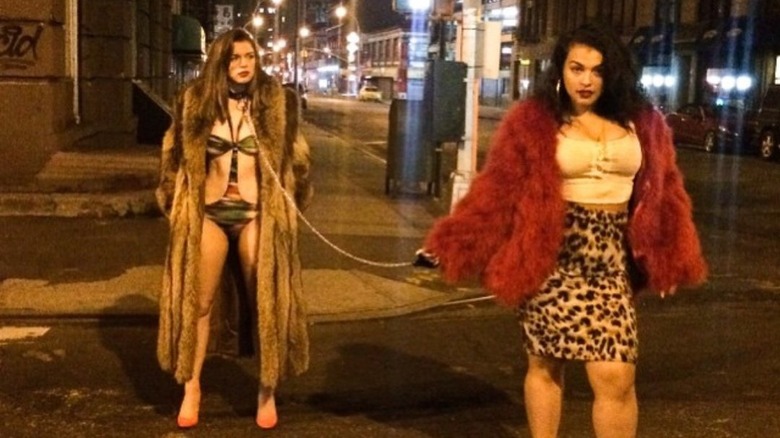 A24
In 2019, Elsesser debuted in her first movie when she co-starred with real-life friend Julia Fox in the Safdie Brothers' wild, jarring thriller "Uncut Gems." The film stars Adam Sandler as Howie, a jeweler and gambling addict whose financial situation varies with every bet he places, with the result being a life of absolute chaos. Elsesser had only a small part playing Kat, but it was an excellent film to be able to call your first. She'll also be making an appearance in Sean Baker's upcoming short film "Khaite FW21." 
The model also already seems to have a goal in mind for what's ahead beyond more modeling and acting — namely designing her own line. She told Vogue, "I want to be making some clothes that are for us! When I see the clothes that are offered to our community and see what extended sizing looks like, do I feel validated and seen? No." 
No matter what she does next, Elsesser appears to have a bright future ahead of her.