American Horror Stories: The Ruby And Tate Connection You Probably Missed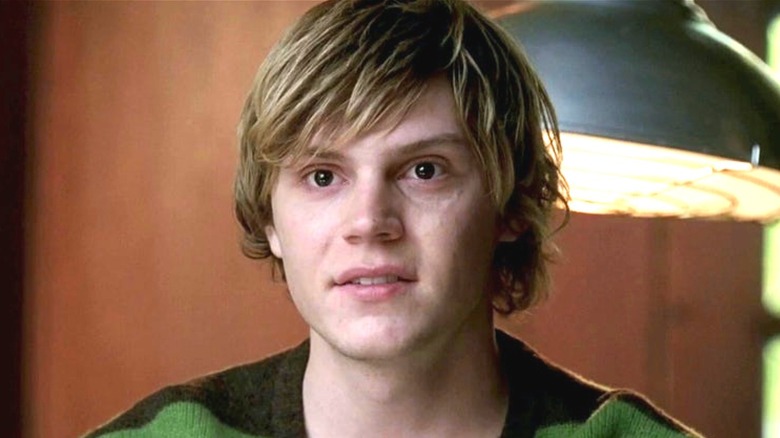 FX
Contains spoilers for "American Horror Stories"
Despite their killer inclinations, the lovestruck, emotionally stunted residents of Murder House have often been dubbed #goals by "American Horror Story" fans. Season 1's love affair between Violet Harmon (Taissa Farmiga) and Tate Langdon (Evan Peters) inspired a generation of Tumblr users to romanticize the toxic duo.
The two-part series premiere of "American Horror Stories" — the spin-off that focuses each episode (apart from the first two, of course) on a terrifying new story — returns to the haunted Victorian home and introduces a new angst-ridden teen couple: sadistic latex-lover Scarlett (Sierra McCormick) and lost soul Ruby (Kaia Gerber). The instantly smitten pair overlook red flag after red flag in one another, much like Violet and Tate did in "AHS" Season 1.
The parallels between the two couples range from major similarities like sharing emotional baths to subtle details that only the most observant fans would pick up on. Of course, after nine seasons, "American Horror Story" fans are quick to notice Easter eggs. Taking to social media, fans divulged all of the "Murder House" references they spotted in "American Horror Stories," including the connection between Ruby and Tate you may have missed.
Something old, something new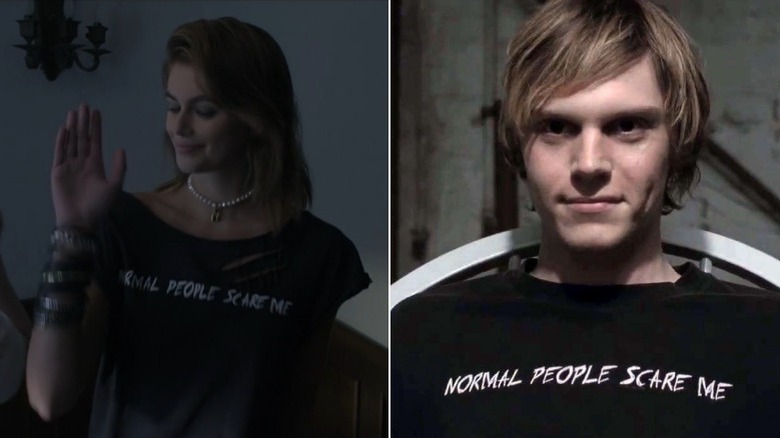 FX
While Tate and the "Murder House" ghosts didn't officially appear in the "Rubber (Wo)man" episodes of "American Horror Stories," a signature piece of his clothing does. At the end of "Rubber Wo(man): Part Two," Ruby is shown wearing a distressed version of Tate's "normal people scare me" T-shirt as she gleefully reunites with Scarlett on Halloween.
The shared graphic tee implies that Ruby and Tate are acquainted, likely bonded over their unhinged behavior toward their partners' parents. The dead teenagers' emotionally detached attitudes and violent histories would give them plenty to discuss. Perhaps they decided that they could split wardrobes, too, since they can't exactly go to the mall given they're trapped in the Murder House.
The edgy shirt has been duplicated by fans since 2011, and it's likely to see a revival now 10 years later. Fans shared their excitement online upon spotting the shirt in a promo video, though some were less than impressed by the similarities between the outcast couples. One user on Reddit said that Ruby is "the Wish version of Tate," implying that she's a cheap knockoff. However, most fans are eager to see what else "American Horror Stories" has to offer.
The first two installments of "American Horror Stories" are streaming now on FX on Hulu.