Ant-Man 3 Writer And Director Had Some Serious Fun With The Loki Finale On Twitter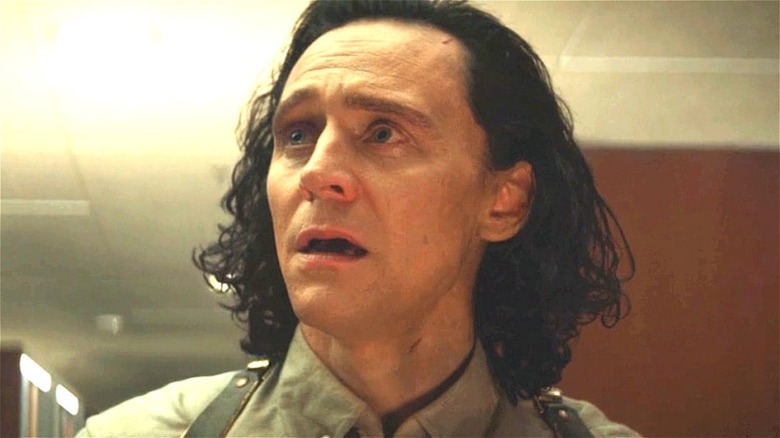 Marvel Studios/Disney+
Contains spoilers for "Loki"
The Season 1 finale of "Loki" opens the door for an infinite amount of storylines for the Marvel Cinematic Universe moving forward. After Sylvie (Sophia Di Martino) thrusts her dagger into the chest of He Who Remains, a variant of Kang the Conqueror (Jonathan Majors), the multiverse is officially opened. The sacred timeline branches off into countless new realities, and Loki (Tom Hiddleston) finds himself in one of them back at a new Time Variance Authority, where Mobius (Owen Wilson) had no idea who he was.
It's safe to say this is one of the biggest mistakes a character has made in the MCU so far, putting Sylvie's murderous act right alongside Peter Quill's (Chris Pratt) freak-out on Titan in "Avengers: Infinity War." Twitter had a field day when "Loki" Episode 6 dropped, and as fans took time to digest what they just witnessed, all sorts of hilarious Loki memes began to scatter across the platform. Alongside franchise devotees, two creatives at Marvel Studios got in on the fun and made light of the bedlam that was unleashed in the Season 1 finale.
Loki Season 1 opens up endless alternate reality possibilities
Shortly after the "Loki" finale became available for streaming on July 14, "Ant-Man and the Wasp: Quantumania" screenwriter Jeff Loveness took to Twitter to play around with the ending. "Loki... what have you done?" he tweeted. Loveness also posted an image of the cover art of "Venom" #35, which sees the creepy symbiote dunking on Spider-Man in a game of basketball. Peter Parker (Tom Holland) officially joined the MCU in 2016's "Captain America: Civil War," but for the time being, the screen rights for Venom still belong to Sony Pictures. Loveness' tweet, while a joke, could hint that the opening of the multiverse now means we might see Tom Hardy's Venom in the MCU sooner rather than later.
"Ant-Man 3" director Peyton Reed responded to Loveness' tweet with one of his own, writing the same line, "Loki... what have you done?" Reed decided to use a photo entirely outside of Marvel Comics: one of Muhammed Ali and Superman preparing to square off in the boxing ring. Part of DC Comics' "All-New Collectors' Edition" from 1978 to 1979, "Superman vs. Muhammad Ali" sees the two titans battling it out against one another in an intergalactic match. 
Loveness and Reed's hilarious tweets are fun plays on the chaos that the characters in "Loki" — well, actually, mostly just Sylvie — have kicked off. Just don't expect Superman to show up in the MCU anytime soon ... or ever.