Get Your First Look At Chucky In The New SyFy Series
Long-time horror fans will be psyched to get an exclusive look at the new Chucky series, as broken by Entertainment Weekly. The new series, which will be helmed by Chucky creator Don Mancini, was picked up by SyFy back in 2019, and kicks off on the cable network on October 12, 2021.
The character of Chucky — an evil doll possessed by serial killer Charles Lee Ray, first appeared in 1988's "Child's Play," with a screenplay written by Mancini and directed by Tom Holland (no, not that Tom Holland). The first film's success spawned a franchise that included several sequels, a few of which were helmed by Mancini as well. Although some of the Chucky films have ventured into the horror-comedy vein, such as "Bride of Chucky" and "Son of Chucky," the return of the killer doll in 2013's "Curse of Chucky" seems to have put the franchise back into a much more classic horror genre.
So what can fans expect from the new Chucky series this fall? Here's a first look.
Chucky is back and better than ever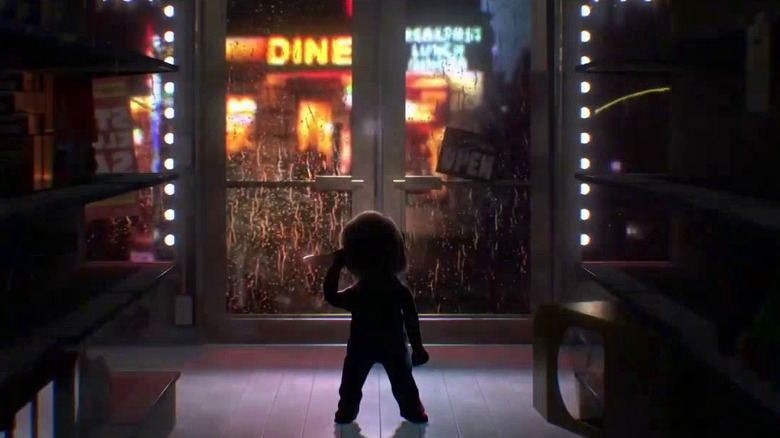 SyFy
Entertainment Weekly released the first image of the new horror series, simply named "Chucky," with the reveal of a new poster and a teaser. The poster shows a long-haired Chucky reminiscent of "Child's Play 2," wearing a menacing grin and holding a blood-spattered knife.
The teaser for "Chucky" is everything that fans could hope for, including the trademark creepy Chucky laugh from Brad Dourif, who will return to voice the character. Alex Vincent, Fiona Dourif, Christine Else, and Jennifer Tilly are also all returning to the franchise, and Devon Sawa and Lexa Doig will also be joining (via EW).
Showrunner and creator Don Mancini gave a few hints for what viewers can expect from the new "Chucky" series. This time, the protagonist is a 14-year-old boy (played by Zackary Arthur) who finds the Chucky doll at a yard sale and buys him to use in his art sculptures. According to EW, the series of murders committed by Chucky in the small suburb brings to light some of the residents' dark secrets, and beyond that, the show will also reveal more in depth details of Chucky's origins. We can't wait to see what murderous exploits everyone's favorite killer doll will get into when "Chucky" premieres on SyFy on October 12, 2021.