Netflix Subscribers Are Going Wild For Karen Gillan's New Assassin Thriller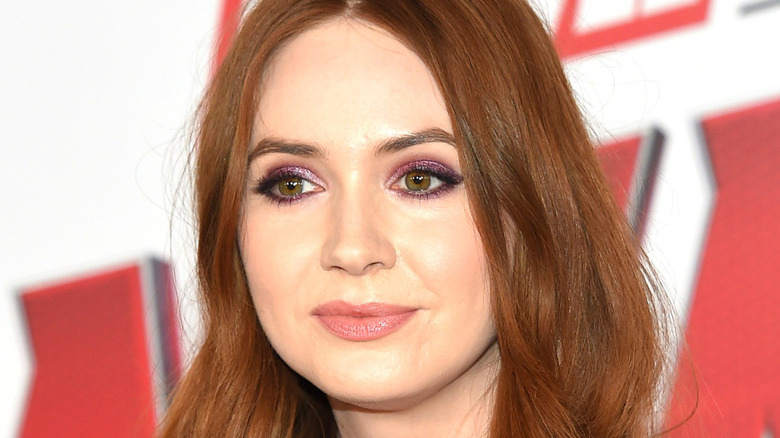 Shutterstock
Karen Gillan of "Doctor Who" and "Avengers: Endgame" fame is starring in a brand-new, action-packed female assassin thriller on Netflix called "Gunpowder Milkshake." Directed by Navot Papushado, "Gunpowder Milkshake" follows Gillan's Sam, a skilled assassin who's on the run from criminals even more powerful than she is. To protect the young girl she's taken in, Emily (Chloe Coleman), and evade those pursuing her, Sam seeks the help of her mother Scarlet (Lena Headey) and members of her assassin sisterhood. Think of "Gunpowder Milkshake" as a cross between "Kill Bill" and "Sucker Punch" — in all the best ways. Co-starring alongside Gillan, Coleman, and Headey are Carla Gugino, Michelle Yeoh, Angela Bassett, Freya Allan, and Paul Giamatti.
As of this writing, on Rotten Tomatoes, "Gunpowder Milkshake" is posting decent scores: a 70% critical rating (from 61 outlets) and a 54% audience rating (based on the opinion of slightly more than 100 people). Given the fact that the movie has been on Netflix for less than 48 hours (as of July 16) and that it's trending at No. 3 on the streaming service right now, it's safe to say that those approval ratings should be taken with a grain of salt.
For the most unsolicited, raw, and unapologetic opinions on the movie, social media is a potential viewer's best resource. Assuming you're here because you're wondering if "Gunpowder Milkshake" is worth two hours of your time, we'll go over some of the most popular comments and testimonials that Netflix subscribers have professed after watching the movie.
Fans are praising Gunpowder Milkshake like mad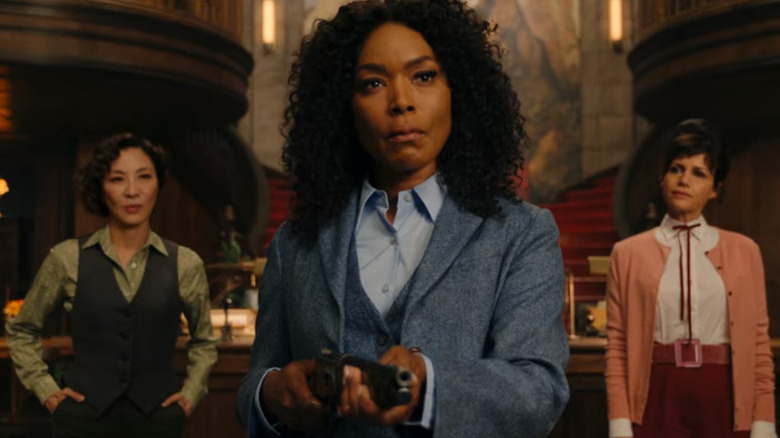 Netflix
The fact that "Gunpowder Milkshake" features a majority female cast wielding guns, committing gratuitous violence, and refusing to wear sexy outfits (per Schon Magazine) has those who are on board for the pro-fem role reversal heaping praise upon the film. One Twitter user wrote, "#GunpowderMilkshake is so so so sososo good we've got badass feminist assassins, really exciting action sequences, witty banter, an amazing soundtrack, an awesome neo-noir backdrop!!!!!" Another added, "Watching Gunpowder Milkshake which is basically girl power John Wick with an amazing SECRET LIBRARY where you can hide your knives and guns and other contraband inside the books."
On top of that praise, the romantic ships are sailing on the high seas. For those who don't know, "shipping" (taken from the word "relationship") is a common practice where fans imagine two of their favorite fictional characters becoming romantically involved, whether or not it actually happens in the canon of the story (via Vox). So far, the most popular ships are between Michelle Yeoh's Florence and Carla Gugino's Madeleine (according to Twitter user @lannistcrdis) and Lena Headey's Scarlet and Angela Bassett's Anna May (in the opinion of @mitskidykes, anyhow).
Many Twitter users also applauded Gillan for her turn as Sam in the film. As @RosskoKenison wrote, "#GunpowderMilkshake is an absolute blast. An absolutely cracking two hours that flew by. @karengillan kills it and it's just worth every minute of your time. It's filmed beautifully and sounds amazing. God it's so good! I'm gonna watch it again immediately." User @NextBestPicture tweeted that Gillan "owns every second of her role as an assassin on the run," and declared "Gunpowder Milkshake" as "the most badass movie I've seen this year so far."
Although Gillan is clearly the star, there's quite a lot of Twitter praise for one supporting actor in particular. Tweets from users @crazycrains and @nancywyuen have hundreds of likes, both in praise of Yeoh's part in the film. A slightly biased (but not incorrect) Gillan fan account @kgupdates insists that "Gunpowder Milkshake" proves that the actor "deserves more leading roles," while @ericitaliano praises the film as "John Wick's goofy slapstick cousin." 
"Gunpowder Milkshake" is now streaming on Netflix and is also playing in select theaters.