Here's Where You Can Watch Snake Eyes At Home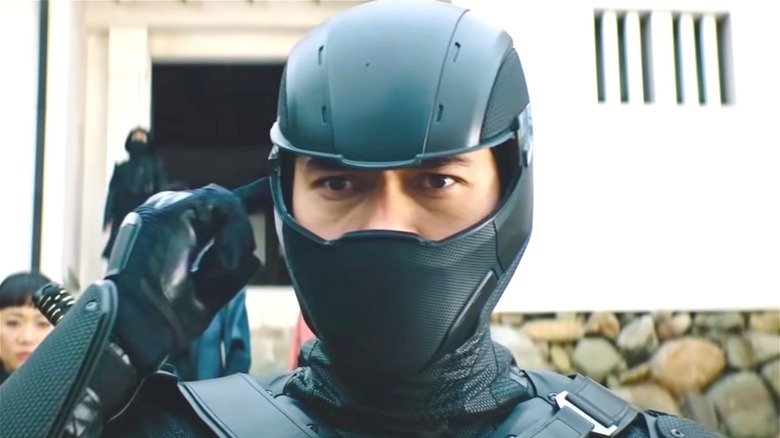 Paramount Pictures
Snake Eyes was one of the best action figures you could have in your line of G.I. Joe toys growing up as a kid. Anyone who's ever wanted to know the man behind the mask will experience utter delight when his own origin story — "Snake Eyes" — debuts in theaters on July 23, 2021.
After facing various delays, the action flick starring Henry Golding, Andrew Koji, and Samara Weaving will finally be out for all to see. It's the first "G.I. Joe" movie to come out since 2013's "G.I. Joe: Retaliation." Judging from the trailer and marketing materials, it'll have all of the high-octane set pieces fans have come to expect out of this franchise. It's like if the seven-year-old version of you had access to millions of dollars to bring your wildest imaginative adventures to life. 
That's not the only reason many people are excited about this film. For numerous "G.I. Joe" fans, "Snake Eyes" marks the first time they'll go to a theater since the pandemic started. However, it's understandable if you're still apprehensive about cramming into a crowded auditorium. Here's when and how you can check out "Snake Eyes" from the comfort of home.
Snake Eyes comes to Paramount+ on September 6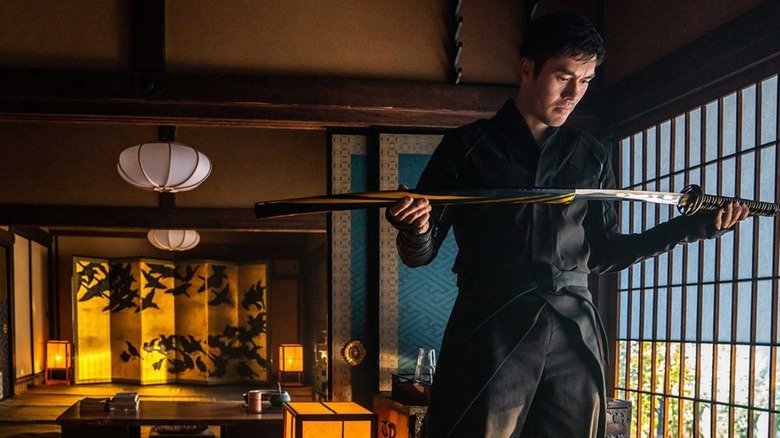 Paramount Pictures
In the wake of the COVID-19 pandemic, many movie studios have experimented with dual release models. The best example of this involves Warner Bros. releasing its movies in theaters and on HBO Max simultaneously. People who don't want to head out can watch it for 30 days from its release with an HBO Max subscription. Disney has done something similar by offering many new releases in theaters and through Premier Access on Disney+ at the same time. Paramount Pictures, the studio behind "Snake Eyes," has taken a different route.
All of Paramount's movies will continue having an exclusive theatrical release, at least initially. That means "Snake Eyes" will only be available to watch in theaters on July 23 in theaters located around the globe. That means if you want to get in on the conversation right away, you're going to have to shell out for a ticket.
Luckily, you won't have to wait too long to see it through streaming. Paramount has utilized a 45-day release window as the pandemic continues. That means all of its new releases will come out on Paramount+ 45 days after their theatrical debuts. That includes "Snake Eyes," so you can watch it at home starting on September 6. At that point, you need a Paramount+ subscription, which costs either $10/month or $5/month with ads. You can watch "Snake Eyes" on either tier at no extra cost when it becomes available.