Where Is The Cast Of In The Army Now Today?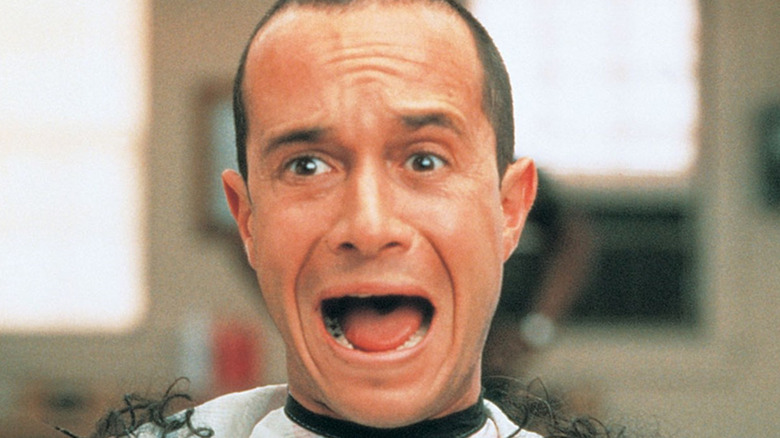 Buena Vista Pictures
Anyone who's seen their fair share of '90s comedies has likely had an encounter with the Weasel. No, we're not talking about Sean Gunn's character Weasel from "The Suicide Squad" — James Gunn's upcoming movie about the titular team of comic book villains turned heroes — though there are bound to be plenty of laughs when that movie finally comes out. The Weasel is the name of the whiny, slacker dude-bro persona actor and comedian Pauly Shore developed during his rise to stardom. Shore recalled the first time he took on the Weasel persona in an edition of "The First Time" for Rolling Stone in September 2020. "It was June 3, 1990. It was my opening show for 'Totally Pauly."' he said. "It just kind of happened spontaneously. I was like 'Yo, check out this video, it's gonna be major, bro. Billy Idol, 'Rock the Cradle of Love."" Shore said when they took the tape back to his mother's house, he knew he had something. "Then I just started pausing between my words and acting silly," he added. "The MTV thing was really where it all kind of started."
Shore went on to play different versions of the Weasel in a few different '90s flicks, including 1992's coming-of-age comedy "Encino Man," 1993's fish-out-of-water comedy "Son in Law," 1995's legal laugh-fest "Jury Duty," and 1996's conservationist cut-up "Bio-Dome." But smack in the middle of those was 1994's "In the Army Now," which saw the Weasel join the Army Reserve in search of a guaranteed paycheck and low risk of being activated. Joining Shore in the cast were a number of popular actors who've gone on to enjoy successful careers. This is where the cast of "In the Army Now" is today.
Pauly Shore played lead character Private First Class Bones Conway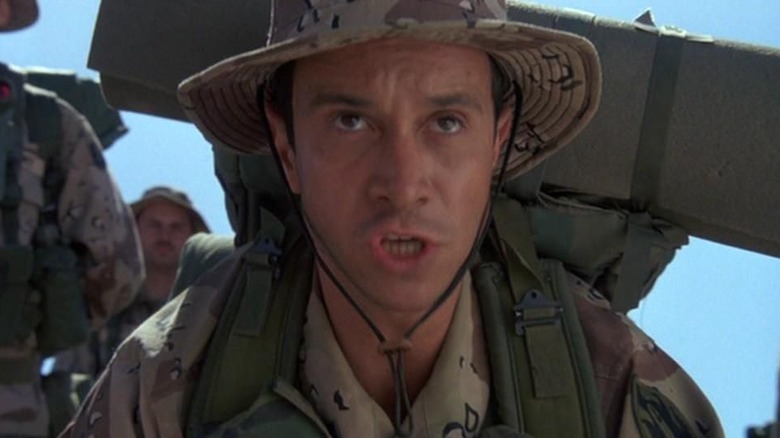 Buena Vista Pictures
Pauly Shore took on the lead role of Private First Class Bones Conway for "In the Army Now." Bones and his fellow slacker Jack work at the oddly named Crazy Boys electronics store but dream of one day opening their own store. It's just too bad they can't build enough capital to do so after getting fired when Bones insults his boss Quinn while trying to make out with his girlfriend, which Jack unwittingly broadcast to the entire store. As Bones posits during a round of mini golf, their new-found freedom puts them one step closer to the store, but Jack contends it puts them closer to living in the dumpster. Their solution is to join the Army Reserve as water purification specialists; after all, Bones' brother is a pool guy, how hard can it be? And it's not like they're going to start lobbing water balloons during the next big skirmish. Naturally things don't go as planned.
After "In the Army Now," Shore continued to make the same brand of comedic films for a few years before his popularity declined. In addition to the aforementioned "Jury Duty" and "Bio-Dome," he made 1997's ill-received "The Curse of Inferno." Shore also started doing voice work in 1995's "A Goofy Movie" and a couple of direct-to-video releases featuring Casper the Friendly Ghost. He tried to reinvent himself with the mockumenatry "Pauly Shore is Dead," which fared considerably better with critics — it holds a 57% critics score on Rotten Tomatoes — than most of his '90s comedies. The 2009 mockumentary "Adopted" chronicled his fake journey to Africa to adopt a child like other celebrities. Shore's most recent lead role came in 2020's "Guest House" as Randy Cockfield, the unwanted inhabitant of the title dwelling.
Andy Dick played Bones' right-hand man, Private Jack Kaufman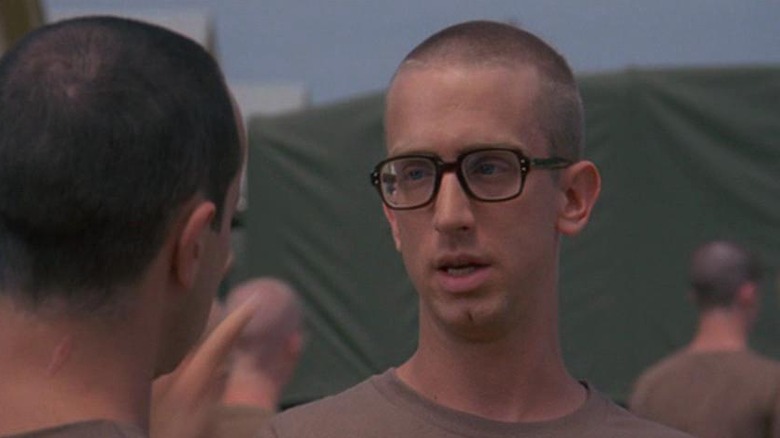 Buena Vista Pictures
Actor and comedian Andy Dick took on the role of Bones' loyal friend and partner, Jack Kaufman. He might not always be thrilled about it, but he's always there, including following Bones' major misfire about the water purification training. The thing is, water purification is the reserve occupation most likely to be called up in the event of a desert-based conflict and that's exactly what happens. Jack and Bones engage in a last-ditch effort to avoid getting shipped out to Chad by pretending to be lovers — which would conflict with the "Don't ask, don't tell" policy in the United States Military enacted under President Bill Clinton — but are unable to go through with a kiss to appease a commanding officer's doubts.
Dick has continued to find steady work in Hollywood following "In the Army Now" — including appearing as Matthew Brock on the popular sitcom "NewsRadio" for five seasons — though he's encountered some hurdles along the way. Over the years, he has had some well publicized brushes with the law and demonstrated plenty of outlandish behavior at Comedy Central roasts. According to a 2016 Vice article, Dick has struggled with drug and alcohol dependencies and been to rehab 20 times to attempt to remain sober. Professionally, he's had memorable cameo roles in comedies like "Road Trip," "Zoolander," and "Old School," in addition to starring as the evil son of Santa Claus in 2003's "The Hebrew Hammer."
Lori Petty played the feisty Private Christine Jones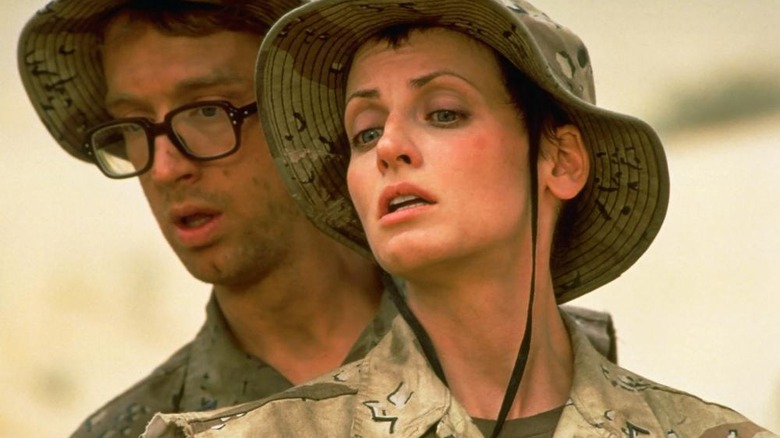 Buena Vista Pictures
We first meet actor Lori Petty's fiery Christine Jones after Drill Sergeant Ladd (Lynn Whitfield) has done the impossible in whipping Bones and Jack into soldiers during their time in basic training. When they show up for water purification training, Jack is immediately drawn to Christine and starts making awkward and uncomfortable advances, at which point she tells Bones she's going to have to kill his friend; Bones responds by turning to start up a conversation with someone else to make a new friend to potentially replace Jack. Christine, it seems, has chosen water purification for her reserve occupation because of its likelihood for activation. Her real interest is serving in the infantry, but they didn't allow women in combat at the time. Luckily their unit is called up so she doesn't have to settle for kicking Jack's butt.
Petty had already begun an established film career before her turn in "In the Army Now," including the roles of Lila — girlfriend to Robin Williams' character in "Cadillac Man"; Tyler — the love interest who taught Keanu Reeves' character to surf in "Point Break"; and pitcher Kit Keller — sister to Geena Davis' catcher Dottie Hinson in "A League of Their Own." In 1995, she took on the lead role of the title character in "Tank Girl," an adaptation of the post-apocalyptic Dark Horse comics property of the same name. In the years since, she made guest appearances on shows like "Star Trek: Voyager," "ER," "NYPD Blue," "CSI: NY," "House," "Prison Break," and "Gotham." She also landed the recurring role of Lolly Whitehill and appeared in 24 episodes of the popular Netflix series "Orange is the New Black."
David Allen Grier played the always-terrified Private Fred Ostroff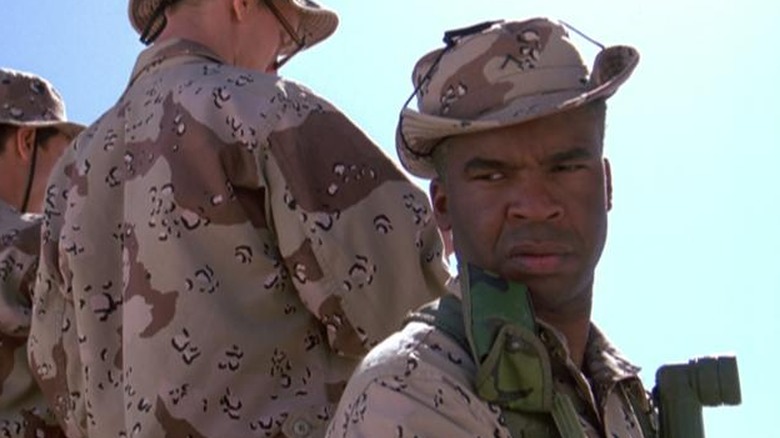 Buena Vista Pictures
Shortly after viewers are introduced to Christine Jones, they get to meet Private Fred Ostroff, as portrayed by David Alan Grier. When she informs Bones Conway that she's going to have to kill Jack, Bones turns and introduces himself to Fred to keep his friend scale balanced to a zero-sum game. As Fred tells it, he's scared of "damn near everything" and he joined the Army Reserve on the advice of his therapist, who said he should be all he could be — on the weekends. 
Prior to "In the Army Now," Grier had already established a powerful television resume — thanks to his numerous appearances on the Wayans family's sketch-variety show "In Living Color" — and he followed it up a week later, appearing alongside Damon Wayans in 1994's "Blankman." He got the chance to work with comedic legend Robin Williams in 1995's first "Jumanji" film. Grier played the recurring character the Rev. Leon Lonnie Love on "Martin" and later took on the role of Bernard in Damon Wayans' one-season law enforcement sitcom "Damon."
In more long-term work, Grier played the role of the show-within-the-show's producer David Bellows for two seasons of the CBS sitcom "Life with Bonnie" and portrayed Joe Carmichael, the father of the series lead, over three seasons of "The Carmichael Show." He also appeared in plenty of episodes of Comedy Central's puppets-making-prank-calls shows "Crank Yankers" across both of its runs, in addition to the 2104 CBS television adaptation of "Bad Teachers."
Esai Morales played the tough-as-nails Staff Sergeant Stern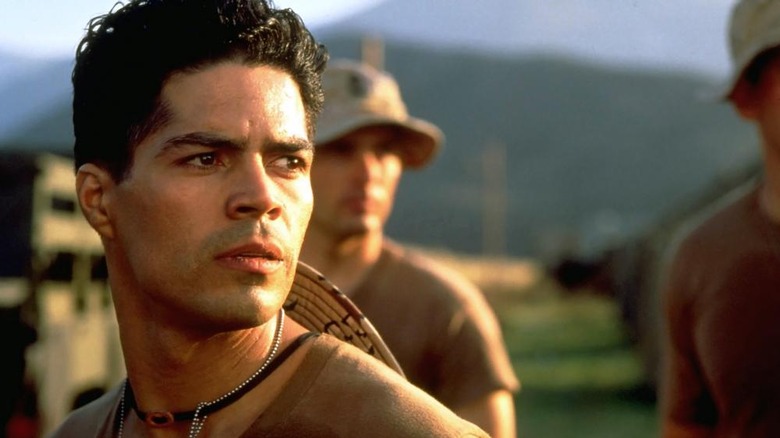 Buena Vista Pictures
When Bones' bunch of misfits get activated for service, they head to Chad, where First Sergeant Williams (Art LaFleur) chews Bones out for his seeming ignorance of military nomenclature — he's had a few sergeants before, after all. In the mess hall — after Brendan Fraser's cameo as a solider named Link, a clever nod to his role in Pauly Shore's "Encino Man" — Bones attempts to replicate Staff Sergeant Stern's (Esai Morales) impressive field stripping of his weapon with his flashlight, only to have the spring launch and land in Stern's food, thereby igniting a base feud for the ages. The water boys eventually end up rescuing Stern from captivity and the breach is mended.
In the years since, Morales has kept plenty busy, finding tons of success on the small screen. His first big role after "In the Army Now" came in 2001 when he took on the part of Lieutenant Tony Rodriguez on "NYPD Blue." Morales portrayed the character across three seasons of the popular police procedural, appearing in a total of 66 episodes. He also appeared as Major Edward Beck in seven episodes of "Jericho" as well as taking on the role of Section Chief Mateo Cruz in six episodes of "Criminal Minds." 
Recently, Morales appeared as Marty Byrde's cartel contact Del in Season 1 of "Ozark" — you know, the guy who ripped Marty's toenails off. Since then he's landed a recurring role as Deputy Director Louis Ochoa on "NCIS: Los Angeles" and fans of DC's "Titans" series will recognize Morales as Slade Wilson, aka Deathstroke.