Black Widow's Olga Kurylenko Weighs In On That Big Taskmaster Twist - Exclusive
Marvel Studios/Disney
While Olga Kurylenko has done such high-profile films like the 007 adventure "Quantum of Solace" opposite Daniel Craig, and the sci-fi thriller "Oblivion" with Tom Cruise, she's never played a character shrouded in as much secrecy as her role as Taskmaster in "Black Widow" — now in theaters and on Disney+ with Premier Access. In an exclusive interview with Looper, Kurylenko said she felt Marvel Studios' move to switch Taskmaster's gender — the character is male in Marvel Comics — made complete sense, given that "Black Widow" is a female-driven movie. 
Set between the events of "Captain America: Civil War" and "Avengers: Infinity War," Natasha Romanoff finds herself at odds with Dreykov, the Russian mastermind behind the brutal Red Room program, which brainwashes young girls and trains them to become assassins. The deadliest of all to emerge from the Red Room is Dreykov's daughter, Antonia (Kurylenko) — who is the sinister force beneath the menacing armor of the Taskmaster. Since Natasha has always been a badass female in the MCU, it makes sense that her most formidable antagonist in "Black Widow" should be too.
"Of course! Females can do anything! I think it's a great surprise, because we definitely don't expect that heavy killing machine to be what she is underneath all of that. It's an amazing revelation, and it's therefore for more of a surprise," Kurylenko told Looper. "And I think it's fascinating that it's such a great combination of that evil and goodness, because underneath she is just this woman, or maybe even a little girl who's never grown up and who never had the chance to have a childhood — like none of them did — when we tell the story and has gone through a lot of physical and psychological trauma. She has been manipulated and probably doesn't really even know why this is all happening to her, and what she has done to deserve it. And so, the contradiction is very interesting to explore."
Olga Kurylenko felt empowered wearing the armor of the Taskmaster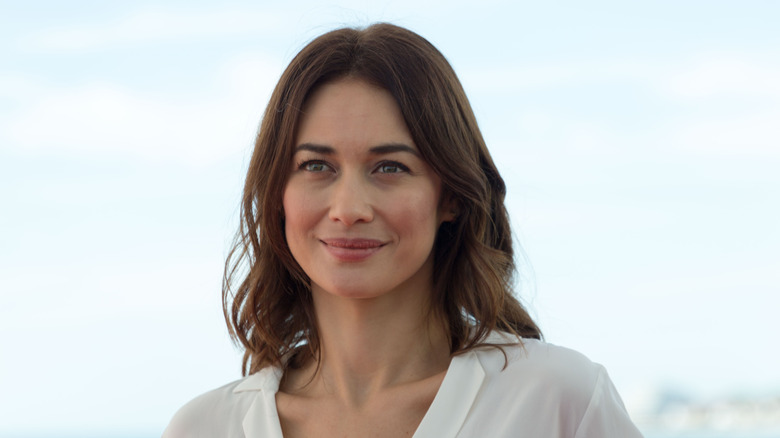 Shutterstock
While Taskmaster is the primary physical antagonist in "Black Widow," the character actually debuted in Marvel Comics "The Avengers #195" in May 1980. And while the Taskmaster, aka Anthony "Tony" Masters, is male in Marvel Comics, Olga Kurylenko said she just "went with the flow" after Marvel decided to handle the character differently. "I was excited to play the character. For me, it was like, 'Wow, great. I'm going to be this badass who is strong'" Kurylenko recalled. "But at the same time, there's also this vulnerability, which I love exploring and playing with. Yeah, I mean, I didn't expect it, but then I quickly accepted it. And I was like, 'Great. If that's the decision, I'll do it. I'll go along.'"
Naturally, one of the most exciting parts of playing the Taskmaster for Kurylenko was suiting up as the character for the first time. It's an experience she won't soon forget. "It's a long process, because there are lots of different layers to the costume and a lot of people have to come and help me and there are clips that go on and forever," Kurylenko recalled. "I couldn't wait to see what it's going to be like in the end. I remember I looked in the mirror for a long time thinking, 'Wow, this is me. Well, I'm somewhere underneath there and this is so cool.' Yeah, it was. I will not forget the moment, indeed. It's great — very empowering."
While "Black Widow" signals the end of the cinematic road for Johansson playing Natasha, the film's ending leaves the door open for more adventures for its characters, including Antonia. Would Kurylenko return to the Taskmaster role? "I wouldn't say no," Kurylenko said, laughing. "I had so much fun."
"Black Widow" is now in theaters and streaming exclusively on Disney+ with Premier Access.