Taskmaster From Black Widow Is Gorgeous In Real Life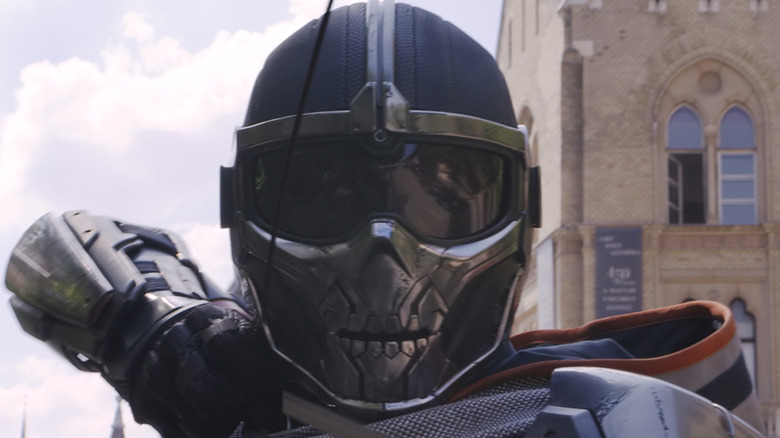 Marvel Studios/Disney+
Contains spoilers for "Black Widow"
In "Black Widow," one of the villains that Natasha Romanoff (Scarlett Johansson) fights is classic Marvel villain Taskmaster. A skilled assassin who imitates others' fighting styles, Tony Masters is the identity of the person underneath the skeletal-looking mask in the Marvel Comics version of Taskmaster. However, the Marvel Cinematic Universe changes things up a bit with the character's identity for "Black Widow," revealing — after a lot of speculation over the past few months — Taskmaster to be someone from Natasha's past. The MCU Taskmaster is none other than Antonia Dreykov. 
Wait, who? That's a name that traces back to the original "I've got red in my ledger" conversation Natasha has with Loki aboard the SHIELD helicarrier in the first "Avengers" film. "Can you wipe out that much red?" Loki asks from his cell. "Dreykov's daughter. Sao Paolo. The hospital fire. Barton told me everything. Your ledger is dripping," he adds. Dreykov's daughter was just a young girl when she was caught in the explosion that took place during Nat's final mission — to eliminate Dreykov himself, the mastermind behind the Red Room — before joining SHIELD.
When the mask comes off, Antonia presents a scarred and ruined face to her rival. However, as you might guess, the person who plays Antonia is rather attractive in real life, and you may have seen her before in her previous work. The actress's name is Olga Kurylenko, and although she appears to be uncredited in this film, she's a Ukrainian-French actress and model with one of Hollywood's most coveted roles for gorgeous women on her resume.
Her first big role in American cinema came in the 2007 video game movie Hitman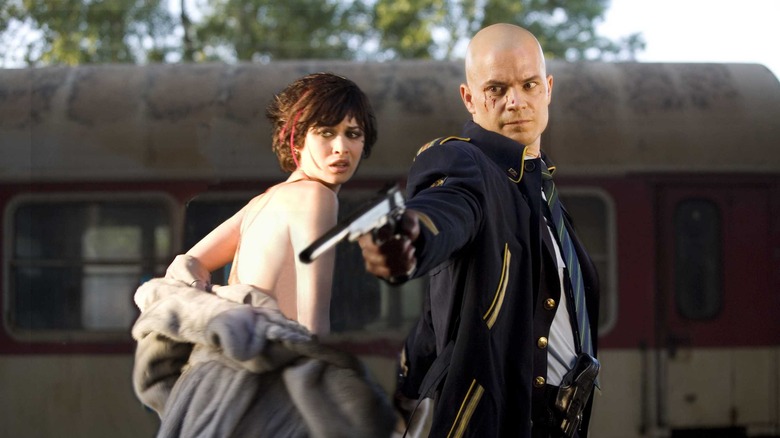 After several roles in French cinema and television, Olga Kurylenko's breakout role came in the ill-received yet ultimately successful 2007 cinematic adaptation of the popular "Hitman" video game. Starring Timothy Olyphant in the title role as assassin Agent 47, the film revolves around his murder missions for the Organization, a shadowy group that trains young men to be professional killers from a young age. He crosses paths with Kurylenko's character when he is sent to publicly execute Russian President Mikhail Belicoff (Ulrich Thomsen). With his mission seemingly complete, Agent 47 is ordered to take out a potential witness to the assassination, Belicoff's mistress Nika Boronina (Kurylenko). There's just one catch: she's never seen him and he's been set up, narrowly avoiding an attempt on his own life from another killer from the Organization. So Agent 47 does what he does best and kills his way to the truth, all the while being pursued by Russian intelligence and Interpol in the form of agent Mike Whittier (Dougray Scott).
"Hitman" managed a dreadful 16% critics score on Rotten Tomatoes but grossed an impressive $99 million against its $24 million budget, via The Numbers. It was due for a sequel, in which Olyphant did not plan to appear, but was instead rebooted in 2015's "Hitman: Agent 47" with Rupert Friend in the lead role. Kurylenko was not involved in the reboot but the first film served as an important stepping stone in her career. A year after "Hitman" was released, she appeared as Bond girl Camille Montes in "Quantum of Solace."
Olga Kurylenko was a Bond girl in Quantum of Solace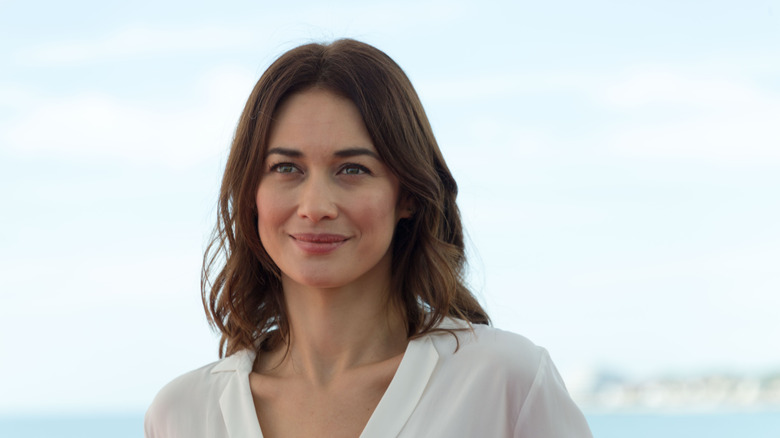 Shutterstock
Olga Kurylenko became a Bond girl early in her acting career, starring in "Quantum of Solace" opposite Daniel Craig in 2008. The Hollywood Reporter stated in 2019 that she "found her niche" during that movie and has been in contention for some of the industry's most action-oriented leading lady roles. She starred in "Oblivion" with Tom Cruise in 2013 and was a runner-up to Gal Gadot for the role of Wonder Woman in the DC Extended Universe. She also starred in "The Courier" from 2019 as an ex-soldier who uses her combat skills when a delivery goes awry. She's now been doing action films for 12 years, and it all started with the training she did for "Quantum of Solace."
"I remember coming home, collapsing on my bed and falling asleep. It was a big shock for my body," Kurylenko told The Hollywood Reporter. "'Quantum' was the start of all these physical action films that I did after, but it was the very first one for which I had to train so hard and so much. It was six months and so intense. For the first month, I trained literally every day — from morning till evening. I went from doing nothing to suddenly doing everything that's super intense." She noted that regular gym workouts never gave her endorphins, but martial arts or sparring do. She's clearly in the right line of work. 
Her other films include movies like "To the Wonder" with Ben Affleck, "Vampire Academy" where she played Headmistress Kirova, "Sentinelle," in which she plays a French soldier in a revenge-driven action thriller, "The Death of Stalin" as Soviet pianist Maria Yudina, and spy satire "Johnny English Strikes Again" opposite Rowan Atkinson. She made news in 2020 for catching the coronavirus (via CNN), but it's fairly certain her fame from this point forward will be for other things. You're going to see this lovely face again.