Ruby Rose Reveals A Surprising Reason That Contributed To Her Sudden Batwoman Exit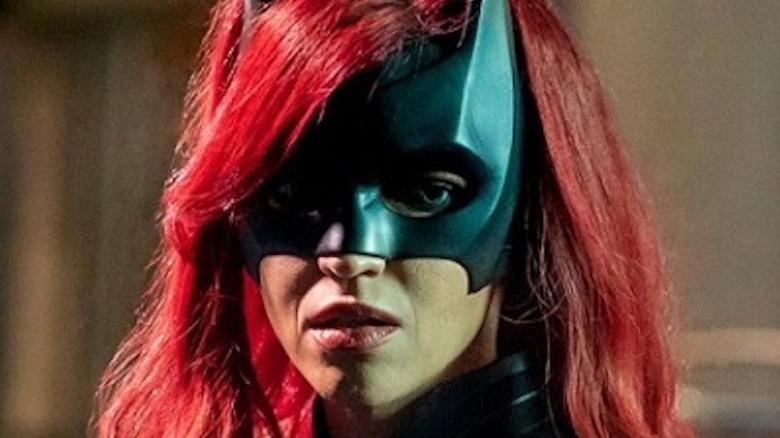 The CW
After the first season of the CW's "Batwoman," fans were left shocked as Ruby Rose suddenly announced her departure from the show. Leaving the lead role of Kate Kane and the city of Gotham behind her, she initially didn't offer too many details. However, Rose and the series' producers expressed that her leaving was amicable between both parties; she even posted a warm thank-you to the show's director and producers. The show also decided to continue when it cast Javicia Leslie as the new Batwoman Ryan Wilder.
Eventually, when the dust had settled a bit, Rose opened up more about some of the factors that led to her leaving "Batwoman." The actress noted how tough it was to be a lead on a superhero series and recalled how dealing with herniated discs from an on-set back injury made the already grueling filming process much more difficult. Despite making it clear that she was honored to have done "Batwoman," Rose expressed that while taking on the role of a superhero might seem like a dream, it can definitely have several downsides. And in a recent interview for an Australian radio program, Rose recalled another consequence of her taking up the cowl.
Ruby Rose broke out in hives thanks to the Batwoman mask
Becoming an onscreen superhero can be challenging due to the initial pressure of the role and the risk of suffering injuries. But apparently, it can also be a terrible way to discover an allergic reaction to latex. That's what happened to Ruby Rose as she noted that one of the most unfun parts of being a superhero is actually the costume.
During an interview on the show "Kyle & Jackie O," Rose said that she unfortunately discovered her latex allergy when she wore the Batwoman mask, and the more she wore it, the worse the reaction got for her. "Eventually, I took off the cowl at the end, and my whole face was just hives. My throat was all messed up," she said. "It was like it was out of a scary movie."
Now Rose never officially says during the interview that the severe allergic reaction to the mask was among the reasons why she decided to leave "Batwoman." After all, the actress noted to Entertainment Weekly that leaving the show was a difficult choice for her to make. But between dealing with a demanding lead role and essentially rushing back to work too soon after a severe injury, the allergic reaction probably didn't do any favors in convincing Rose to stay.