The Full-Length Titans Season 3 Trailer Promises The Darkest Outing Yet
"Titans" aired as a DC Universe show for two seasons, but will now stream on its new home, HBO Max, starting in less than a month (via The Wrap). In advance of its third season, the network has released an official full-length trailer for the series — and it looks like it'll be much darker than the previous 24 episodes. Based on "Teen Titans," the series was the first to debut on DC Universe, with the first season launching in late 2018. "Titans" was actually renewed for a third season back in November 2019 (via Variety), but it's taken a while for that season to come to fruition. 
It has been clear for some time that the series is going to take a dark turn by focusing on events of the famous DC comics story "Batman: A Death in the Family" from 1988. In case your memory's fuzzy on that one, it's the heart-wrenching serial tale in which Jason Todd's Robin (the second to take the name after Dick Grayson) dies at the hands of the Joker. Back in 2020, images from the upcoming season of "Titans" showed Red Hood, the villainous character that Todd became in 2005's "Under the Hood" storyline.
So, fans already knew that was coming. However, the trailer has given some tantalizing tidbits hinting at what's next for the "Titans" crew, and it's getting fans hyped up — if comments sections are any indication, at least.
The trailer teases new characters and three villains in Season 3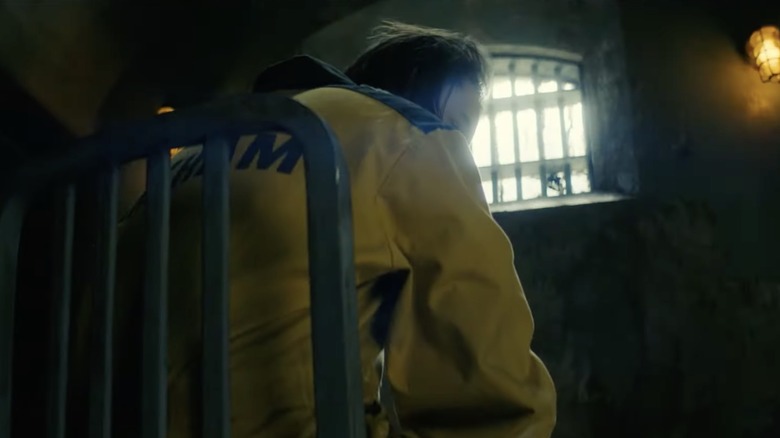 HBO Max/DC Entertainment
The new Season 3 trailer starts by rehashing some footage from June 17's official trailer show Jason Todd's (Curran Walters) brutal death, although it does so with a little more detail. Then, it indicates that Batman (Iain Glen) will pack it in following the death of his ally and protégé. He invites Dick Grayson (Brenton Thwaites) to step up to take on his identity. "It's over for me," he says. "Be a better Batman."
The trailer also shows some new high-profile cast members. Vincent Kartheiser plays Jonathan Crane, also known as Batman nemesis Scarecrow — although he remains mostly in shadow. Jay Lycurgo, who will join the cast as the third Robin, Tim Drake, is also spotted here. Fans already knew that the show was going back to Gotham City from San Francisco, allowing for a few new faces to pop up. So when new addition Savannah Welch steps in as Gotham police commissioner Barbara Gordon, she greets Nightwing with the words, "Welcome back to Gotham, Dick." There's a touch of subtle, sarcastic repartee there between the two characters, which could develop into an interesting relationship.
There's also a bit more of Red Hood, sounding a bit hollow in that cool-looking mask, and a reminder that Blackfire (Damaris Lewis) will figure into the storyline as another formidable villain, especially for Starfire (Anna Diop). It remains to be seen how the show will balance out the conflicts with three separate villains in the mix, though.
The trailer definitely has fans hoping for good things in the upcoming run. "This feels darker than the first two seasons and I can't wait," said YouTube user Dave Brown. 
"When the S3 trailer is better than the whole S2," @geek markus said, adding, "I'm so hyped." Hopefully, they won't be disappointed when the series returns on August 12.
As far as we're concerned, that date can't come soon enough.