The Death Scene In Bill & Ted's Bogus Journey Means More Than You Think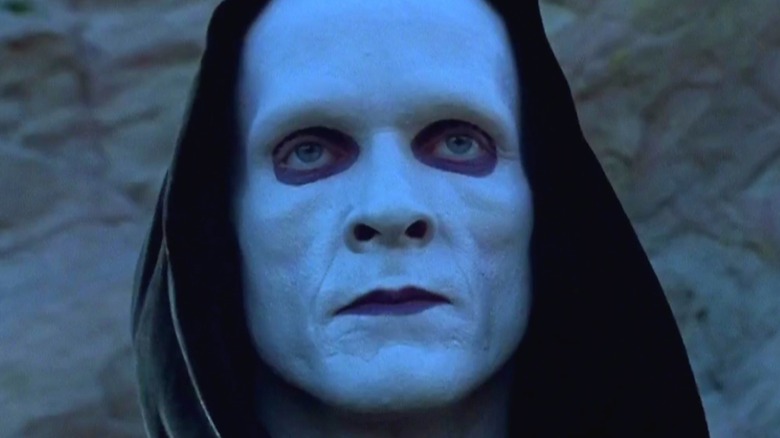 Orion Pictures
There's just no escaping Keanu Reeves. The ubiquitous action star had a major coming out party with the release of 1999's sci-fi blockbuster "The Matrix" and the franchise's subsequent entries only increased his star power. As audiences await the fourth "Matrix" film's premiere date more than 20 years after the first film's release, there's still plenty of Reeves' action movies to keep us entertained, namely the hard-punching "John Wick" franchise, of which he's been the face since 2014.  But Reeves was on the Hollywood map long before the mega success he's enjoyed over the past two decades. He showed off his dramatic chops alongside Al Pacino in 1997's "The Devil's Advocate" and before that established himself as an action star with lead roles in 1991's "Point Break" alongside Patrick Swayze and 1994's "Speed" with Sandra Bullock.
Reeves, of course, has shown off his comedic side as well, playing an exaggerated cornball version of himself in 2019's "Always Be My Maybe." But it was a full 30 years before that film came out that he began playing the role of dim-witted Ted Theodore Logan, one half of the someday-we'll-be-great band Wyld Stallyns in the "Bill & Ted" franchise. The first film — 1989's "Bill & Ted's Excellent Adventure," considered by many to be his breakthrough role — saw him team up with Alex Winter's fellow dolt, Bill S. Preston, Esquire, to put together a history project for the ages in order to avoid breaking up the band. The film's 1991 sequel continued the adventures of the charming goofballs, which were recently resumed in 2020's "Bill & Ted Face the Music." The movies are goofy in nature and chances are no one is dialing up "Bill & Ted" movies in their streaming phone booths expecting cinematic works of art, but it appears no one told the series' writers. Here's why the death scene in "Bill & Ted's Bogus Journey" means more than you think.
There's a deeper level to the competition with Death in Bill & Ted's Bogus Journey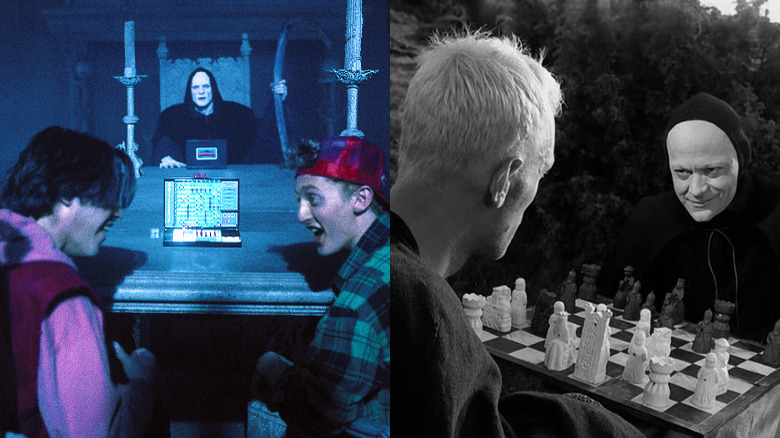 Orion Pictures/Public Domain
Believe it or not, the "Bill & Ted" writing team approach their work in a high-minded fashion. "As much as there's some really broad, light, silly stuff, there's a second level of humor that is very hip and sophisticated," producer Scott Kroopf told the New York Times in a 1991 interview just prior to the release of "Bogus Journey." Kroopf, who produced all three "Bill & Ted" movies, added that franchise writers Chris Matheson and Ed Solomon approached the script "with a very serious mind" and that silly comedic hijinks are not the entire aim. "There's a level of literary jokes running through the first one, and philosophical jokes through the new one. It's that feeling of having something that can operate on several levels at once — a good, fun ride in terms of a comic adventure, and then satiric or parody-style humor as an undercurrent," Kroopf added.
In fact, the scene in which the title duo first meet Death, the Grim Reaper (William Sadler), draws an intentional parallel to a classic title considered by many to be among the best in the history of filmmaking: Ingmar Bergman's "The Seventh Seal." In Bergman's film, of course, the knight Antonius Block (Max von Sydow) challenges Death (Bengt Ekerot) to a game of chess. It's a fair bet that Bill and Ted aren't exactly polished when it comes to chess theory. Still, they must challenge the reaper to some form of competition in order to try to return to life. "And the games they play are Battleship, Clue, Twister," Kroopf told the Times. "So your life is on the line; you're playing with Death, but you're playing games that Bill and Ted know how to play. This is a clear parody of Bergman."