The Best Teen Shows From The '80s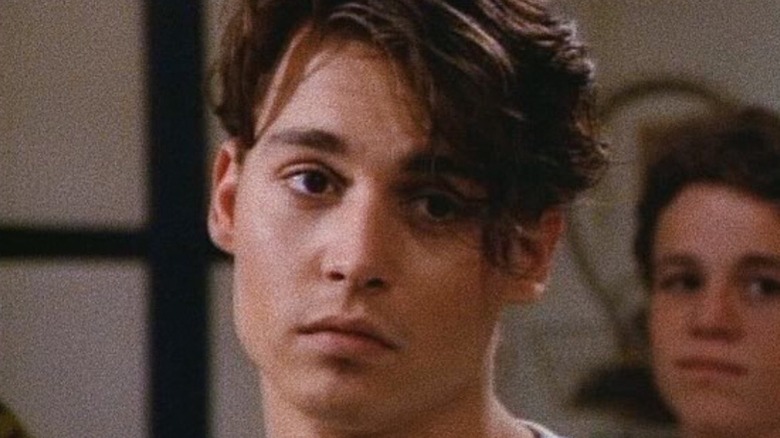 Fox
Teen shows have been around for a very long time — take Sally Field in 1965's "Gidget," for example — but as Entertainment Weekly argued in its coverage on the history of teen TV, adolescent-focused shows didn't truly hit their stride until the 1990s. Despite this, the 1980s most certainly had some notable teen TV — and it was good, too! Some shows focused on teens within the larger family unit, while others were set almost exclusively in schools, but all of them highlighted the plights of youth and the complexities of growing up.
Decades before the kids of "Dawson's Creek" started having coded discussions about masturbation and sleeping with their teachers, and well ahead of "Gossip Girl" going on her vicious chatty spree, television's 1980s teens were already exploring adolescent issues like bullying, dating, academic pressures, and fitting in. Many of the best programs were also tackling tougher topics, such as rape, abuse, and even death. At the time, these storylines were fresh and innovative — sometimes even provocative — and it's high time we remember 1980s teen TV for more than just the big hair, colorful clothes, and cheesy catchphrases (though we love those things as well). Here are some of the best teen television shows that aired primarily in the 1980s.
The Facts of Life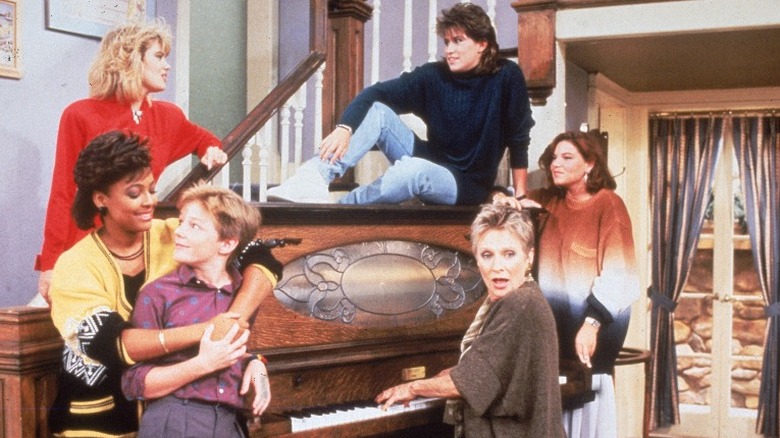 Nbc Television/Getty Images
The teenage girls at the heart of "The Facts of Life" were such well-known characters in the 1980s that you didn't even need to use their last names when referring to them for people to know exactly who you meant (though, to be fair, one of them went by "Tootie"). Beginning in 1979 as a spinoff of "Diff'rent Strokes," the show featured Charlotte Rae as Edna Garrett, a housemother at a girls' boarding school filled with strong personalities. But it wasn't Edna who carried the show — she didn't even stay on for the full length of the series — but the group of girls around her.
Audiences loved the teenage students — or at least the ones who weren't written off after season one. They followed Blair (Lisa Whelchel), Tootie (Kim Fields), Natalie (Mindy Cohn), and Jo (Nancy McKeon) for nine seasons throughout the majority of the 1980s. A lot of the plots were typical sitcom shlock, but the way the show handled difficult topics — like eating disorders, drugs and alcohol, sex work, and suicide — was commendable. It was by no means a perfect show, but it was heartwarming and real, and as the theme song so famously said, "You take the good, you take the bad."
Square Pegs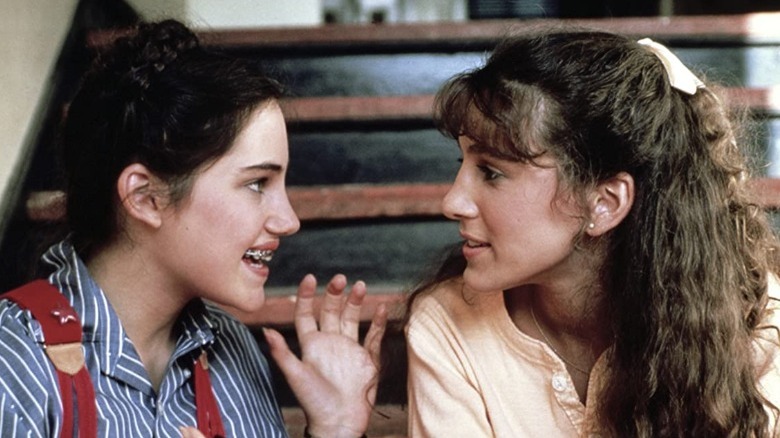 CBS
Long before she was the incredibly famous superstar "SJP," Sarah Jessica Parker starred on an oft-forgotten teen show called "Square Pegs." Airing for only the 1982-1983 television season, "Square Pegs" never really got its due, despite offering a solid peek at teenage life without the blinders. According to AV Club, the show ended because of behind-the-scenes drama having to do with substances on a set with minors, which seems like the most '80s thing ever, so it's probably true. In any case, Weemawee High School deserves a much bigger place in the pop culture history books.
The basic premise of the show was that high school is unfriendly and not everyone fits in, which is a story to which most teens could relate. Parker and her co-star Amy Linker starred as Patty Greene and Lauren Hutchinson, the two "square pegs" who were constantly striving for popularity at their high school. They were surrounded by other socially awkward misfits and outcasts — and the popular people, of course — in a cliquish way that we are used to seeing high school depicted now, but that was not yet a television staple in 1982.
A Different World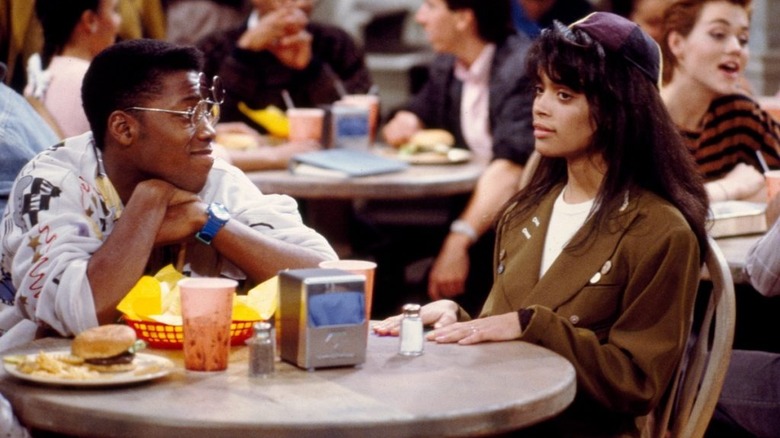 NBC
As a spinoff of the immensely popular "The Cosby Show," expectations were high for "A Different World" when it debuted on NBC in 1987. Luckily, the show had a solid premise and a stellar cast, and it was able to stay on the air for six years, despite original star Lisa Bonet's departure early on. The series took place at Hillman College, a fictional Virginia HBC (Historically Black College), and it was applauded for its portrayal of African American youth. While Bonet's Denise Huxtable left the show after season one, when the actor got pregnant in real life (along with Marisa Tomei as Maggie Lauten, one of the few white students at Hillman), a season two revamp insured that other characters were given space to shine, such as Jasmine Guy's hilarious Southern princess Whitley Gilbert, a fan favorite.
"A Different World" tackled issues like racial discrimination, apartheid, and HIV — things that didn't generally come up on teen TV at the time — and much has been written about the show's legacy (see this article from Essence, for example). In 2012, writer Danielle Moodle-Mills penned a sweet piece for the Huffington Post in which she detailed what the show meant to her as a young, Black high schooler in a predominantly white suburb. "It was because of this powerful show I went on the Black College Bus Tour from NY to Atlanta as a junior in high school — searching for the Hillman experience," she wrote. And you can bet she wasn't the only one.
Head of the Class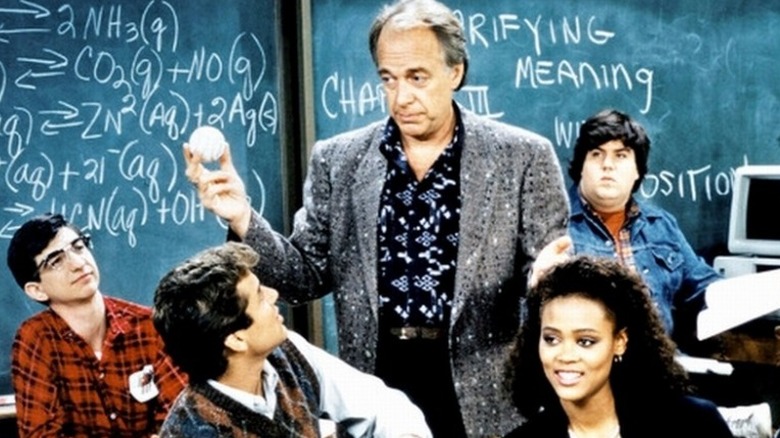 ABC
ABC's "Head of the Class" — which will be rebooted in the near future thanks to HBO Max — was a classic '80s teen show about overachieving students at a fictional Manhattan high school, Millard Fillmore. The show started airing in 1986, lasted five seasons, and has the honor of being the first American sitcom to film in the Soviet Union (per the New York Times).
Like many teen shows of the time, "Head of the Class" focused on an adult offering life lessons to children — in this case, teacher Charlie Moore (Howard Hesseman), who taught in the Individualized Honors Program that the gifted students attended. Members of the program included the spoiled beauty Darlene Merriman (Robin Givens), wily computer genius Dennis Blunden (Dan Schneider), and narcissistic yuppie Alan Pinkard (Tony O'Dell). It turns out that even geniuses have problems, as the students navigated academic-focused topics like standardized testing, plagiarism, and college admissions, as well as the usual social drama typical on teen shows.
21 Jump Street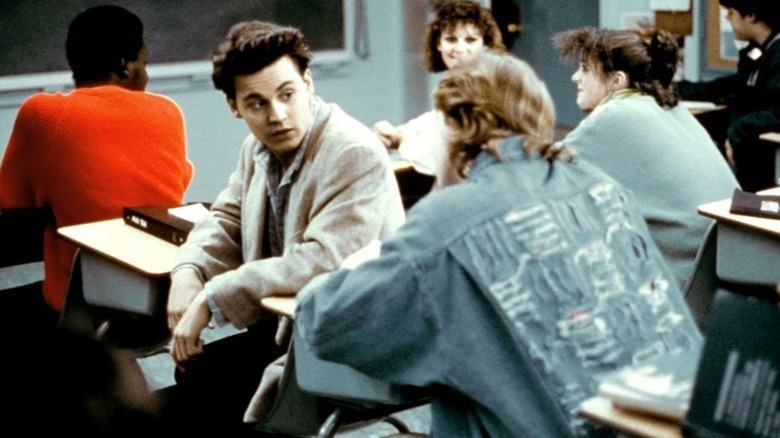 FOX
Even though the main characters were not actually teens, "21 Jump Street" is typically regarded as a teen show because it took place in high schools (and sometimes colleges). Airing from 1987 to 1991 on Fox, "21 Jump Street" focused on a group of undercover police officers who fight youth crime while disguised as teenagers. If that sounds familiar even though you've never seen the show, it's probably because of the far-more-recent, ultra-successful movies starring Channing Tatum and Jonah Hill.
In the televised "21 Jump Street," future megastar Johnny Depp starred as Officer Tom Hanson, alongside Holly Robinson Peete as Sergeant Judy Hoffs, and a slew of other baby-faced adult thespians. Unlike many shows on this list, "21 Jump Street" was not a sitcom; in fact, as a police procedural, things got relatively dark. The team investigated cases of drug dealing and theft (teen TV staples), but also darker stories about sex crimes, hate crimes, and even murder. With its racially diverse cast and tendency to explore contemporary social issues, "21 Jump Street" was a welcome addition to the 1980s television landscape.
Fame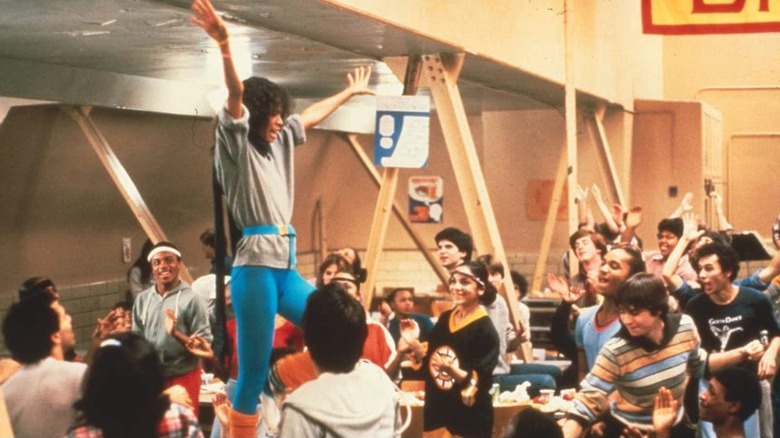 NBC
If you're a child of the '80s, chances are that the mere mention of "Fame" has you breaking out into a chorus of the iconic theme song. Based on the movie of the same name, which came out in 1980, the television show "Fame" was set at the New York City High School of the Performing Arts, a fictional school for gifted artists. It began two years after the film and lasted for six seasons, winning multiple Golden Globe and Emmy awards.
"Fame" notably focused on both students and faculty at the performing arts school, including dance teacher Lydia Grant, played by Debbie Allen in nearly every episode of the show (despite Allen having only a limited role in the film version). The first episode began with the students' auditions, which set the stage for the integration of musical numbers at a time when TV musicals were even rarer than they are now. "Fame" covered the usual teen drama, but also had performer-specific plots, like when student Doris (Valerie Landsburg) went "undercover" as a sex worker to research a part. There was also lots of scene partner drama and competitive jealousy, which is all that one could want from a group of overachieving fame-seekers.
Growing Pains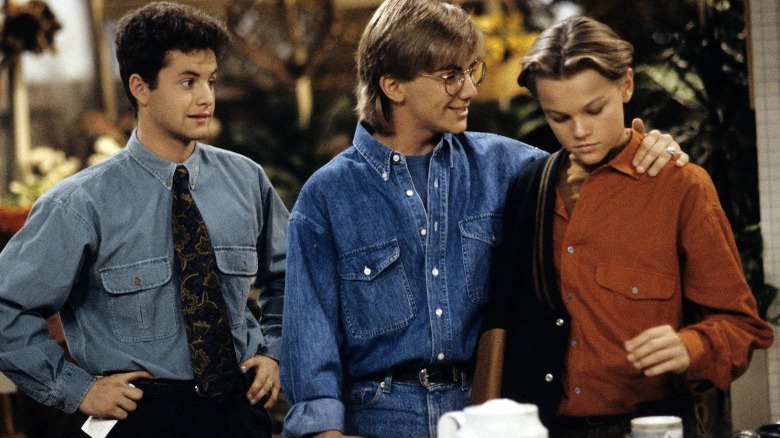 ABC
While "Growing Pains" could be classified as a family sitcom, its heavy focus on the teenage Seaver children also put it squarely in the teen TV category. The show revolved around a Long Island-based family of five: psychiatrist Jason (Alan Thicke), journalist Maggie (Joanna Kerns), and their three children, Mike (Kirk Cameron), Carol (Tracey Gold), and Ben (Jeremy Miller). Later, the Seavers had a fourth kid, Chrissy (who, in typical sitcom fashion, aged multiple years in between seasons five and six), and took in an unhoused teen (played by a young Leonardo DiCaprio).
"Growing Pains" aired on ABC from 1985 to 1992, and its young stars — particularly Cameron — became teen idols. The best storylines were the ones centered on the kids, like when Mike double-booked himself for a school dance or when Carol ended up in jail. The complex, somewhat adversarial relationship between the siblings was interesting, and so too were the kids' relationships with their parents, themselves flawed individuals. And you have to love a show with recurring characters with nicknames like "Boner" (Mike's friend, played by Andrew Koenig) and "Stinky" (Ben's friend, played by Jamie Abbott).
My Two Dads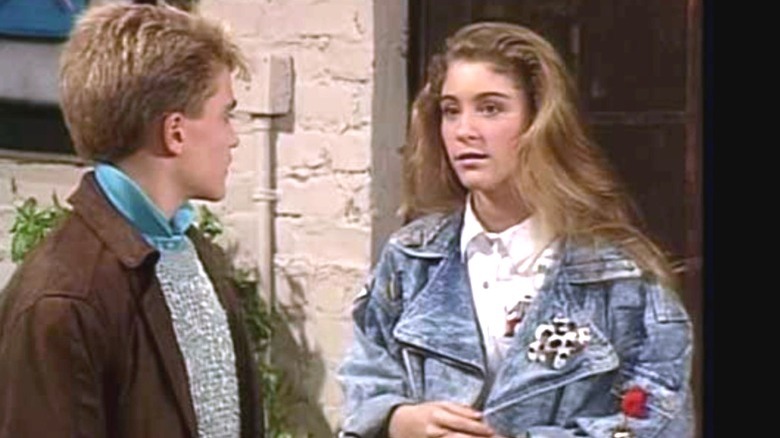 NBC
What's better than one dad? Two, obviously. That was the basic idea behind NBC's "My Two Dads," which aired from 1987 to 1990. In the program, young teen Nicole Bradford (Staci Keanan, who went on to star on another noteworthy teen show, "Step by Step"), orphaned after her mother's death, was released into the custody of two of her mom's exes. The men — Michael Taylor (Paul Reiser) and Joey Harris (Greg Evigan) — were wildly different, and severely under-equipped to start raising a teenage girl. It was never disclosed whether Michael or Joey was Nicole's actual father, but it didn't matter anyway.
"My Two Dads" never hit as big as "Growing Pains" or "Full House," but it lasted a respectable three seasons due to its novel premise and interesting plotlines. Michael was in finance, and Joey was an artist, so their different lifestyles and values set them apart. As Nicole was given her own love interests — most notably Giovanni Ribisi's Cory Kupkus — and made some poor but typical teenage choices (like dating a much older college man), the two dads had to navigate co-parenting with their romantic rival while still trying to keep up their own dating lives.
Full House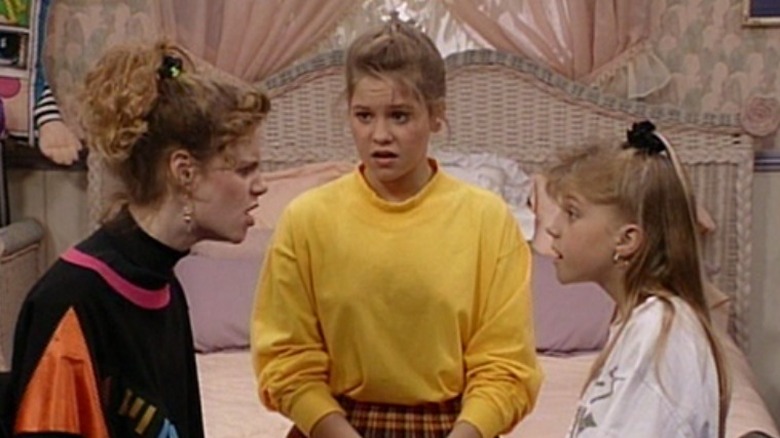 ABC
If the two dads in "My Two Dads" aren't enough for you, hopefully the three wacky male parental figures in "Full House" will suffice. "Full House" began airing on ABC in 1987, lasting eight seasons and making stars out of its cast, especially Mary-Kate and Ashley Olsen, who went on to build a profitable media empire before transitioning into fashion. Heck, even the house from the opening credits has become famous.
"Full House" focused on widower Danny Tanner (Bob Saget) and the two men — close friend and lovable goofball Joey (Dave Coulier) and hunky brother-in-law Jesse (John Stamos) — he enlisted to help raise his three daughters after the death of his wife. They all lived under one roof, which eventually became even more crowded with the addition of Jesse's wife Rebecca (Lori Loughlin) and their twins.
As D.J. (Candace Cameron), Stephanie (Jodie Sweetin), and Michelle (the Olsen twins, alternating off) grew up onscreen, thousands of teens saw them as mirrors of their own experience (except, you know, that whole three dads thing). Storylines dealt with real teen issues such as peer pressure, bullying, and dating, and fantastically unrealistic ones, like when Michelle fell off her horse and got amnesia or when Stephanie drove a car through the exterior of the house and into the kitchen. Known for its heart as much as its cheesiness, "Full House" resonated so strongly with teens of its generation that it spawned books, dolls, and all sorts of other merchandise — and eventually even the revival "Fuller House," which aired for five seasons on Netflix.
It's Your Move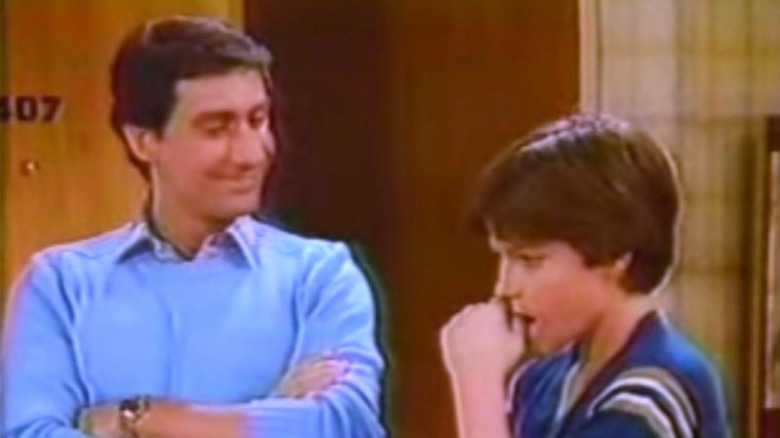 NBC
"It's Your Move" is the shortest-lived show on our list, but that doesn't mean it isn't worthy of recognition. The one-season wonder, which aired on NBC for the 1984-1985 television season, starred a young Jason Bateman as a shady teenage scammer named Matthew Burton. Matthew was constantly up to no good, setting the stage for future teen troublemakers like "Saved by the Bell" mainstay Zack Morris. He was the anti-hero we never knew we needed (until he wasn't).
While the show received largely positive reviews, it was canceled due to low ratings. It also didn't help that the entire premise was abandoned late in the season, when Matthew's mom Eileen (Caren Kaye) got wind of his plotting. Nonetheless, the show had some stellar moments, like when Matthew created a fake band using science class skeletons only to kill them off, and when he and neighbor Norman Lamb (David Garrison) posed as father and son on a game show.
Degrassi Junior High & Degrassi High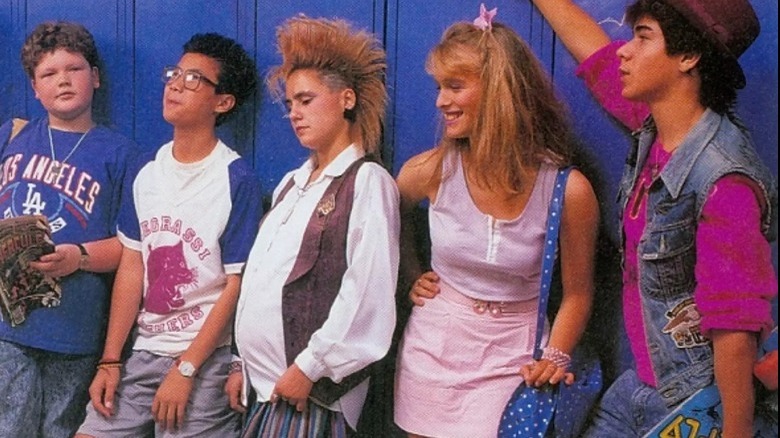 CBC
We're lumping together two shows in the famed "Degrassi" series, since they follow the same students throughout their middle and high school years. "Degrassi Junior High" premiered in 1987, nearly a decade after a series of after-school specials called "The Kids of Degrassi Street" started the franchise. It ran for two years — originally on Canadian channel CBC and then later on PBS in America — and eventually morphed into a second series, "Degrassi High," which ran for another two seasons. The franchise continued on with "Degrassi: The Next Generation" and "Degrassi: Next Class," but nothing can compare to the radicalness of the original '80s version.
The "Degrassi" series was renowned for the way it dealt with controversial topics such as racism, sexual orientation, and teen pregnancy. At times, it pushed the limit for what was acceptable on teen television — famously, PBS chose not to air the Canadian version of an episode about Erica Farrell (Angela Deisach) deciding to have an abortion. Not only were the stories nuanced, but characters like lovable prankster Joey Jeremiah (Pat Mastroianni) and teen mom Christine "Spike" Nelson (Amanda Stepto) reverberated strongly with audiences.
Family Ties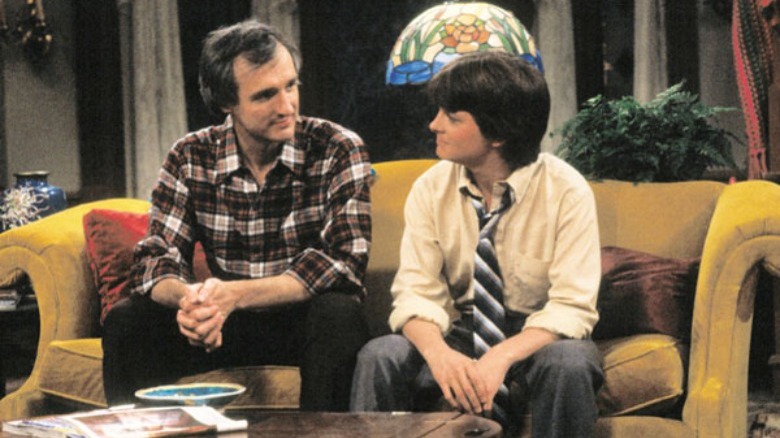 NBC
Much like "Growing Pains," "Family Ties" was a family sitcom that focused very heavily on the teenage children, making teen idols out of stars Michael J. Fox (who won three Emmy Awards for his role) and Justine Bateman. The show — which began in 1982 and lasted for seven seasons — centered on the Keaton family, headed up by broadcaster Steven (Michael Gross) and architect Elyse (Meredith Baxter-Birney), two ex-hippies who met in college in Berkeley, California.
The bulk of the drama came from the juxtaposition between bleeding-heart liberals Steven and Elyse and their ultra-conservative son Alex (Fox), who quickly became the breakout star of the show. The other children included spoiled, materialistic Mallory (Bateman), athletic tomboy Jennifer (Tina Yothers), and later, baby Andy (who, similar to Chrissy on "Growing Pains," aged years between two seasons). The show had a slightly more explicit focus on politics in the early episodes — for instance, in a Season 1 episode, Steven and Elyse attended a nuclear arms protest and were arrested — but the differing world views between the family members remained for the run of the series. Having contrasting characters allowed the show to create debate and to present issues from multiple viewpoints, all within the confines of a nuclear family sitcom.