A Star Wars Writer Is Speaking Out About This Emmy Nomination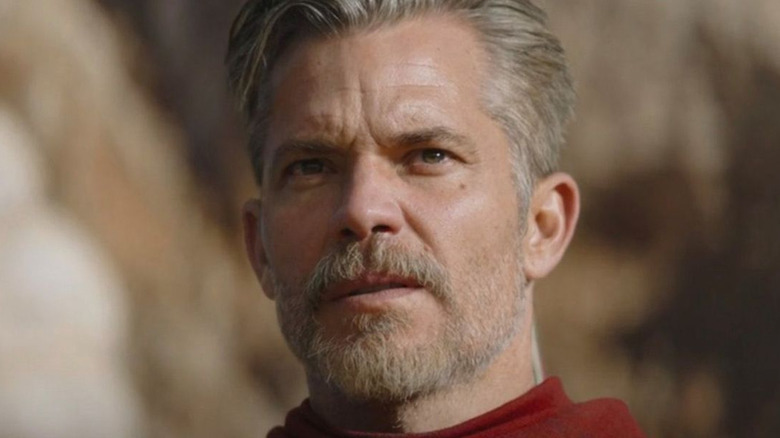 The Emmy nominations are once again in, and if you're affiliated with "The Mandalorian" or simply a fan of the Disney+ "Star Wars" show, life is pretty sweet right now. Per Entertainment Weekly, the epic sci-fi series scored no less than 24 nominations, which is more than "fine for a genre show" — together with "The Crown," Din Djarin (Pedro Pascal) and his friends actually lead the pack when it comes to the number of Emmy nods. 
One of the more intriguing "The Mandalorian" nominations went to "Deadwood" and "Justified" star Timothy Olyphant, who received the Outstanding Guest Actor in a Drama Series nod for his role as Cobb Vanth in the excellent first episode of the show's Season 2, "The Marshal." Olyphant is characteristically excellent as the heroic marshal who holds on to Boba Fett's (Temuera Morrison) old Mandalorian armor, so the prestige is richly deserved. However, one "Star Wars" writer is not particularly enthusiastic about the situation. Here's what they're tweeting about Olymphant's Emmy nomination.
The man who created Olyphant's character would like some words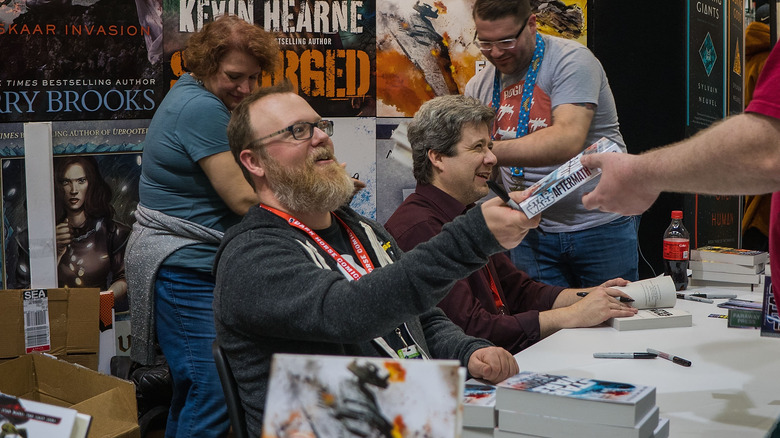 Suzi Pratt/Getty Images
The "Star Wars" writer in question is none other than best-selling author Chuck Wendig, who created Cobb Vanth for his "Star Wars: Aftermath" book trilogy in 2015. Wendig's tweet about the subject makes it fairly clear that he doesn't particularly enjoy the fact that others get to reap the rewards of his creations. 
"Oh hey wow Timothy Olyphant was nominated for an Emmy for his role as Cobb Vanth, a character I created?" he wrote. "Cool cool cool coolcoolcool hey Disney am I allowed to write 'Star Wars' again or could I at least get some sweet Cobb Vanth merch oh no I guess not okay hey good talk."
Wendig's prickly tweet may be a callback to 2018, when the writer's work on "Star Wars" comics with Marvel was discontinued because, Wendig attested, his Twitter behavior had too much "negativity and vulgarity" (via The Hollywood Reporter). However, the writer soon softened his message with a follow-up tweet, which implied that while he's not super happy with the fact that he receives no benefit from Cobb's success, he's at least content with the way things have gone for him since parting ways with the franchise. 
"(It's fine, I'm good writing my own work to be clear, in part for exaaaaaaactly reasons like this.)" he wrote, urging readers to preorder his upcoming work, "The Book of Accidents." 
Chuck Wendig isn't the first creator who has rallied against Disney and Marvel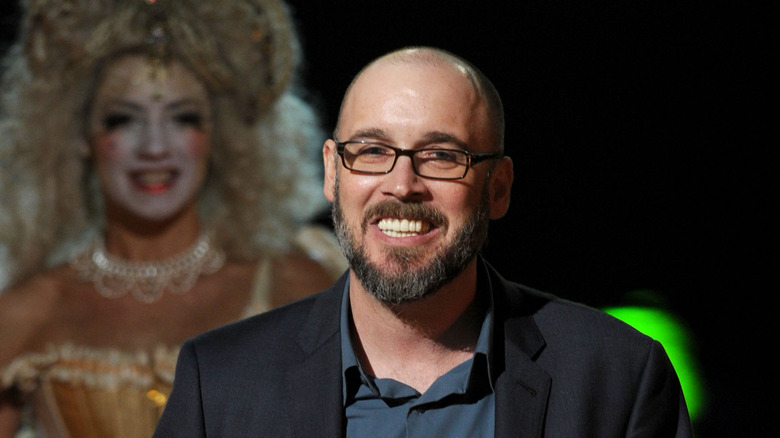 Kevin Winter/Getty Images
The thing about hired creative work for a large business, especially when you operate within a massive, established franchise, is that you can't just take your characters and walk after you're done. However, it's easy to see why a creator might get a little bit hot-blooded after a previously relatively unassuming intellectual property suddenly becomes a smash hit, and they're merely watching from the sidelines. 
Chuck Wendig is not the first person to go public about his treatment as the originator of a particular IP. As recently as in March 2021, the Winter Soldier's creator Ed Brubaker noted in his newsletter that while he has no ill will toward the character's actor, Sebastian Stan, and the Marvel Studios bigwigs have been kind to him, his financial compensation for coming up with the now-iconic character has amounted to very, very little. 
Even some of the greatest and most esteemed Marvel creators have encountered this issue. Legendary artist Jack Kirby was a freelance gun-for-hire when he worked for Marvel, and his estate fought in the court about many of the characters he created or co-created (per Deadline). They eventually reached a settlement in 2014, just before the case proceeded to the Supreme Court.