Here's How You Can Get An Exclusive Look At Dune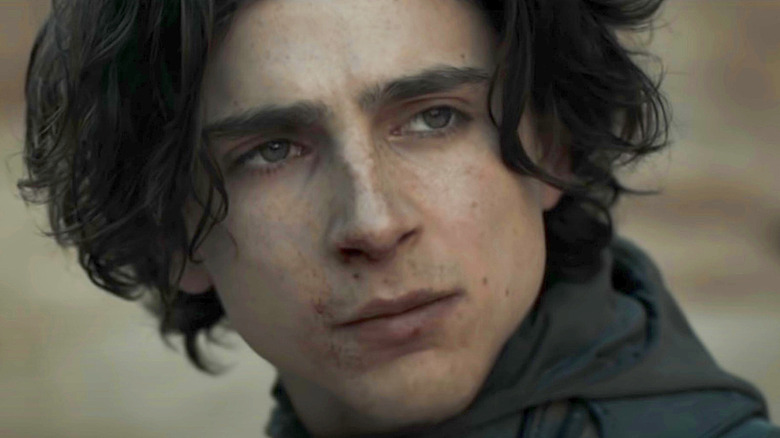 Warner Bros. Pictures
Just as Paul Atreides trekked through the scorching desert sands of Arrakis, the journey to make a new film based on the classic science-fiction saga "Dune" has been a long and arduous one. The 1984 film adaptation of "Dune," directed by David Lynch, may have received a cult following over the years, but both critics and fans of Frank Herbert's original novel upon which the movie is based found Lynch's interpretation lacking. Another "Dune" attempt came in 2008 courtesy of Paramount Pictures, with Peter Berg lined up to direct, but several complications forced the studio to drop the project in 2011 (via Digital Spy).
For a time, it seemed that "Dune" fans would never get the faithful adaptation they were hoping for, but things began looking up when Legendary Entertainment purchased the film and television rights to Herbert's sci-fi epic in 2016 (via Deadline). Denis Villeneuve was announced as the film's director in 2017, per Variety, and he also co-wrote the film with Eric Roth and John Spaihts. When A-list actors like Timothée Chalamet, Oscar Isaac, Josh Brolin, and Zendaya came on board, fans had even more reason to get excited.
Due to the COVID-19 pandemic, however, "Dune" was pushed back from its original November 2020 premiere to October 1, 2021. For those who can't wait any longer to see what the new "Dune" movie has in store, IMAX is preparing a special screening offering an exclusive look.
IMAX is screening exclusive Dune footage in July
Although there have been a few sneak peeks of the new "Dune" film via teasers and trailers, for some fans, it isn't enough. Like the addictive spice (aka melange) from the planet Dune itself, fans want as much content as they can get their hands on — and IMAX theaters are there to make that happen.
IMAX has announced "An Exclusive Look at Dune," a two-day event in which IMAX theaters will be screening never-before-seen footage from the film. Along with exclusive footage from the film, IMAX is also promising to screen the premiere of a new "Dune" trailer. 
"An Exclusive Look at Dune" is being held in 25 cities across the U.S. and more around the world, and admission is completely free. That said, tickets are only being accepted on a first-come, first-served basis, so those wanting to get in on the event had better move fast.
The event takes place on July 21 and July 22; the date varies depending upon the theater, so be sure to check which date is listed for your city.
"Dune" will arrive in theaters on October 22.