Justice League Photo Gives New Look At Gal Gadot's Wonder Woman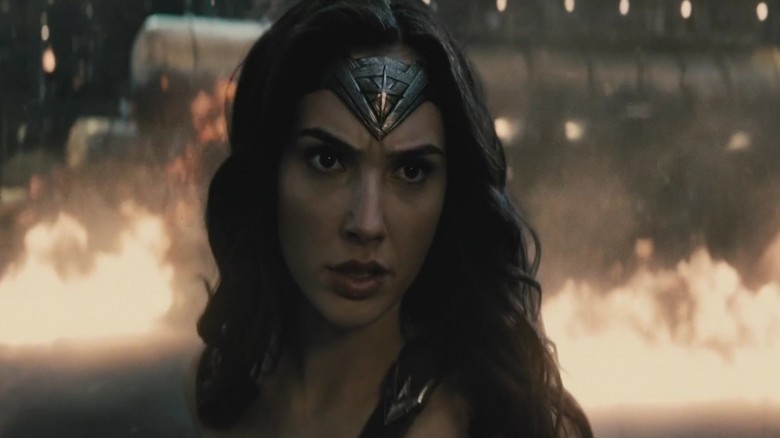 The hammer of justice is coming down hard, but in a good way, as Justice League star Gal Gadot releases a behind-the-scenes photo on the film's set.
Gadot posted the brand-new pic on her Instagram account to wish director Zack Snyder a very happy birthday. In the sneak peek photo, Justice League hopefuls see Gadot geared up as the Amazonian Diana Prince herself, and she looks ready to take on any baddies that come her way. The picture isn't just about Wonder Woman, what she'll look like on-screen, or how many villains fans can expect her to take down; Gadot mentioned that it's a marker of something much more sentimental.
"This photo expresses how focused and centered we were on [Justice League]," she said in the picture's caption, "but it doesn't show all the good laughs and great fun we had."
Gadot also gave Snyder a heartfelt happy birthday shoutout: "I wish you the best of luck, health and happiness. You are such a special talented man with such a unique cinematic vision. I'm happy I got to know and work with you! Happiest [birthday] to you." Take a look at the photo, which Gadot also posted on Facebook, below:In years past, DC movies have garnered a bit of a reputation for being strict and serious through-and-through, with reports saying that Warner Bros. allegedly issued a "no jokes" policy for the films. Rarely have fans seen a joke slip through the cracks in the comic book-based film franchise, a stark contrast to the overtly funny and often campy installments of the Marvel Cinematic Universe. While Justice League does have a pretty weighty premise, fans can rest assured that some lightheartedness may be woven in, and that the cast and crew had a blast on set.
Though the glimpse at Gadot's Wonder Woman was meant as a thank you and a gift to Snyder, it seems to have treated DC fans more than anyone else. Snyder himself even released a teaser clip that showed off Justice League test footage of Aquaman traversing the underwater kingdom to celebrate becoming another year older, putting a smile on a ton of comic enthusiasts' faces.
DC fans get a double dose of Gal Gadot as Wonder Woman in the standalone film coming June 2 and then in Justice League, which releases on November 17. Though there's still quite a bit of waiting to do before then, you can pass the time by getting familiar with Wonder Woman's dark history.