The David Bowie References You Missed In Fear Street Part Two: 1978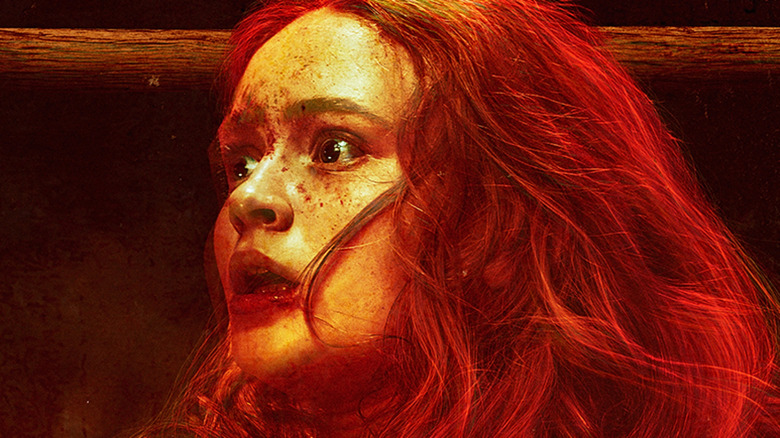 Netflix
Contains spoilers for "Fear Street Part Two: 1978"
As if the R.L. Stine adaptation could get any more nostalgic, "Fear Street Part Two: 1978" continues the Netflix series' affinity for delving into a distinct era. "Fear Street Part One: 1994" delivered on the neon mallrat aesthetic, angsty needle drops, and references to iconic films of the decade like "Scream" and "A Nightmare on Elm Street."
Keeping on track with the references, the sequel, "Part Two: 1978," is jam-packed with nods to the Golden Age of slasher films. From ringer tees to horned-up camp counselors, the origin story of C. Berman (Gillian Jacobs) is both a cautionary tale and an homage to the late 1970s. The film best channels the decade through its wide-ranging soundtrack.
The Berman sisters' attempt to survive Sarah Fier's (Elizabeth Scopel) summer camp slasher is set to the hits of the 1970s from bands like Kansas, the Runaways, and the Velvet Underground. The late David Bowie, one of the biggest artists of that decade, is honored throughout the film beyond "Moonage Daydream" and "The Man Who Sold the World" being played. So, which David Bowie references did you miss in "Fear Street Part Two: 1978"?
The Rise and Fall of Ziggy Berman and the Witch from Camp Nightwing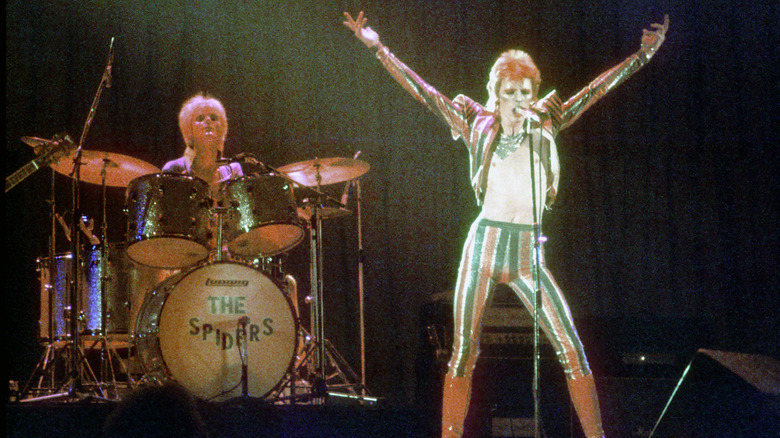 Michael Ochs Archives/Getty Images
In the "Fear Street" series, the moody Shadysider Christine Berman (Sadie Sink) is known to everyone as Ziggy — a reference to the David Bowie's alter ego Ziggy Stardust, and likely due to Christine's fiery red hair. The rock opera character Ziggy Stardust was chronicled in Bowie's 1972 concept album "The Rise and Fall of Ziggy Stardust and the Spiders from Mars."
The grown-up Christine still carries her love of Bowie with her, too. Her German Shepherd is named Major Tom, after another one of Bowie's characters who appeared in songs like "Space Oddity" and "Ashes to Ashes." Additionally, "Fear Street Part Two: 1978" opens with a Nirvana cover of "The Man Who Sold the World" from the band's 1993 session on "MTV Unplugged." It's the perfect detail to tie together the two already released "Fear Street" installments through the transformation of popular media over time.
While it's unlikely that this connection will stretch back far enough into the upcoming final installment, "Fear Street Part Three: 1666," it's guaranteed to feature plenty of references to horror and pop culture at large as we finally uncover the lore of Sarah Fier.