How Old Is Audrey In The Gossip Girl Reboot?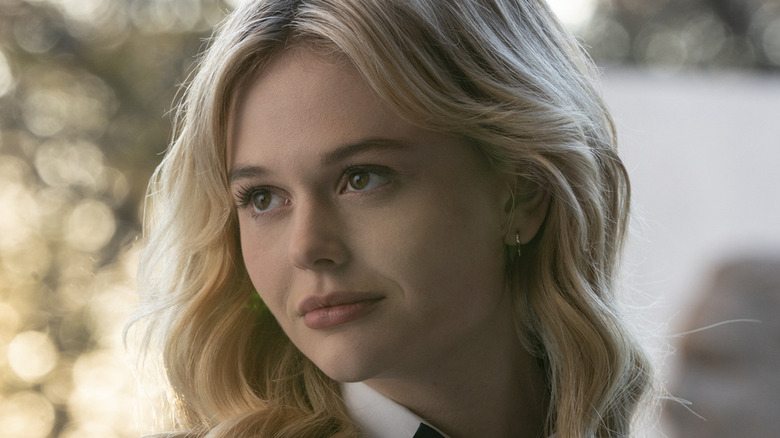 Karolina Wojtasik/HBO Max
The "Gossip Girl" reboot on HBO Max finally premiered this week, introducing audiences to a brand new set of ultra privileged Upper East Side teens. It's revealed in the "Gossip Girl" premiere episode that, in the years since the ending of the first iteration of "Gossip Girl," the respective student bodies of elite Manhattan private schools Constance Billard and St. Jude's remain attached at the hip. This means a new ruling class has formed in the wake of Blair and Serena's time as students. This new group is led by Julien Calloway (Jordan Alexander), a Constance Billard student by day and rising Instagram influence by night (and also by day, come to think of it). Surrounding Julien is her boyfriend, Obie (Eli Brown), her close friends and influencer advisors Luna (Zión Moreno) and Monet (Savannah Lee Smith), longtime couple Audrey (Emily Alyn Lind) and Aki (Evan Mock), and louche party boy Max (Thomas Doherty). 
As in the original "Gossip Girl," one of the defining traits of this new friend group is that everyone acts much older than they really are. This is mostly thanks to the immense wealth of their parents, their extravagant lives on the Upper East Side, and access to any club, event, party, person, opportunity, and beyond that their heart desires. Viewers may also think these characters are much older because they actors playing them are, in reality, actual adults. So, how old are these fictional teens supposed to be? 
Audrey's age might surprise you after you first meet her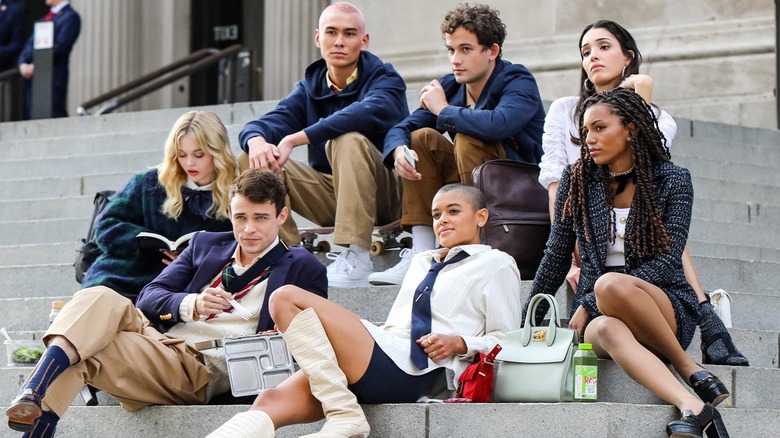 HBO Max
A prime example of a character who could be interpreted as much older than they actually are in Alyn Lind's character, Audrey Hope. In the "Gossip Girl" premiere, soft-spoken, good girl Audrey shares one of the most explicit character introductions of her friend group. Fans first see Audrey sharing an extremely intimate moment with her boyfriend Aki before their first day of school. Aki makes an offhand comment about the couple spending the entirety of lockdown in 2020 together, which, when paired with the hint that the couple has hit a romantic rut, implies that these two have been together for a long time. Add to this that Alyn Lind is in her early 20s in real life, and you might think Audrey is old enough to vote.
Instead, Audrey is around 16 years old, or perhaps closer to 17 years old — by the time this new "Gossip Girl" story begins. We know this because Julien mentions she is a senior to her half-sister, Zoya (Whitney Peak), and, in a separate conversation, Audrey notes that everyone in this particular friend group has known one another since they were babies. Put these two comments together, and you'll see that Audrey, Julien, and the rest of the friends are all in their late teens as the embark on their senior year of high school together. 
Knowing how old these characters are will help viewers understand the motivations of each character and probably get a better feel for the severity of the drama they will inevitably find themselves embroiled in — especially when that drama is being created by their teachers.