The American Flag Press That Sold For A Surprising Amount On Pawn Stars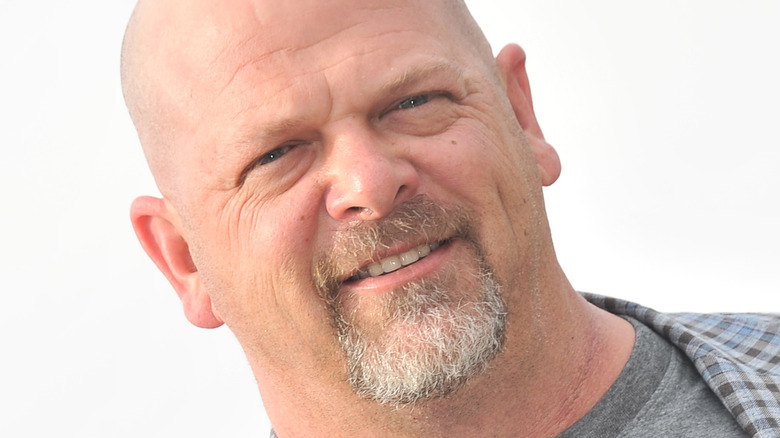 Eric Catarina/Getty Images
Have you ever wondered how early American flags were made? Though the first one had to be sewn together in 1776, as time went on, flag presses were used. On an episode of "Pawn Stars," a seller named Joe brings to the Gold & Silver Pawn Shop a patent model of one such flag press, hoping to fetch a fair price from Rick Harrison.
The item doesn't look like much at first glance: just a few pieces of wood atop a small stand. But Joe quickly explains the major role this item played in American history: It's an 1872 U.S. patent model for dyeing stripes on flags. While a larger version was used for real flag-making, the model offered a demonstration for the U.S. Patent Office.
When he comes into the shop, Joe's mind is already spinning with ideas for how to spend the money he hopes to get. "I'll probably take my wife on vacation and buy her some dancing shoes," he says (via YouTube). But is Rick willing to fund Joe's big dreams?
It pays to know the item you're selling
In his favor, Joe comes to the shop with knowledge about the item, plus the original patent filed by D.C. Farrington and dated March 12, 1872. There's no question the patent model press is authentic. "I love it because it revolutionized the flag-making process," Joe gushes, showing how the clamps would compress the wool. "The textile being clamped would not get dyed."
For his part, Rick recognizes the item's value immediately. He points out that patent models were expensive to make and required a craftsman capable of casting each piece. "The great thing about these old patent models is they actually worked," he adds.
Joe is eager to sell, and Rick seems just as interested in buying. That doesn't mean he's going to jump at Joe's first offer, though. When the seller asks for $3,800, Rick doesn't skip a beat, countering with $2,000. Despite Joe's ask for a higher payout, Rick refuses to budge for much more.
Still, Joe walks out happy in the end, scoring $2,200 for the flag press. "I'm psyched that I can make a deal today," he says. "I paid less than $1,000 for the item, so $2,200 is awesome."