Who Are The Stars In The Goldfish 'Go For The Handful: Competition' Commercial?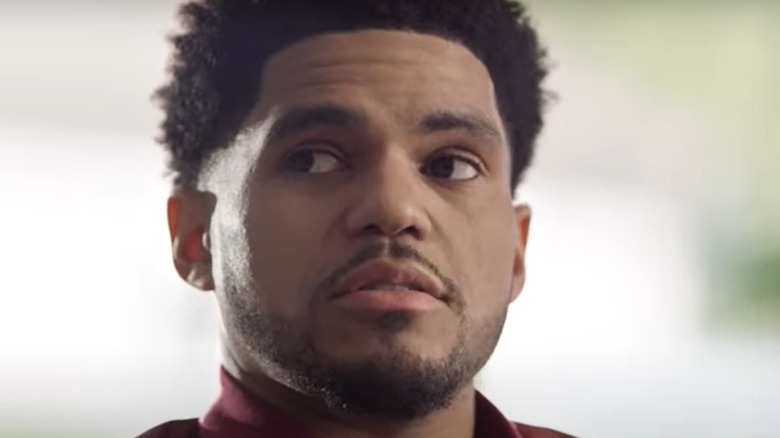 Goldfish/YouTube
Goldfish cracker's latest campaign is aiming to raise brand awareness for the tasty snack among young adults, especially TikTok users. But before the company could court TikTok devotees, it had to roll out a traditional ad campaign. Hence the "Go for the Handful: Competition" commercial was born — with a little help from two famous basketball stars.
If you're not a sports fan, the duo in the latest Goldfish commercial may not have looked familiar. In the ad, two guys are seen eating Goldfish, then one of them suddenly boasts they can grab 73 crackers in one hand. The guy's friend, who is much taller, then attempts to outdo him, but ends up ripping through the bag with his large hand in the process. It's hilarious all on its own, but the commercial is even better when you know the two stars are actually best friends and former teammates Boban Marjanović and Tobias Harris.
Marjanović and Harris played together on three different basketball teams — the Detroit Pistons, Los Angeles Clippers, and Philadelphia 76ers — before Marjanović joined Dallas Mavericks in 2019. During that time, the two men became best friends, and began charming fans with their antics on social media. As a result, it made perfect sense of Goldfish to recruit the social media-friendly basketball players for their new campaign.
In fact, Campbell Chief Marketing Officer Janda Lukin told the Philadelphia Business Journal that the guys' "magnetic" friendship helped make their casting decision easy, but so did the different sizes of their hands. "The hands were really important to the campaign idea, but we also needed to make sure that we had the right partners to bring this to life that represented the fun and the playfulness of the Goldfish brand," Lukin said.
Tobias Harris and Boban Marjanović are the perfect odd couple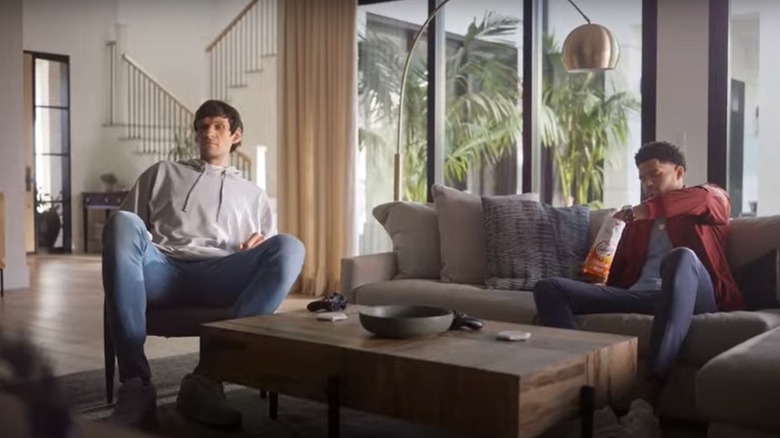 Goldfish/YouTube
On paper, Harris and Marjanović are two very different people. For his part, Harris is a 28-year-old New York native who briefly played for the Tennessee Volunteers before foregoing his final three years of college to go pro when he signed on to play with the Milwaukee Bucks in 2011. At 6 ft. 8 in., he would also be considered tall if he was standing next to pretty much anyone other than his best friend.
Meanwhile, Marjanović was born in the eastern Serbia town of Boljevac, where it quickly became apparent to his parents that he was going to be taller than they expected. The 32-year-old is now 7 ft. 4 in. tall, and his height has helped make him a standout on the court. In his early years, the basketball star played on a number of teams in Serbia, before joining the San Antonio Spurs in 2015. That's when he met Harris, and the two soon became friends even though they didn't have much in common aside from a love of the game at the start.
During an April interview with Basketballnews.com, Harris shared why he believes the two hit it off. "Why do we get along? I would just say it's like two people with caring hearts for other people. It's also like a culture dynamic, too, where he's somebody that's from a totally different country or upbringing and all the way down the line than myself ... When we were hanging out, it made me appreciate my life and the things that I get to do just by seeing his type of energy," he said.
Goldfish isn't Tobias Harris and Boban Marjanović's first collab, and they hope it won't be their last either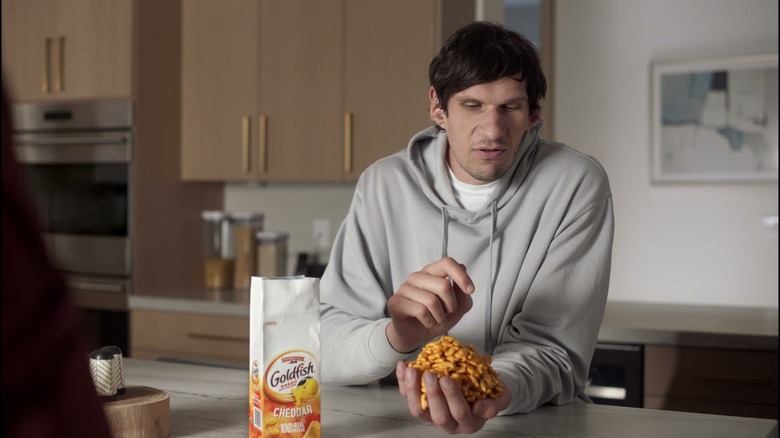 Goldfish/YouTube
In addition to playing on three separate teams together, Harris and Marjanović have also become quite the dynamic duo on social media. The two often post TikToks and Instagrams with one another, which made them perfect for the Goldfish campaign since it also came with its own viral stunt. Alongside the commercials, Goldfish launched a competition on TikTok that challenged people to grab as many Goldfish crackers in one hand as they could in hopes of beating Marjanović's record (which is 301).
For his part, Harris is skeptical about anyone beating his teammate. "I've always known that Boban has the biggest hands ever, but when I went from my handful and got my 73, I was like really hyped and ecstatic, 'There's no way Bobi's gonna get more than me.' And then when he did his and they got his official count, I was just like, 'That's impossible.' I don't know if anyone can beat that, but I do want to see [it]...I would say shoot for trying to beat my 73," he told Basketballnews.com.
One thing is certain though: The duo had a blast shooting the commercial, and they hope it leads to more collaborations in the future. Prior to the ad, the pair had already posted a series of vlogs on YouTube called "Bobi + Tobi," and Marjanović has onscreen experience thanks to a cameo in "John Wick: Chapter 3 – Parabellum."
Given their love for hanging out with one another and their new ad campaign, there could very well be more collaborations between the basketball stars in the future. In fact, the duo expressed their desire to team up again in their interview, with Marjanović pulling for a soup campaign to be their next double act.